"Although 'Los prudes' is a comedy, they play 'heavies' themes"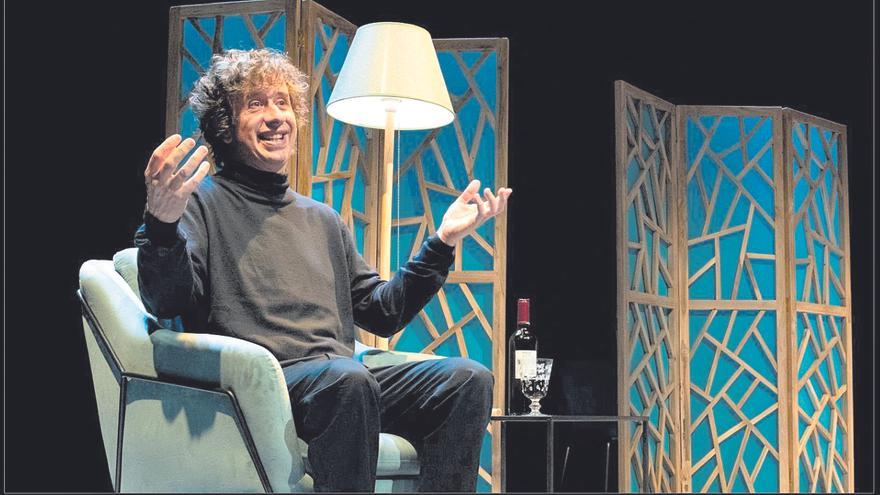 Tell me what the comedy Los prudes is about.
It is about the marriage of Jimmy and Cecilia who decide to rent a theater to tell the public why they have had a sexual drought in their marriage for months. Bystander therapists are employed. As the show progresses, the couple's problems are seen and how the drama is deepening. At all times there is laughter and everyone will feel identified with the couple today, because right now the woman occupies a different role than before, which has made the man find himself lost.
Various questions arise in representation, such as where are the red lines of the new seduction, how to replace the old outdated codes without becoming prudes, how to make love fully in a balanced and free relationship, or how to know how to face that gender renegotiation necessary …
The play deals with a woman who is not always willing to accept what the old man proposes, that is, at a given moment in the performance the character does not know how to react. Years ago, when the movie Basic Instinct was broadcast, what a woman wanted was a tough man like Michael Douglas, but now the man thinks he wants to be that man who doesn't have to be a man. It is about a man who is trying to fight not to be that man-man, which he was looking for at the time of the film. He is lost and the woman, on the other hand, pursues having sex and getting out of the couple's drought.
What will the viewer experience then?
The viewer will see things that seem absurd about where we have gone. In the end, the basis of every relationship is respect, not doing to others what you would not like them to do to you, making a wonderful life for the person next to you and for the other to do it to you. I think that is the basis of love as a couple. They should teach us a bit to understand each other in the sexes, because both can feel the same what they do not like.
"There are moments in the play when many women will wonder where we have ended up"
How is the Me Too, fully topical, focused on this work? Do you think men will be interested in it?
The show touches on all the themes of the couple today, even talking about Me too. There is a moment when it is seen that the characters react like this because they have had an abuse in their lives. Although it is a comedy, it talks about many heavy topics. Men will be interested because it is not a feminist function, but it shows people how that couple acts. There are multiple moments when many women will wonder where we have ended up. The text presents the story of a couple with a problem and everyone will realize what is happening. He will leave the theater debating.
How is the public therapist employed?
The beauty of this show is that you tell the public about it, who then sees that couple arguing as if they were at home. In addition, we dance on stage and there is live music, something that Magüi has introduced very intelligently, so it has been a very nice directing job.
How is acting under the direction of Magüi Mira?
I have always worked very well with women. The play I spent the longest, A Night with Gabino, was also directed by a woman, Gina Piccirilli. At the sensitivity level I am very comfortable with the female gender. More women congratulate me on my birthday than men. I have many friends and I love it. Magüi has valued me like no one else in this profession, she has encouraged, waited and loved me, so it has been wonderful to work with her. I had also worked with Carmen Barrantes before, there is complicity and I am delighted to be accompanied by them.
Are you waiting to be awarded a Goya for best actor? Because he got one as a supporting actor a long time ago …
I have been nominated for the Goya four times, for best actor and secondary school, but the most important thing in this profession for me is that they offer you good roles, be able to do them well and that they reach the public. That is the prize. I have a Goya and I think it is very good that they value your work, but the award with Ay, Carmela! It was doing a good job, meeting the expectations that they had placed on me and that it reached the public and the film was a success.
I see that now he is more focused on the theater than on the cinema, right?
I work more in theater. As Félix Rotaeta says: she is that mother who always welcomes you.
"Right now the woman occupies a different role than before, which makes the man lost"
On television he has had little participation. Is it a medium that you are not interested in? Now the great Hollywood actors are lavishing in series on payment platforms …
Television does interest me and, surely, later, I will work on it, but I have been more linked to the theater.
You have also done your musical first steps …
In this function I sing a song live, for example …
What other projects do you have in mind?
The Spoiler is a show by the same author as The Idiot's Dinner. I will do it with Josema Yuste. It will be released in February and we will begin rehearsals in December. We will make the tour of the Canary Islands.