Alpine leaves Alonso lying down again, who rethinks his continuity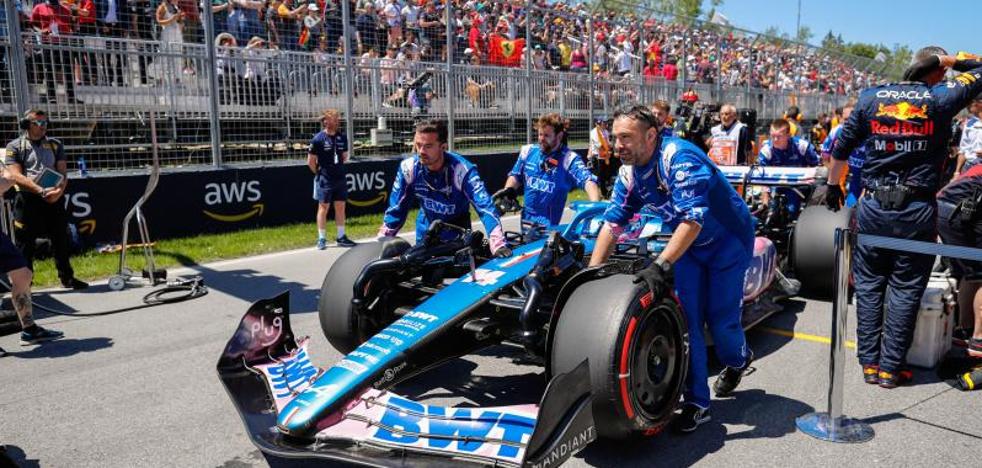 Analysis
The poor result of the Spaniard in the Canadian GP cannot be blamed in any case on the pilot because poor strategic management and poor reliability are behind
The format of car competitions such as Formula 1 has a certain degree of cruelty. On a Saturday you can savor the fleeting victory that is a good result in the classification, which if the next day is not finished in the race is absolutely useless. This is the case of what happened to Fernando Alonso.
Without neglecting that the circumstances benefited him,
Alonso had a very bitter weekend at the end. After an upbeat Friday and a memorable Saturday, capped off by a second grid position that had him and the veteran and new Spanish fans thinking 'what if', the harsh reality arrived on Sunday. Not luck, not reliability, not even decent strategic management from the wall. How will Alpine's lousy approach to the Canadian race be, that even Ferrari did better and it is at this point where they usually fail.
Of the three factors that failed, luck is the least important in terms of importance. Alonso pointed out after the race, with a remarkably disappointed gesture, that the virtual safety cars had not been good for him and, therefore, he could not enter the pits at the optimal moment. He is not wrong to some extent.
Carlos Sainz also did not enter the pits in the first and, in fact, Alonso took advantage of it to follow his wheel and that the Ferrari made him a hare in those stages of the race.
What is explained much worse is why Alpine did not move when they saw that the times of the pilot who should give them the best possible result went down the drain. From being relatively comfortable behind the red car, he started to lose around half a second per lap (not eight tenths or one second as he said later) from lap twenty, something that ultimately made him fall off the podium and after the 'top 5', which was the minimum objective. Like those political parties that only aspire to not lose more seats in an election and end up disappearing from parliament, Alonso went from dreaming of a champagne bath to receiving a shower of cold reality.
The problems, only in the '14'

The fact that Alpine showed no ability to react does not minimize the great reliability problem that Alonso suffered. As he later complained, again, the mechanical problems caught up only with his car. Everything went well for Esteban Ocon, and even he was able to help (as far as he could) Alonso defend himself from his pursuers.
The driver wanted to focus his criticism of the team on the aspect of reliability. "Another reliability problem only in car 14. It is disappointing. I'm here trying to be better than sixth and seventh. If we don't finish on the podium or fourth, it's because we had a reliability issue with the car again. Maybe unlucky with virtual pace cars, but luck can't be controlled. Reliability in car 14 should be a bit better," Alonso raised his voice.
Alpine is falling asleep and there are already many that Alonso has had to endure. As in that couple of boyfriends who work uneven shifts and one waits for the other late at night, if it happens once or twice it is not a problem unless each day they end up asleep on the sofa. The intention of both is to continue, but if neither of them tries to keep the flame alive, as it has been until now, it can end up wearing down until it breaks. Right now, both want to stay together and that's how it will be except for a last minute change.
With Oscar Piastri already placed at Williams, there is no reason for Alpine not to renew Alonso for 2023. However, the lack of results can be a serious problem: the pilot has given himself this summer as a period of reflection. Because although the team has Alonso as a more than firm option, the most logical, perhaps it is the pilot who prefers to make some calls or start answering those who have already questioned him about what he will do in 2023.