Alonso and Sainz will start 9th and 15th in the Hungarian GP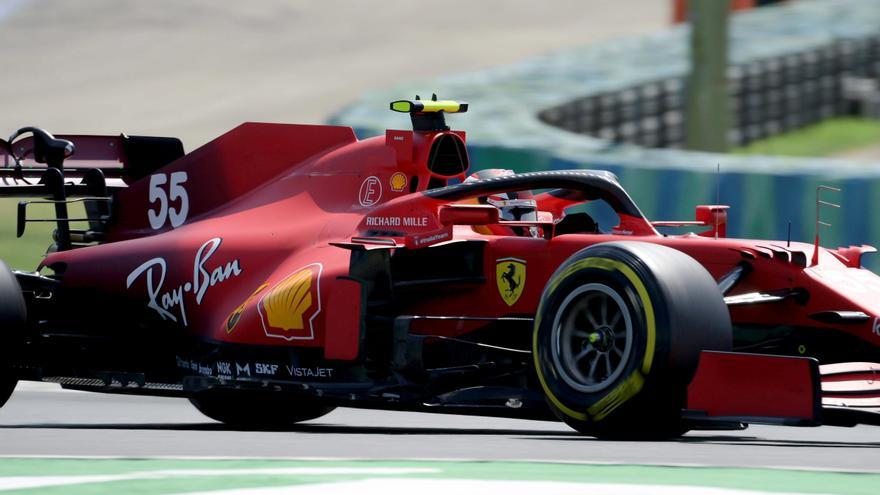 The Alipine pilot, Fernando Alonso, he was classified ninth after entering Q3 in which he flew in some sections setting the best time in the penultimate sector and entering with the fifth best mark after improving four tenths in the last lap.
In the final session, Alonso had to be content with the ninth drawer on the podium of a circuit that will always bring back good memories. The Asturian achieved his first official victory in the Magyar track Formula 1 World Cup in the year 2003.
What's more, Carlos Sainz did not reach the final run after losing control of his car and crashing in the absence of a corner in Q2, when he headed down the final stretch to set a time that would have put him in Q3, according to the previous sets.
Despair took over the box Ferrari, who was hoping to achieve a good position after the debut of Sainz, placed with the fourth best time in free practice, in Q1 and riding with good feelings. But nevertheless, the Madrid pilot could not avoid the accident -of which he escaped unharmed- and ended up condemned to a distant position on the starting grid.
The British pilot Lewis hamilton (Mercedes) got this Saturday the 'pole position' of the Hungarian Grand Prix, 11th round of the Formula 1 World Championship, after setting the fastest qualifying time on the Hungaroring circuit.
Hamilton masterfully took advantage of Q3 to hit the table and get a slice of the surprising tire change Red bull, who opted for soft for the last session. The Englishman was the smartest and won the pole with a time of 1:15:05. The current world champion achieves his first pole position since the Spanish Grand Prix (May 9) and the 101st of his career.
Red Bull's strategy didn't go well and Hamilton was even able to play Verstappen on the last lap of Q3. slowing down the pace of World Cup leader to provoke their 'despair' in the absence of time. The Englishman achieved his task, the session passed and he fastened a creditable 'pole' that ends five in a row for the Dutchman.
In addition, the Red Bull's commitment to change the medium tire for the soft one – a decision that will force them to leave this Sunday with that same compound – allowed their teammate Valtteri Bottas finished with the second position, leaving Verstappen Y Sergio perez in the third and fourth place.
Saturday's session was also marked by the incident without consequences suffered by the German pilot Mick schumacher (Haas), who crashed violently during the last free practice session before qualifying for the Hungarian Grand Prix, although fortunately without serious consequences.