Almost nobody in Spain wants a mobile number that starts with 7 | Economy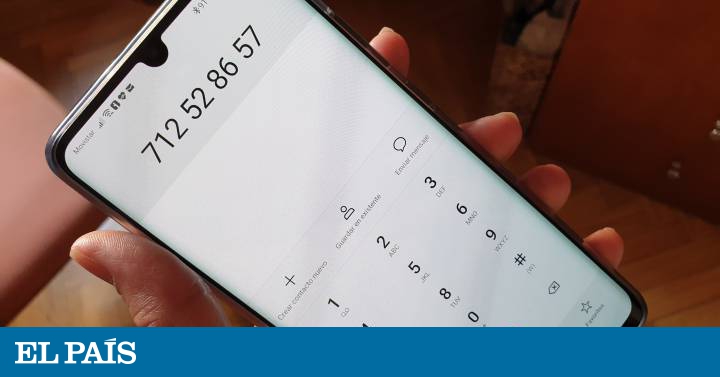 If you have recently been called from a cell phone that starts with 7 do not worry. You can pick up the call or return it because it is not a special or sale pricing number, but a normal subscriber. Since October 2011, the numbering of mobile phones beginning with the digit 7 is authorized. instead of 6, although its implementation is still so minimal that it continues to cause misgivings among users.
The figures prove this distrust. Currently, companies have assigned 1.9 million mobile numbers that start with 7, 2% of the total assigned numbers, amounting to 93.1 million. But they are really only in use – that is, attributed to a client – a maximum of 1.4 million numbers that start with 7, that is, even below 2% of the total, according to data from the last numbering report of the National Commission of Markets and Competition (CNMC) corresponding to 2018 to which this newspaper has had access.
The low use of the new numbering has made practically the numbers that start with 7 have remained unchanged since they were enabled at the end of 2011, although operators actually began to use them in 2012. Then, a reservation of no less than 40 was created. millions of numbers that started with 71, 72, 73 and 74 for interpersonal communications services, and another range of fifty million for future expansion was also planned, starting with 75, 76, 77, 78 and 79.
But operators have barely required to pull that provision as they have preferred to continue using the barn of 100 million numbers that start with 6, of which 91.2 million are occupied. In fact, most of the numbers starting with 7 have been assigned to the new operators, in particular, to MásMóvil through its various brands (MásMóvil, Yoigo, Pepephone, Llamaya and Lebara), which is the most grown in recent years.
Sources of the operators confirmed that when a new customer is assigned a telephone number that begins with 7, this sometimes shows reluctance due to the fear that it will be confused with a special pricing service, although these usually start with 8 or 9.
In addition, there are still the so-called personal numbers that start with 70 and were assigned when the mobile telephony was not yet in place, especially designed for second homes. Its use is very limited (only 1,781 of those numbers are in use) so is thinking of eliminating them so that they are not confused with mobile numbers, they informed in sources of the Administration.
No danger of exhaustion
Although telephone numbers are a limited resource, such as car registrations, and from time to time we must update them and grant new numbering ranges to cover the growing demand, the CNMC does not detect danger of depletion, neither for mobile numbering nor for he fixes it
As mentioned, in the case of the mobile, only 93 of the 140 million available numbers are assigned. Regarding landlines, the last National Numbering Plan of 2018 attributes 88.3 million numbers to the different provinces, of which 82.5% have already been occupied. 17.5 million numbers are still free, although the CNMC notes that the trend of recent years marks a remarkable increase in the assigned geographical numbering, which has implied the attribution of 1.7 million numbers in 2018.
As it is a geographical distribution, the situation is not uniform and there are provinces in which the occupation is above the average. The most saturated, with an occupancy level above 90%, are Madrid (92.4%), Malaga (91.4%) and Valencia (90%). They are also almost full Almeria, Huelva, Lleida and Salamanca, but for the limited number of free blocks.
The numbering of special services that start with 80 and 90 have assigned 2.2 million numbers, far from saturation. The CNMC notes in its report that the 902 (payment by the caller without pay for the call) continues to be one of the most demanded by the operators, but it is no longer the one with the highest efficiency use, becoming the Additional rate numbering 803 (exclusive services for adults, generally of erotic content) is the most efficient according to the data sent by the operators.
The Numbering Plan awards the codes to the different Spanish provinces and attributes ranges of numbers to services: geographic, mobile, additional pricing (for contests, tarot, meteorology, etc.), short numbers, Internet access, paging, collect reverse, M2M numbers of communication between machines and others. Thus, mobile services have numbers that begin with the number 6 or 7, while the provincial codes begin with the numbers 9 and 8 and the second figure is always different from 0.
The CNMC is in charge of assigning to each operator a whole number of blocks of 10,000 geographical numbers within each provincial telephone zone, to be used within a specific province or district. Saturation can occur either because of the lack of numbering or because of the lack of free blocks.
(tagsToTranslate) Spain (t) want (t) number (t) mobile (t) start (t) 7 (t) 2% (t) start (t) digit (t) 6 (t) use (t) be (t) enable (t) 2011



Source link