Almost 74% of canaries have a dose of the covid vaccine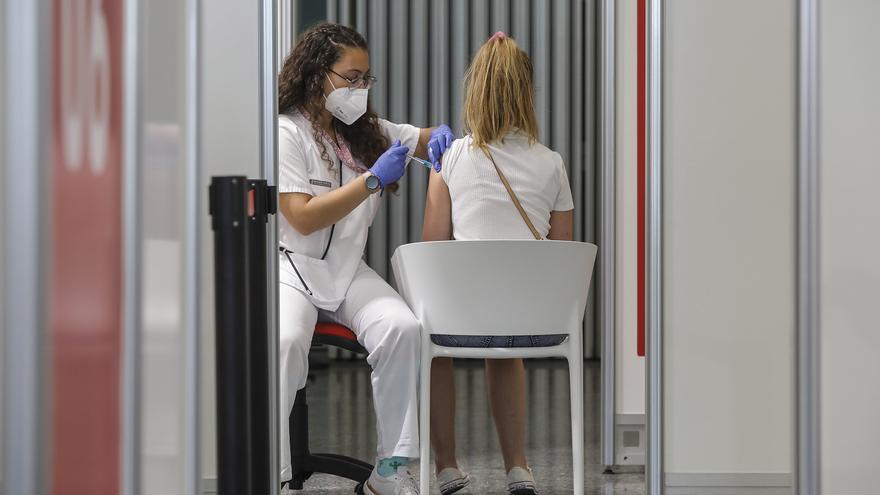 A total of 1,448,898 people have received at least one dose of the coronavirus vaccine in the Canary Islands, representing 73.89 percent of the population target, which has been increased by including the population over 12 years of age in the National Vaccination Strategy against COVID-19.
Likewise, 1,119,654 people have completed the vaccination schedule against the coronavirus, which represents 57.10 percent of the target population over 12 years of age in the archipelago, as reported by the Regional Executive Department of Health in a note of press.
This is because the Ministry of Health of the Government of the Canary Islands has administered 2,451,103 doses of the vaccine against Covid-19 of the 2,598,750 received, which represents 94.32 percent.
Currently, after completing the regimen with two doses groups 1 and 2 (those corresponding to residents and workers of social health centers and first-line health professionals), the group 4, that of the large domiciliary dependents, has the double pattern 99.53 percent; and in the Team 5, made up of people over 66 years of age who are not residents of nursing homes, there are 284,101 people who have received both doses, which implies 97.78 percent.
For his part, Group 3 it is 100 percent with one dose and 99.95 percent with two doses; and the group 6, made up of 55,000 people that includes teachers, firefighters and police officers, is 98.96 percent with at least one dose and 97.87 percent with double guidelines.
Vaccine coverage has also been completed with a dose of the Group 7, which includes the population under 60 years of age at risk of severe Covid-19, by vaccinating 12,420 people included, while 99.92 percent of this group has received both doses.
For his part, group 8, which is made up of 122,703 people between the ages of 60 and 65, have all received a dose, while 53.80 percent have completed the regimen. Also, in the group 9, made up of people who are between 50 and 59 years old, 91.45 percent have received one dose and 91.47 the two guidelines.
With respect to group 10, which includes people between the ages of 40 and 49, 203,996 people (63.34%) have received both doses; and in the group 11, made up of people between 30 and 39 years old, 144,979 people (52.16%) have at least one dose of vaccine against Covid-19 and 28.86 the two guidelines.
Finally, the group 12, made up of people aged between 20 and 29 years, has coverage with a dose of 111,021 vaccinated people (44.10%); and in group 13, made up of adolescents between 12 and 19 years old, there are 34,999 people (19.47%) who have received a dose of the vaccines.