Almost 17,000 teachers opt for one of the 1,377 positions in the competitive examinations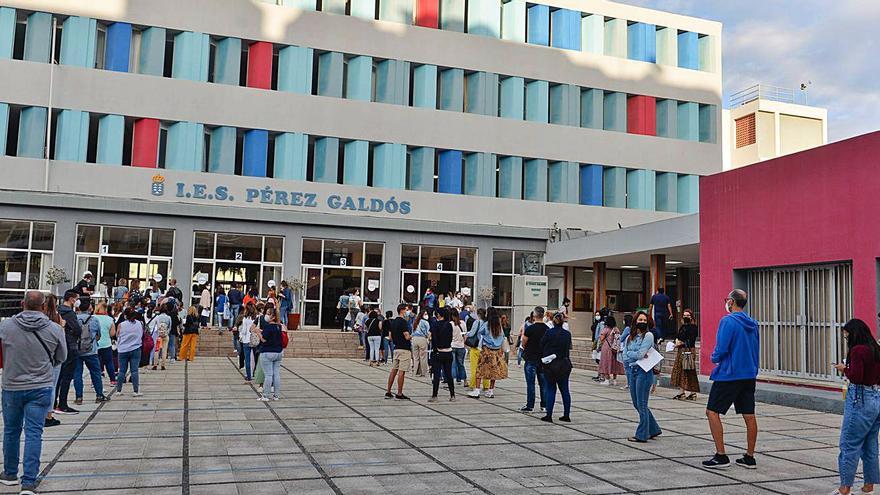 According to the data managed by the Ministry of Education of the Government of the Canary Islands, this call has registered 19,773 registrations for any of the disciplines, since many people have wanted to attend more than one. To carry out this first phase of exams, which are divided into two parts and have a duration of four and a half hours, this Saturday 17 centers on the Islands opened their doors, of which nine are located in Gran Canaria; seven in Tenerife; and one in Lanzarote. During this Sunday session, the opponents will do the tests in 21 centers in Gran Canaria; 20 from Tenerife; two from Lanzarote; and one from Fuerteventura.
In order to avoid the contagion of Covid-19, the applicants yesterday accessed the classrooms in a staggered manner and respecting safety measures - use of masks, interpersonal distance and hand hygiene. In addition, in order to take these tests, the participants have had to fill in a statement in which they express not having experienced symptoms compatible with the virus or having had close contact with a person diagnosed with the disease in the last ten days, in addition to stating your consent for the Canary Islands Health Service to inform the Regional Ministry of the accuracy of the data and to check the clinical history, if necessary. It should be remembered that the measure has been rejected by the STEC.
«Like the rest of the autonomous communities, in the Canary Islands we have held entrance exams for teachers. Specifically, they have been for Official Language Schools, technical professors of Vocational Training and for those people who want to access from A2 groups to A1 groups ", explained yesterday the General Director of Personnel, Fidel Trujillo, who also guaranteed that in all the centers the day passed normally, "both at the organizational and police level." And it is that, based on the words of Trujillo, to celebrate these tests it has been necessary to deploy, during the weekend, more than 1,500 collaborators.
Likewise, the General Director of Personnel indicated that an average of 85% of the registered applicants attended the exams this Saturday.