Almost 150 organizations ask senators to reject the Euthanasia Law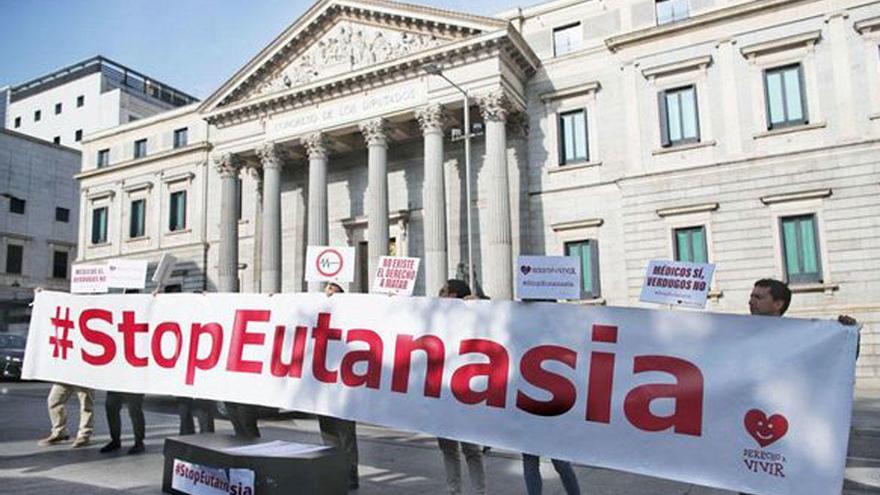 The Assembly for Life, Dignity and Freedom, constituted in January by almost 150 organizations, has addressed a manifesto to all Spanish senators asking them to vote against the Euthanasia Law, which will continue to be processed in the Upper House; and if approved, they have announced actions such as a "great rejection event" or an appeal for unconstitutionality.
The signatories, among which are the European Federation One of Us chaired by Jaime Mayor Oreja, the Catholic Association of Propagandists (ACdP), Christians in Democracy, the Spanish Federation of Pro-Life Associations, the Family Forum, e-Christians or The Villacisneros Foundation begins by appealing to the "conscience" of the senators of all political parties, reminding them that they have been "personally elected."
"You are not people who are part of a closed and blocked list. You have a direct, personal responsibility with each and every one of the electors in your constituency, and therefore you are not due to any other imperative mandate than that of your conscience. ", they emphasize.
In addition, they add that legislating on death in the midst of this "deadly time" due to the Covid-19 pandemic is "a scandal and irresponsibility" and they ask that, instead of approving this law, it be legislated to improve the prevention, control and health benefits.
The document also warns that the application of this law "would increase inequality", because "whoever can pay it will go to palliative care, while compatriots with less income will be reduced to the option to which the law condemns them, suffer or death at the hands of a doctor ".
"For this reason we ask you to reject the law as it is drafted and in the way it has been drafted with a scandalous absence of minimal social debate. You are facing an unjust law, because the State cannot authorize anyone to kill , since the life of the citizens is not at the disposal of the public powers ", they emphasize.
Before finalizing the letter, they warn that the Euthanasia Law supposes "a serious threat" for the health profession and they ask the senators not to ignore the objections of the Bioethics Committee of Spain, the General Council of Physicians of Spain or of the Spanish Society of Psychiatry.
The organizations also announce four immediate actions if the law is finally approved in the Senate. The first one is "to encourage the presentation of the unconstitutionality appeal by the competent authorities and study the possibility of presenting an own appeal through the Ombudsman".
They will also value presenting a Popular Legislative Initiative to achieve a Comprehensive Palliative Care Law, "whose services are prior and mandatory to any request for euthanasia"; they will organize "a great event of rejection" of the law, and will promote, within the framework of the Assembly of Associations, citizen objection to the application of the norm.