Almogarén continues intractable in Third Category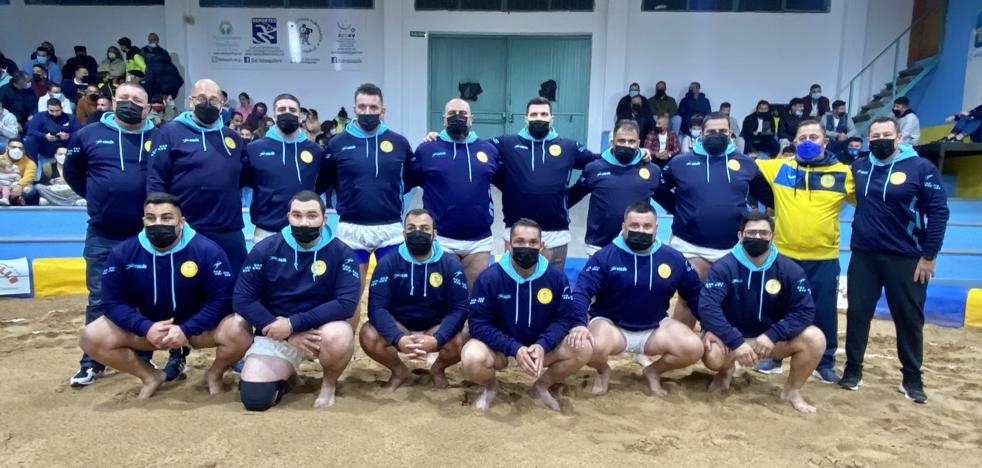 canary wrestling
Santa Rita and the Guanches will fight for second place in the qualifying table
The Almogarén Queso Flor de Valsequillo, with three days to go before the end of the regular phase, increases its lead in the Third Category,
after clearly defeating Los Guanches, until that moment seconds in the table, by a clear 12-6.
Those of Damián Suárez remain in
the highest of the Third Category and what is more favorable for their interests, clearly winning their direct rivals and possible opponents in the final, because
No one doubts that one of those places is for the powerful and great favorite Valsequillero team.
AND
he clash had little history because the locals were 10-2 on the scoreboard and without using their highlights, which says a lot about the level of their entire squad. Roberto Barrios made up the score a bit before separating with Heli Fleitas and leaving the final 12-6.
Santa Rita Autos Roso took advantage of the defeat of the team from Aruquenses to regain second place, after their resounding victory against Unión Agüimes Cicar B, a team without highlights, by 5-12.
Those of Tito Cáceres now depend on themselves to achieve at least that position that will put them in the final of the category. Without using their best men and with Alain Martín and Ernesto Chaves in a stellar plan, they were enough to get the three points.
Adargoma completes an entire lap without losing and consolidates itself in fourth place by defeating Tinamar 12-10, which greatly noted the absence of its prominent Mischievous Ayose. Those of Juan Martel accumulate nine fights without losing despite the great performance of Saul Ramírez who could with Yenedey Pérez in the 11-10, but not with Yonathan González.
The second team to dispute the final B or without highlights, is in the hands of Unión Sardina SPAR Gran Canaria, after their clear victory against Unión Doctoral, a direct rival. Those from Vecindario won by a resounding 3-12, not giving their opponents a chance.
Rubén Padrón, Orlando Sánchez and Alberto Alvarado, who gave Adasat Florido the first, were his best fighters.
In the last match, Estrella defeated Vecinos Unidos Agua de Firgas 12-8, which came to be 9-8, but between Samuel Monzón, Francisco González and his outstanding Yeray Mayor, they finished the clash.