Almería returns to the elite with the help of Alcorcón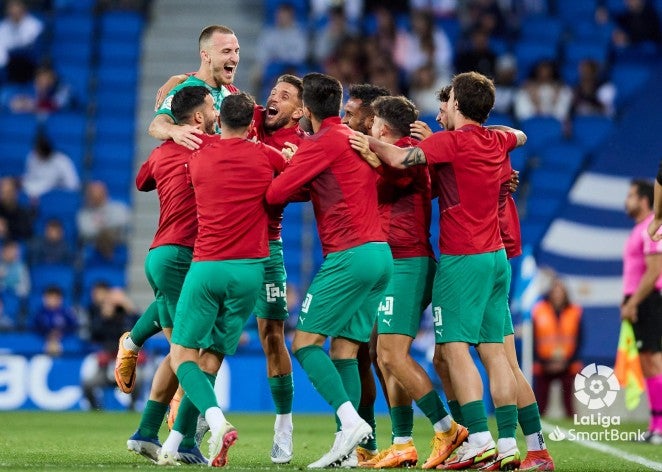 LaLiga SmartBank
The Saudi Turki Al-Sheikh project achieves promotion to First in its third attempt since acquiring the project
The third time was the charm. The rojiblancos were able to seal promotion on the penultimate day, but the trigger in the form of a draw against the already relegated Alcorcón at the Estadio de los Juegos Mediterráneos prevented it. Now, a week later, Almería could not win in Butarque either, but managed to regain their place in the top flight thanks precisely to the victory of the potters against Eibar. All this seven years after he lost it, then under the mandate of Alfonso García.
In its third attempt, the project of the Saudi Turki Al-Sheikh, who took over the property of the Almeria club in August 2019, has achieved promotion to the highest category. After having him close in the previous two seasons, both falling in the semifinals of the 'playoff' at the hands of Girona, the rojiblancos have won the prize they longed for.
All this in a season in which the people from Almería have presented practically immaculate numbers, among the best in their history. Only four days have passed away from the first two places, which give a direct ticket to First. If back in 2013 Joan Francesc Ferrer Sicilia 'Rubi' was left at the gates of his first promotion to the league of stars when he fell with his Girona against Javi Gracia's Almería in the 'playoff' final, now the coach of Vilassar de Mar enjoys the honeys of success from the other side.
The Catalan coach is, without the slightest doubt, one of the names of the rise harvested by Almeria, but not the only one. Proof of this is that the Indál squad has in its ranks the goalkeeper with the fewest goals scored, Fernando Martínez, and one of the top scorers in the silver category, Sadiq Umar, who in turn is one of the top assists. The people of Almería collect what is sown throughout the season.