Almeida despairs Cristina Pardo and receives a hint: "Even if you are a man, can you do two things at the same time?"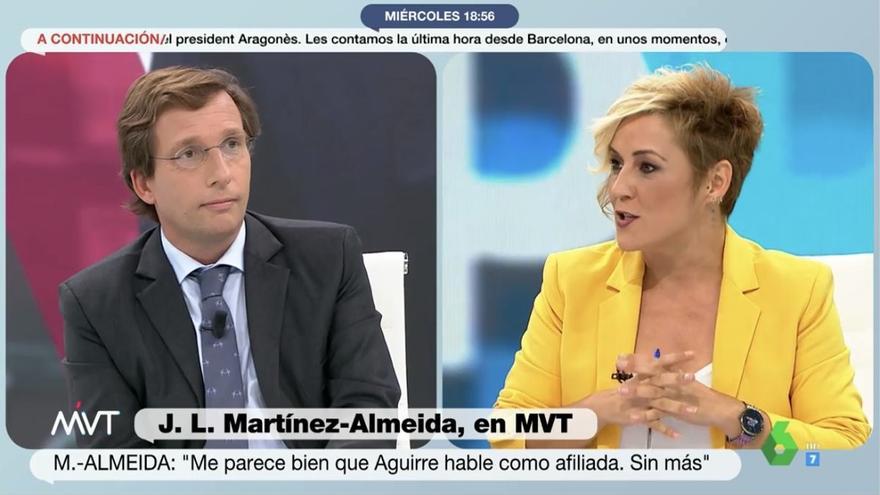 The commotion arising from the intention of Isabel Diaz-Ayuso from preside over the Popular Party of the Community of Madrid came to 'Better late'. The space of the sixth received the mayor of the capital, José Luis Martínez-Almeida, To discuss the matter and in full gathering about it, he received a clear hint from the presenters.
Cristina Pardo wanted to know if the politician would be interested in presiding over the party in the region after the statements of senior officials of the PP in which they spoke of two leaders in the community. He wanted to avoid answering clearly: "If I tell him that I am going to appear or that I am not going to appear, the only thing he would do is generate debate. It seems very good to me that Aguirre have expressed their opinion. I have a great relationship with Ayuso and I think it's good that he shows up. The congress will be held in nine months and when things have to happen, let them happen, "he tried to settle the matter.
Pardo did not want to stay with the intrigue and again tried to obtain an answer from the mayor of Madrid throwing a dart at her: "Ayuso has said that she can be president of the PP from Madrid because she is a woman and can do two things at the same time. Despite being a man, can you do two things at the same time? ", he snapped in reference to the statements.
Almeida once again avoided responding, conscious of the repercussion of an answer: "That should be said by those who know me." "I can do two things at the same time, but it depends on what two things are", he added to close the matter.