All the keys to Alcaraz-Djokovic, the game of the year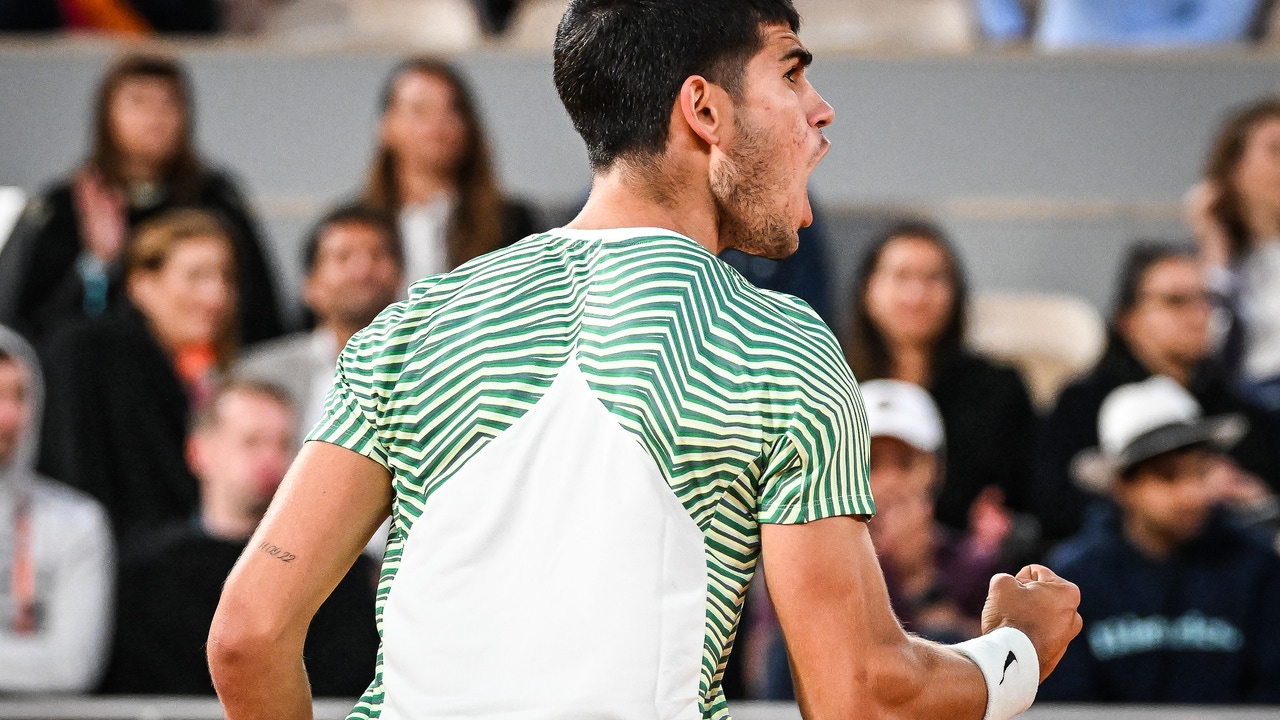 In Paris today there are more cakes for being at 2:45 p.m. in the Philippe Chatrier than for queuing to see the Mona Lisa at the Louvre. The semifinal between Carlos Alcaraz and Novak Djokovic, between number one and three in the world, is the match of the year. At stake are the final, the number one and a generational duel that can confirm Carlitos' final sorpasso if he achieves his first victory in a "Major" against a member of the "Big 3". "It's the most interesting game so far this season"says Sergi Bruguera. And it is a clash that has been waiting since the start of the course, but between injuries, schedules that do not match and unexpected defeats, it has not materialized. In Paris the time has come. It is the ideal scenario.
The Alcaraz tournament is impressive. It has been removing rivals from above with an insulting superiority. He has not cared if a player from the previous one was in front of the number four in the world. From Cobolli to Tsitsipas no one has tickled Carlitos. He dropped a set in the second round to Taro Daniel of Japan because he let himself go, but his tennis hasn't shown a crack. "The matches against Musetti and Tsitsipas have finished convincing him, if he had any doubts, that he is capable of winning the tournament," says Bruguera, former captain of Davis, double winner in Paris and former coach of Zverev, another of the four survivors.
But Djokovic is another story. «It is very important that Carlos is able to always stay positive, that he is the way he is, because he is going to find moments that he has not experienced until now. He is going to have to face very compromising situations, but I think he will be able to face them, "says Bruguera.
Juan Carlos FerreroCarlitos' trainer, also offers some key: "It is interesting that there is a high game pace and that Carlos has maximum concentration and does not have distractions". That defect of youth – just turned 20, let no one forget it – is less and less common. The blackouts that he suffered in some games have not arrived in Paris and when he has been demanded, as in the third set against Tsitsipas, he has responded.
Another notable factor is that Alcaraz already knows what it is to beat Djokovic and that cannot be said by many and even less at their age. It is true that it was at the Mutua Madrid Open a little over a year ago with all that that entails. Carlos was a different player than he is now, Djokovic was starting the season on clay and then there's the altitude in Madrid, but... Carlitos was able to come back after dropping the first set and won by 6-7, 7-5 and 7-6.
Nole reaches the final having lost this course one game more than the Spanish: 25/4 by 35/3. And he does it after solving his first compromising situation of the tournament in the quarterfinal match against Khachanov. "In the semifinal I can't start like I did in the quarterfinals," said the Belgrade player, aware that letting go at the start could be a major outrage. With the Russian he lost the first set and miraculously survived in the second before sweeping the tie-break and heading towards the weekend. Djokovic's tiebreak stats in this edition of the tournament are astounding. He has played five, won them all and hasn't made a single unforced error.
If for Alcaraz the match is his second semifinal of a "Great", for Novak it will be number 45, one away from Federer's record. Factors that can weigh on the game? «Djokovic in Madrid was hurt by Carlos' open serve in the advantage zone. It is the way that Novak does not take advantage of the rest of him and that Carlos' serve is important. There is also the issue of the approaches to Carlitos' net – he is close to 80 percent of the points won in this situation – and we must not forget that Djokovic against Khachanov also used a lot of drop shots to break his rhythm, "says Bruguera. There is more: «Djokovic will try to prolong the points as much as possible, that Carlos has to hit several more times than he has done so far to take the points and that causes him discomfort. And then there's the pressure they both have to deal with. Alcaraz is playing number one and his first title in Paris, you have to see how he handles the situation. And Djokovic is two steps away from his 23rd Grand Slam ... ».
The second semifinal (not before 5:30 p.m.) pits Zverev and Casper Ruud. The German destroyed his right ankle a year ago at this point in the tournament against Nadal. In his third consecutive semifinal he appears as a favorite against the Norwegian, who already knows what it is to play in a final in Paris. Last year he experienced firsthand the fourteenth Rafa Musketeers Cup.