All or nothing at the Heliodorus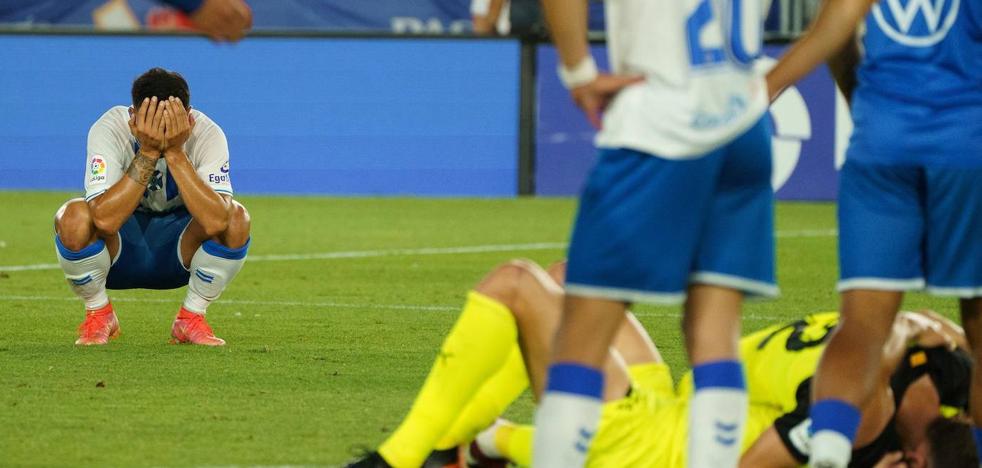 Football
Girona FC achieved a meritorious promotion to First Division this Sunday against a drowsy CD Tenerife that, almost at no stage of the match, was able to contain the greatest visitor ambition, which beat one of the Tenerife natives by three goals.
The only two valid premises initially for this transcendental match, the tie for the locals and the victory for the visitors, became clear as soon as the ball was rolled, with a Girona much more ambitious than a restless rival.
This greater Catalan greed led to a clear superiority in handling the ball, with repeated approximations to the local frame, but without engaging any play committed enough to put
in danger the framework guarded by Soriano, at least in the first hour of play.
Just after this period of time, Tenerife was able to get rid of the pressure to which their rival had subjected them, also producing their first arrival in the rival area, with a low shot from Mario,
that slightly tilted to the right, I send the ball into the hands of Juan Carlos.
Straight away it was Aleix García, in the other goal, who also tested Soriano's skills, but the goalkeeper responded without difficulty to the shot from outside the area by the Catalan attacker, while moments later it was Samu Saiz from the same position that did put the goalkeeper in trouble.
But everything underwent a radical turnaround, at least for the local host, in the final stretch of this period, a long shot by Juanpe was deflected by local defender Sergio González, a play that ended with the ball at the penalty spot, and that
Stuani took responsibility for his shot to put his team ahead.
In this way, and with a much more resolute Girona, both on the field of play and on the scoreboard, the first half ended, to resume play a quarter of an hour later in a context almost identical to the initial one, at least in possession of the ball, until, little by little, Tenerife woke up from its lethargy.
A shot by Aitor Sanz from outside the area (m.53) that Juan Carlos safely stopped was the beginning of a hopeful phase, with another header by Carlos Ruiz, who went wide, they gave hope of a comeback.
This header seemed to be a clear harbinger of the following play, since the same player, also with a header, this time at the far post (m.59), tied the game by finishing off a cross by Alexandre from the right wing.
But everything experienced a radical turnaround again when a center by Alex Baena was tried to be cleared by José León (m.68), but the ball went in the direction of Soriano's net and
before his desperate attempt to intercept his trajectory only he could see how he finally entered.
Everything for the Canarian team became almost a mirage, since once again they not only saw themselves with an adverse score but also surpassed by a much more qualified and, above all, intelligent rival, who still had time to score a new goal. .
This time it was Arnau The one who took advantage of a mistake by the local defense to finish off a cross from the left by Aleix García, so much so that he not only sentenced the Canarian host but also certified the promotion to the highest category of the Girona team .
Data sheet:
1 - CD Tenerife: Soriano; Moore, Sergio Gonzalez (Carlos Ruiz,
m.46), José León, Mellot (Alex Muñoz, m.77); Mollejo, Alexander (Andrés, m.81), Aitor Sanz, Bermejo (Elady, m.64); Mario González (Shashoua, m.64) and Enric Gallego.
3 - Girona: Juan Carlos; Arnau (Jairo, m.90), Santi Bueno,
Bernardo, Juanpe, Valery; Aleix García, Pol Lozano, Iván Martín (Samu Saiz, m.18) (Víctor Sánchez, m.84); Alex Baena (Terrats, m.90)
and Stuani(Bustos, m.84).
Goals: 0-1, M.41: Stuani, from a penalty. 1-1, M.59: Carlos Ruiz.
1-2, M.68: José León, own goal. 1-3, M.80: Arnau.
Referee: Dámaso Arsediano Monescillo (Castile-La Mancha Territorial Committee). He admonished the locals Alexander (m.13), Enric Gallego (m.31) and Sergio González (m.41), and on the visiting side Juanpe (m.31), Alex Baena (m.68) and Aleix García ( m.89).
Incidents: Second leg of the second LaLiga SmartBank promotion Playoff played at the Heliodoro Rodríguez López stadium in front of 22,083 spectators.