All in red at the welcome gala of 'Masters of sewing 4'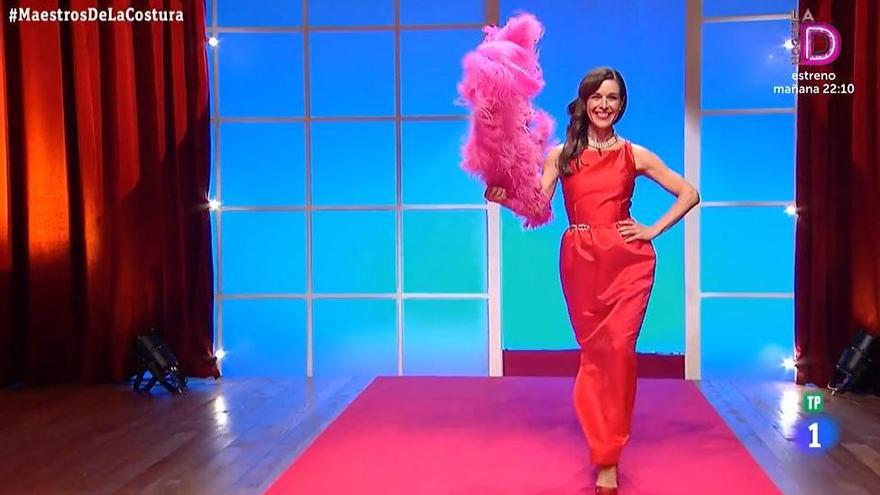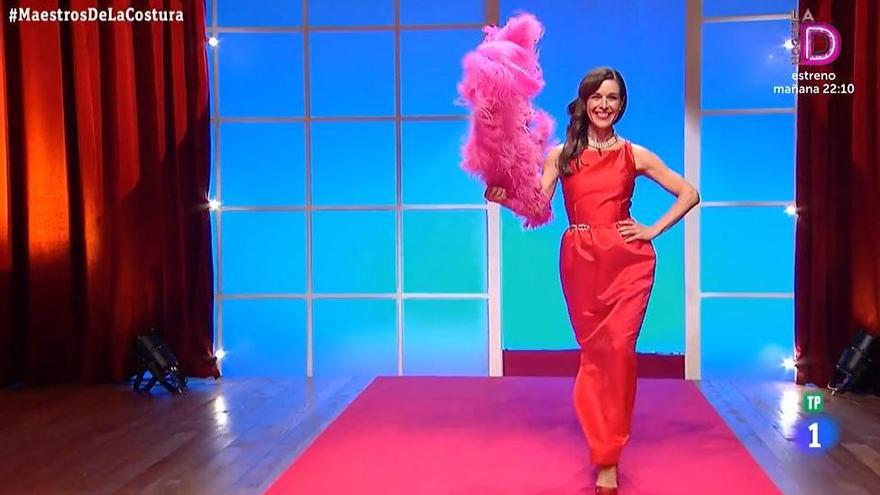 A sophisticated Raquel Sánchez Silva, with a red replica of the Givenchy dress worn by Audrey Hepburn in "Breakfast at the Diamonds", made her appearance behind a wonderful and huge pink feather fan in the workshop of the fourth edition of "Masters of Sewing".
To the beat of "Lady Marmalade", in the version that Christina Aguilera, Pink, Mýa and Lil'Kim, for the movie "Moulin Rouge", the presenter paraded followed by the jury made up of Lorenzo Caprile, Alejandro Palomo -Palomo Spain- and María Escoté, all of red passion in a beginning that has been pure spectacle.
The one everyone hopes to get with the twelve apprentices selected from 14,000 applicants who, moments later, took their places next to the sewing machines.
For them they were her first words, just after acknowledging that she also suffered from the nerves of the first day. "We look forward to meeting you and I guarantee that you are going to laugh, cry and go through unforgettable experiences", I assure you.
And for it the first test, As Palomo asked them, it was that they made a garment that "talks about yourselves", just before the model Eugenia Silva, godmother of the program since its first edition, appeared.
Elena, Yelimar, Mily, Laura, Nani, Ana, Álvaro, Ancor, Javier, Fermín, Gabriel and Lluís will compete for ten weeks for the gold mannequin, in addition to fifty thousand euros in cash and a specialized training course in Design of fashion at the Higher Fashion Center of the Polytechnic University of Madrid.
Among the participants who hope that the "talent" changes their life there is a painting teacher, Ancor, passionate about the 40s and 50s, winner of the first test.
Yelimar, a former Venezuelan model, disabled after suffering a traffic accident or Nani, a corporal in the Air Force who has participated in missions in Afghanistan and Dakar, who she started sewing to wear different dresses at the April Fair.
Ana is a dental hygienist, with a problem of hyperhidrosis (excessive sweating) in her hands, while Gabriel works as a psychologist in Badajoz. Mily, the oldest apprentice, acknowledged that he "felt like in a dream" to be in the workshop.
Elena is a teacher in a dance academy and studies Fine Arts and Art History and her partner Laura is an administrative worker; Lluís assistant in a fashion workshop. And Fermín stylist for an alternative theater group.
A priori very far from fashion and sewing are Álvaro, a former boxer until a few months ago, in which he suffered a stabbing in the lung due to a traffic discussion and Javier, present on the Levante UD board, is in charge of the player signings.
The Sant Pau modernist venue in Barcelona was the first outdoor outing with which the program honoring Catalan fashion, in which the apprentices had to replicate two pieces by brands with a Catalan stamp such as Knowtown (whose designer is Marc Vidal, former third edition apprentice), Tot Hom, Yolancris, Lydia Delgado, Manuel Bolaño or Juan Avellaneda.
A test in which the first moment of tension between Caprile and Lluís, an apprentice who has not hesitated to comment that he is not "afraid of the judges" and has shown it on several occasions when he has faced the dressmaker.
The team event, as defined by Raquel Sánchez Silva, was "convulsive", so much so that in an unusual way the twelve participants had to face the removal test performed with paper.
Finally, Elena, the young flight attendant, 26 years old and dance teacher was, due to the lack of quality in its design, the first eliminated from the fourth edition.
"It was a pleasure to start and I hope to continue learning", said the Valencian.
A sad farewell, for a season that will be governed, as Caprile pointed out, by "sustainability" and with the aim of avoiding "waste"in the tissues.