Alicia Martín: "My intention in using books is to move something, not to leave indifferent" | Culture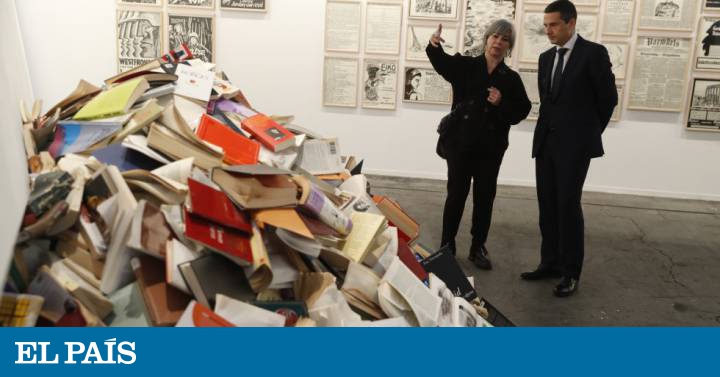 It all started with a "Why don't you dare?"
And she dared, of course. It was there in 2003, when the House of America organized a collective exhibition curated by Rafa Doctor. So, Alice Martin He had already started working with books as material of his sculptures. "But I had smaller pieces, and he gave me that Madrid challenge," he recalls amused. That boldness materialized in a large-scale intervention that, during the time that remained exposed, transformed the panorama of the center of Madrid: a waterfall of 5,000 books that flowed from one of the windows of the building, the Palacio de Linares, a jet of tangled pages, stories, memories, wisdom, which since then has been replicated in numerous locations, both in Spain and abroad, and has become an emblem of Martín's work. That "valuation of the book as an artistic element, highlighting its symbolic and communication values" has earned the creator of Madrid (1964) the Antonio de Sancha award 2019, which annually grants the Madrid Publishers Association to those distinguished figures "for their work in defense of cultural values ​​in general, and of the book and the promotion of reading in particular."
"After the vertigo of the announcement, I think of the cast of previous winners, which is very high," says the sculptor, who will be given the award on November 27. Names such as Adela Cortina, Fernando Savater, Luis Alberto de Cuenca or Mario Vargas Llosa preceded theirs in the list of recognized for their contribution in support of the books. "This element has been constant and visible in my work. By using it, my intention is to move something, not to leave indifferent, "he explains about the reason for his choice of this material for his creations. "It is precisely the book that unites me with the rest of the winners: what happens is that they, as philosophers and writers, use it as a projection, while I use it as an object. They work with the book as content and I as form. "
Martín, who last year was responsible for preparing the EL PAÍS stand at the Arco fair, and that he has also experimented with other disciplines throughout his career, from video to installation, photography and drawing, he began to make use of books for his pieces "in a very simple way: reading". "On the way from the studio to my house, and from home to the studio, I always carried a book, and it was the fact of reading, and of starting to think of the book as an object, with its smells and textures, what made me He took the step, "he recalls. "At the beginning he made individual sculptures: he emptied the book and replaced the interior with other materials, such as glass, lead, waxes … As he developed the idea, the projects grew."
Convinced of the importance of culture as a means to generate reflections "about everything that surrounds us", the artist emphasizes the role of books – and also of art – to form critical citizens. "Apart from that, it is a plastic-aesthetic expression, and it generates heritage," says Martín, who celebrates that among those recognized by Antonio de Sancha is finally a plastic artist, one of the many reasons he has encouraged himself, again , "to say yes."
. (tagsToTranslate) alicia martín my (t) intention (t) to use (t) book (t) to be (t) to move (t) to leave (t) indifferent (t) sculptor (t) to recognize (t) large (t) intervention (t) make (t) volume (t) receive (t) award (t) antonio de sancha (t) award (t) association (t) editor (t) madrid



Source link