Alfonso Cavallé Cruz: "We help those affected by the La Palma volcano to formalize the documentation"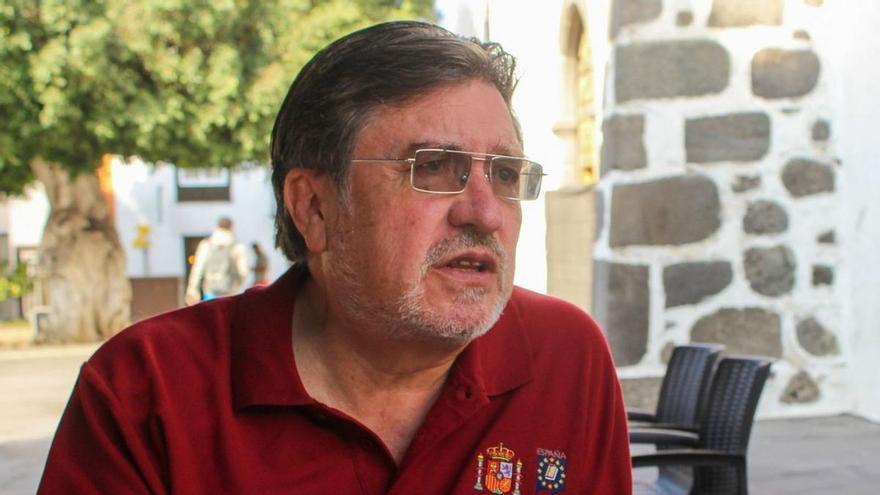 The problems are very varied, for example, those people who lack documentation that justifies what their rights were. There are also many cases of shared farms belonging to relatives in which constructions have been made on the parents' land and which have not been formalized either. In all of us we are going to try to solve the problem, especially to all those people who do not have documentation, so that they can justify what their rights were. Regarding those who have documentation, we are also going to allow, through notoriety certificates, that they justify what the real state of the farms was at that time, thus, for example, some have built buildings that had not yet declared them, and so What we are going to record is their existence and the characteristics they had. And then there are also very important aspects: it is not the same to have an empty business premises or a business in production, the value is not the same.
Until you value or certify those properties do not collect the aid?
There are many types of aid, such as direct aid, which rather cater to the emergency, to the person, but then there are also other aid and compensation that cater more to the property. Let's think, for example, what would happen when it was expropriated. They would have to give money for the expropriation of the goods that have been left under the lava, but they cannot give it to just anyone, but to those people who have rights to the property.
The cases of building on someone else's land are not common, it is common to do it on the parents'
In other words, are they going to expropriate all the lands occupied by the lava?
In my opinion it is the most realistic solution, but it has to be for the real value. And if we want a solution that is fair, fast and social, we will have no choice but to act in an expropriation of the land for its real value. And the administration should be the State because it is the one with the most resources. And with the Autonomous Community, the councils and city councils must establish the different uses that will be given to these lands: agricultural, housing or protected. What will also have to be done is to requalify some land so that it can be built, and, whoever wants, can invest the money that comes from the expropriation in another property near where they previously lived. All this will require justifying who owns the
any right, so that any compensation or any fair price does not take long to be received.
The idea is to provide all citizens with adequate documentation so that they can quickly access any help that is related to the land, to the property. There are heritage values ​​that affect not only housing but also affect work, the livelihood of many of these people, and now it has disappeared. We see it in all those who were dedicated to agriculture with the farms that disappear, and that not only affects the owner of the farm but also the wage earner. What about the people who worked on the farm and who weren't the owners? Some kind of activity must be generated in the future to regenerate the economy again. For this reason, with these types of measures, such as, for example, the money received in aid and expropriations, in my opinion they should be directed towards reinvesting them in La Palma, and for that they will also need to be adopted Fiscal measures that facilitate that this reinvestment is on the Island. Measures such as not recording acquisitions or constructions, and establishing other fiscal measures in the Income Tax, in the Corporation Tax for a period of time that motivates the citizen to to stay.
How is ownership proven when papers have been lost or did not have them?
Notarial documentation has its tools, such as the notoriety certificate in which facts can be justified with witnesses, documents, reports, photographs, receipts, among other evidence of all kinds. In the act of notoriety, the notary publicly declares certain facts from which rights to the property are derived or that the property had those characteristics. What is happening on La Palma is an emergency and unique situation, since in reality it is as if the properties have disappeared. Right now the farm is impossible to access, and at this time exercising rights over it, such as building, is actually a fantasy. Now the relevant thing is to record what you had and what the property was like. A farm that was acquired as a wasteland is not the same as having them on a farm that has subsequently been cultivated, planted, that has bananas, that has tanks or fourth tools, that is, all that must be taken into account and changes much what is the value of the farm.
If the property was legal or illegal is a matter of the past because right now it no longer exists
Do you set the value?
No. We do not set the value and we cannot. This will be the responsibility of other professionals and administrations. What we document is what there was and we try to record what existed at that time, who were the owners, who had the usufruct, if there was a mediator, that is, a series of issues that are all relevant, such as, for example If it was a community of property because there were several heirs who had the right to that property. Let's think of a very typical case that is happening a lot, which is a piece of land on which parents and their children have built their homes.
They also have many cases of daughters.
Daughters is a popular term, in relation to inheritances that are not formalized in official documents and remain in private documents. Public documentation, deed and registration is like home insurance, if you don't have it, you only miss it when you have the claim. The same thing happens with documentation, the day you really need it is when people throw their hands at their heads. Here what we are trying and we are going to achieve is that everyone has their document and this will benefit all citizens.
What exactly are they doing?
The most that is being done is the act of notoriety, which is a notarial document where the notary records the existence of a fact and rights. Right now what is being left is evidence of these cases, of a person, for example, who had a farm and that on that property there was a house that he had made, another house that his son made, and another house that he made a daughter and that, in turn, the houses made by the son and daughter were made by each of them with their respective marriages charged to their property. With that we have already defined what the situation is in fact. If this is not done, it would form a mess of such caliber that it could take years to determine the aid and compensation to the interested parties, and if they have all this well defined, well regulated, all these procedures are greatly streamlined, because the idea is that it be something agile, efficient and transparent.
We are going to make a legal and economic X-ray of the areas covered by the volcano's lava
Is this regardless of whether they are legal or illegal farms?
Right now, what is legal or illegal is a matter of the past. The property right now no longer exists. Remember that also many of these houses that were built without a license have prescribed any urban infringement. The cases of building on someone else's land are not common, what is common is building on the parents 'land, with the parents' permission, yes. And to make the certificate of notoriety it is necessary first the declaration of the holder, then the witnesses and the evidence that they have that can be documents, they can be electricity bills, payment of taxes, it can be twenty thousand things, but, above all, We have the issue of witnesses and then some edicts are also published in the town halls with a period of 20 days, for anyone who has to make an allegation or does not agree with what is being said can appear at the Notary's Office and testify what you consider that obviously affects your rights.
How many people have they attended?
Well, look, we started on November 2 and opened notaries in the three affected municipalities: Los Llanos, Tazacorte and El Paso. We have counted on the collaboration of the administrations for this and we have assisted hundreds of people.
How long does it take to resolve the files?
It depends on how long the interested parties take to provide the requested evidence. And on that the interested party and the witnesses declare, We value the evidence provided and once it is appreciated we publish the edict for the allegations. And among all I estimate that it may take a month.
In other words, their intention is to legalize as quickly as possible everything that has been buried.
Yes, we are going to make an X-ray of the legal and economic situation of the areas covered by the lava, so that the victims can access aid, whether they have papers or not. If they did not have documents for that we are, and even those who previously had deeds that were not updated, we update them, because what it is about is to make things easier for citizens and the administration. I have read that they also mediate in insurance matters. Yes. We even have the possibility of mediation and several notarial associations that have foundations that are collaborating with us when a conflict arises, such as between a financial entity with an insurance company and an affected party.
How long will they be on La Palma?
Until we finish solving the problem to the last citizen. Notaries are taking it with great enthusiasm. We have quite a few volunteer notaries. The first three we have spent 15 days with the idea of ​​leaving everything ready for the others to come and maintain a bit of judgment and action protocols and, from now on, the idea is that every week a replacement is established. In line, who have confirmed that they are coming, we have more than 60 notaries waiting for their turn.