Alex Katz: «I am much more creative when I do nothing»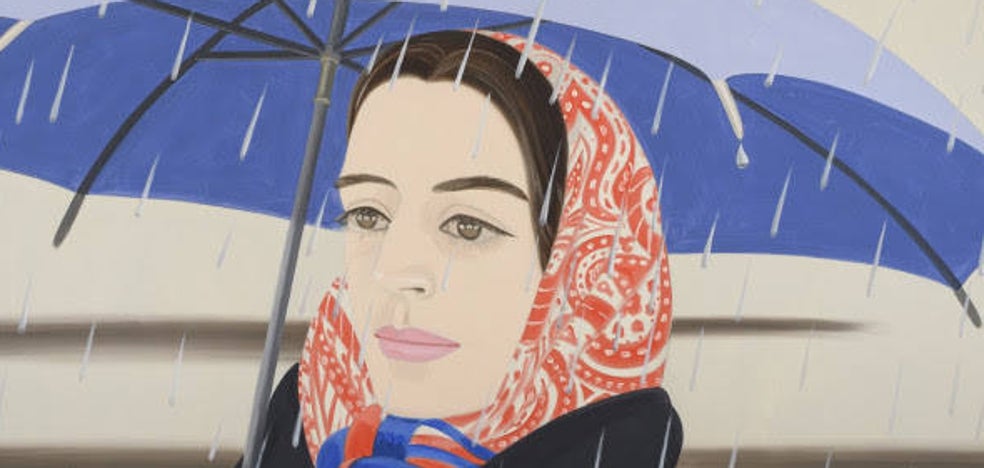 The Thyssen summarizes in 40 works the seven prodigious decades of activity of the brilliant and nonagenarian New York painter / «I follow my instinct, I overcome my fears and I let things happen without knowing very well what art is»
He has been painting without dismay for seven decades, but he assures that neither he nor anyone "knows what art is." "I just follow my instinct and let things happen. And I am more creative when I do nothing », warns Alex Katz, (New York, 1927), who at the age of 95 offers the first major retrospective of him in Spain.
The Thyssen Museum summarizes in forty paintings, some of recent billing and many of monumental size, the singular and happy trajectory of this giant of contemporary art, an 'outsider' of American painting. A gifted artist who advanced and navigated the wave of pop to leave it behind, changing the rules of the genre and incorporating keys of abstraction and expressionism into his vitalist painting.
«Summarizing seventy years of painting by a God of painting like Katz in just forty works is a 'tour de force', an audacity. Given the size of many of them, it has been like putting a sailboat in a glass bottle », explains Guillermo Solana, artistic director of the museum and curator of the exhibition of the year at his house. Scheduled for 2020, it was about to go to waste, first due to the pandemic and then due to the brutal increase in transport and insurance prices. "In the end we had a direct line with God. It is as if you were organizing a Titian exhibition and he himself told you which painting you would have to hang and how. It is a privilege", Solana congratulates. On the bill until September 11, it also anticipates the one dedicated to Katz by the Guggenheim in New York.
The Black Jacket', (972), oil painting, 3.6 by 1.8 meters. /

Private collection, Switzerland

«Katz remained and remains faithful to figuration, and he is one of the few artists who has survived in this sometimes undervalued or directly reviled genre,» says Solana. "Appropriating the large formats and resources of abstraction, he endows his painting with a heroic spirit," Solana boasts about Katz's "vital and 'cool'" work that "lives in the present and unloaded with nostalgia."
monosyllables

Sparing his words, lanky, lean and agile, bald as a billiard ball, wearing pitch-black sunglasses, a white jacket, a black shirt and a red tie, Katz has the appearance of an old mob boss or Mike Jagger's roguish father. Refractory to the "useless" press conferences and sharing emotions and reflections, he spaces his words and initially answers with monosyllables. But in the end pop's cantankerous grandfather relents and offers some insight into his work.
"As I get older I spend more time painting alone, but I have no problems with people, who used to drink and smoke around and now neither drink nor smoke and lock themselves up at home", explains the great social portraitist who today flirts with landscape.
'Sunset#6', a 4.8 by 2.7 meter canvas painted by Katz in 2008. /

Altec Collection

He gets up every day at half past seven in the morning and paints seven days a week. "Sometimes just 20 minutes and sometimes 12 hours," she confesses. «If you work too much manually, the thing does not work. You have to do a lot of intellectual work », she says. "I am much more creative when I do nothing. If you take advantage of that time of physical inactivity, you will progress, "says the almost centenary artist who still climbs scaffolding and ladders in his New York studio to paint, often in a few hours, gigantic canvases that require considerable physical effort. "I don't mess around with screens, tablets or computers and I barely touch the phone," he says.
"I have limited myself to following my instincts and it has not gone badly for me," he assures, outlining a malevolent smile. «At the age of twenty I shot thousands of paintings -she exaggerates- but at forty I already had a refined technique and better judgment. Now I am active and competent », she claims. «I want to find the truth, which is very variable, and I do it in very different ways, without ever knowing if they will work or not. I follow my instincts and overcome the fears that I still have. "I try to make sense of what I do for a while and then I do something else," she explains, justifying his evolution, alternating his colorful and monumental portraits with landscapes that are just as vivid and enormous, but very synthetic. He can thus dedicate a canvas of almost four meters to a solitary maple branch.
"Art is constant change, and success or failure has more to do with what the dealers say than with your intuitions," he reflects. «People think they know what art is, but it is art that reaches you and defines you. It's something unexpected."
'The Cocktail Party', 1.8 by 2.4 meter canvas from 1965 from a private collection. /

Richard Gray Gallery

The Thyssen did not have any of Katz's paintings in its fabulous collection, but thanks to Borja and Blanca Thyssen's purchase of an exceptional piece, it will be able to join its payroll. Tita Cevera's son has acquired 'Vivien' for an undisclosed amount, a spectacular canvas measuring almost four by two meters in which Katz includes the face of his daughter-in-law five times. Its new owners have promised to leave it in the museum when the exhibition closes at the end of the summer.
"My paintings are traditional and there is no problem that they are here, at the Thyssen, together with the great masters of history," says a multimillion-dollar painter without a hint of modesty (one of his pieces was close to 4 million in 2019 ), whose work competes for the best museums in the world.