Álex González: "The Camino allows you to know yourself better and be a better person through loneliness"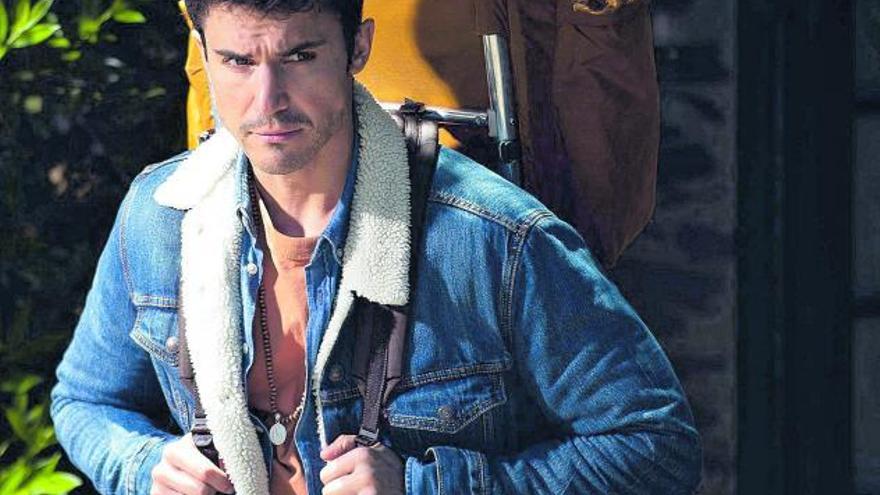 How have you internally modeled your character?
Roberto is Mexican, a firefighter and he is engaged. Suddenly, in one of his services, a girl dies and he feels responsible for that loss. He begins to walk with great guilt and, after a year, decides that doing the Camino de Santiago can help him. Later, time passes and he has an illness that is what makes him do the Camino again and reconnect with the friends he met in the first stage. The difficulty for me has been in portraying Roberto's disease, ALS, amyotrophic lateral sclerosis, and in the Mexican accent. I thought it was going to be easier about the accent, that it was a bit complicated for me, but in the end, difficulties make things easier.
Had you considered doing the Camino de Santiago before?
Yes, it caught my attention and I wanted to. In fact, it is something that all the protagonists of the series share: we all wanted to do the Camino. That was one of the reasons why it was special. Now, I have more desire because it has not been the entire experience but I have looked at what the route offers you, to know you better and be a better person through the moments of solitude, of listening to you. There is a mystical experience too. It is not the same to experience loneliness walking somewhere else than to do it on the Camino de Santiago, which, as the series says, has a trace of those who arrived before.
The series talks about knowing how to interpret the signs of life, do you think you can read them?
Sometimes yes; sometimes not. I believe in them and when they happen I try to decipher what they mean or I see that they are not coincidence. I like to think that there are messages in the air and that we are channels and that someone can tell you something that changes your life.
"From this series and the circumstances in which we shoot and in which we live, I have learned to be very present"
Did you always want to be an actor or was there another dream above you?
As a child, I had many dreams, then there comes a time when you have to choose. I am very lucky that since I was a teenager I already dreamed of being an actor. At 17, I decided to start training. I find it very difficult for young people to decide what you want to do for the rest of your life and to do it because circumstances change so much that it is easy that at 30 you want to do something else.
Besides the professional, what is the biggest dream you have?
Right now, my dream is to try to dream here and now. Something that I have learned from this series and from the circumstances in which we shoot and in which we live in society is to be very present. Before, I knew the theory but did not know how to put it into practice. Here and now is the most important thing that is happening and my dream is to enjoy today.
Do you believe in utopias or are you so down-to-earth that that word is not in your dictionary?
I am very changeable, I go through times. I have spent a lot of time reading about astrology and dreams. I have wanted to know what happens with reincarnation; but I always return to a very earthly place, where I only believe in tangible things.
At the beginning of the first chapter, when they are in Leyre, a character says that time changes everything.
I would not dare to say that it changes everything, but it cures many things; things we did not understand makes us understand them. The only thing that does not change are some affections.
Have you ever needed to find yourself?
The truth, no. I am a person who thinks a lot and I enjoy solitude a lot although I am sociable. When I can I try to spend time alone and almost every day I have moments of introspection. It's like homework, because I do a little bit every day, I don't have to binge.