Álex Clavero: «I make a humor that reaches everyone, for which I leave my skin»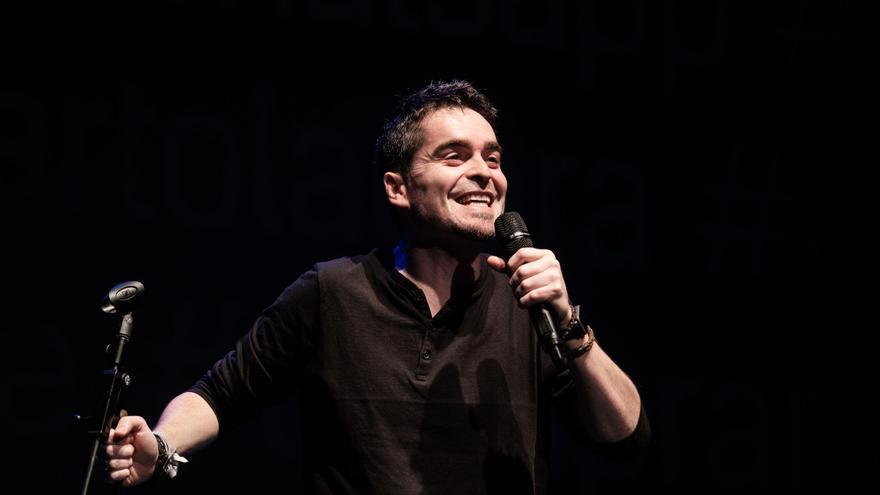 Álex Clavero (Valladolid, 1981) is a stand-up comedian who performs today at the Alfredo Kraus Auditorium to show his recent show 'The new normal', which summarizes everything that has happened since the lockdown up to now. For the comedian, it is worth remembering what happened and summarizing it from a sympathetic, funny, critical, absurd and white point of view.
How has the pandemic evolved since 2020?
It is a practically prepared show. It lacked coherence with the times and, according to the pandemic, I thought that this had to be carried out by putting the touch of the funny part, extracting laughter and all the jokes, so that people don't think about it in a annoying way, that is what is happening, that we are bored, that nothing is funny anymore. It is about turning all this that has happened to analyze life, which is what I usually do in my monologues, achieve a slightly different point of view of our day to day and of this time.
You say that your humor is nice, funny, critical, absurd and white...
The first thing I pursue is to make humor, to make people laugh. I try it with the things that happen to us in our day to day, that is, with the everyday, what happens to everyone. I want a 16-year-old to laugh, but at the same time, a 70-year-old lady. The pandemic has caught up with us all and I want to use it to make many topics laugh. Yes it is true that I make a nice humor that can reach everyone. For this I leave my skin. This show has a lot of work, I've given it a lot of thought and I'm very happy with it.
"I want people not to remember the pandemic in a bad way because we are already bored"
What will be the strengths?
I couldn't tell. What I do try is that every 30 seconds or a minute there is a laugh. It may sound like something very difficult, but I try. I'm really bad at being on stage if I notice that people aren't having a good time, so I try to make them laugh as much as possible, which is my only goal.
How do you manage to make people laugh in such a way?
Trying to get into your life. In this case you are islanders, you are a little further away and it will be curious to be able to think the same as me, that things happen to you the same as me. I like that all the people below feel as if they were on stage, that they become the true protagonist of the stories I tell. When I get that is when I see the key and my strengths. The show lasts a little over an hour and a half.
"I try to make people laugh with what happens to us every day, with everyday things, what happens to all of us"
An anecdote from the show?
Something that the pandemic has left behind and that we must not forget is that we were at home for three months. I hope that in three years this will seem like science fiction, but wimps like me have to remember it. We have started, during confinement, to make bread at home. We have dedicated ourselves to boycotting the only business that did not close, that of confectionery, and on top of that we think that, after this, we are going to become better people. Well, it could be that we are fools because we have competed with the only thing that worked, the rich business that could get ahead.
Have you come to Gran Canaria more times with other shows?
Yes, I came many years ago with Paramount Comedy Nights. I have performed at the Alfredo Kraus once. The first official stop of this show the new normal It was in Gran Canaria, although before that I went to Valladolid where I made a premiere for three days that went well, so I started the tour.
"My goal is to provoke laughter to the maximum; I look for a laugh every 30 seconds or a minute"
This is a monologue, right?
Yes. When I do the shows I try to have something more than just a monologue, but the base is, a comic monologue about life, about normality. I talk about the old and the new, but I don't want it to be the talk of the pandemic because we are already very fed up. There will be different surprises. What I do anticipate is that the Rollings will not come to perform. With my previous show I didn't manage to go to the Canary Islands due to my schedule. My shows include comedy based on humor, but I try to include touches of something else so that it is not just about myself talking on the microphone.
Do you have other shows, such as #mimadretrendingtopic, the sniperrock in the program The pirate and his gang Rock FM, etc…
Yes, I am a contributor to Rock FM where I have a monologue every morning and I was a contributor to the anthill of Antena 3 and Paramount Comedy. Basically what I do is tell stories in my own way.
What other projects are you immersed in?
I am with two tours at the same time. In addition, I work at Radio FM in the mornings and at 13 TV I do some monologues at night as well. I am immersed in the tour of the new normal and in one entitled It never rains to everyone's liking with JJ Cowboy.