Alejandro infuriates 'La Isla de las Tentaciones' for "sexist" towards his girlfriend from the Canary Islands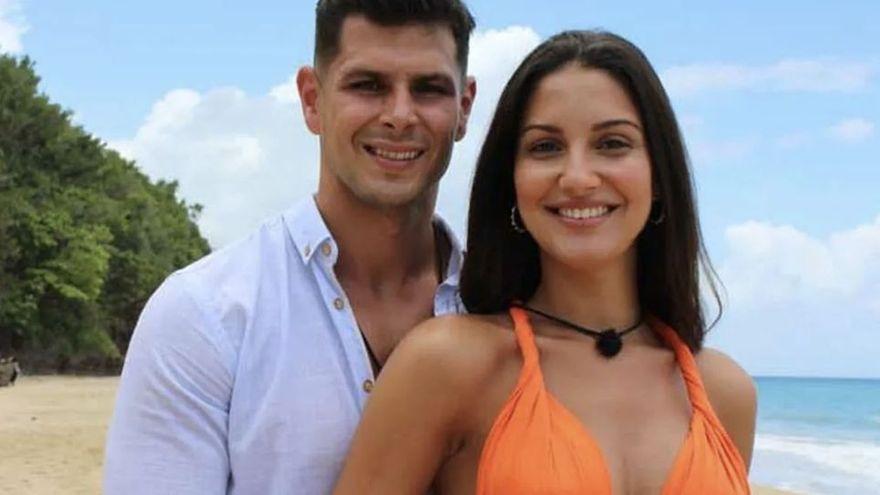 The emision of 'The island of temptations 4' has had in recent days Alejandro Nieto as one of its absolute protagonists. The model made a series of comments about his Canarian girlfriend, Tania, which were outraged on social networks, although the last straw came with his words about bisexuality. According to what he said, he was "touched" when he found out that a partner of his partner was.
"I know that she is very fighter on the issue of homosexuals, she grew up in the Canary Islands and likes drag finery, she is very liberal. But she has never commented to me that she had a sexual appetite for another woman", he assures.
"I know that, once in Erasmus, in a game, he ate his mouth with a girl or a boy and told me that he did not like it," he said, "If you have tried and you did not like it, you will not to try again ", he concluded.
The other three couples
The Telecinco program, in addition to the Canarian couple, announced three others: Joshua and Zoe; Darío and Sandra and Nico and Gal.la.
Josué and Zoe (26 and 22 years old), from Marbella, met in the 'Mujeres y Hombres' program and have been together for 6 months. After a difficult start, marked by jealousy and betrayal, this explosive couple arrives on 'The island of temptations' to be able to advance in their relationship and leave their fears behind. The fear of possible infidelity has complicated their arrival on the island to the point that Zoe herself flatly refused to put their relationship to the test. Finally, Josué and the need to finally overcome her jealousy encouraged her to join in an experience that will forever mark their lives and their relationship.
Darío and Sandra (both 22 years old) They have been together for 1 and a half years and are from Alicante. Its beginnings were disparate. While Darío fell madly in love with Sandra, she had doubts about him, although she eventually found out that her feelings were stronger than she thought. Currently, they assure that their relationship is experiencing one of its best moments, although Darío continues to believe that in order to move forward he needs Sandra to fully trust him while she is unable to forget the fame of womanizer that is dragged by the man who is now the man of her life.
Nico and Gal·la (22 and 24 years old), from Castellón, have been in a relationship for 2 and a half years. Nico, a professional footballer, met Gal·la and fell completely in love with her and, although Gal·la also liked it, their relationship did not start as he would have liked. Gal·la understood that his story was not serious to the point of being disloyal to Nico with two of his teammates. This betrayal was a before and after for them and especially for Gal·la who ended up realizing that she was really in love with him. They finally decided to give themselves a new chance and now they join 'The island of temptations' to find out if they are really made for each other and finally leave the mistakes of the past behind. Nico is clear: there will be no more opportunities for Gal·la: if he fails her, it will be over forever.
'The island of Temptations' He started his fourth season on Telecinco and did it leading. However, the reality show scored the worst premiere of the four editions of the format: 16.9% and 1,930,000 viewers. Without being a bad result, and also surpassing the premiere of 'The Last Temptation' in September (16.3% and 1,866,000), the truth is that it cannot be compared to the premiere of the first season (23.2% and 2,978,000) and especially the third (25.2% and 3,012,000) last January. The second option was the series 'ACI' on Antena 3, which held up well with a 12.6% and 1,536,000 faithful.
Prime time
Telecinco
'The island of temptations': 1,930,000 and 16.9%
Antenna 3
'El Hormiguero': Freddie Highmore: 2,640,000 and 17%
'ACI: High Intellectual Capacity': 1,536,000 and 12.6%
The 1
'Journey to the center of TV': 1,240,000 and 7.9%
'Blood ties': Lola Herrera: 1,148,000 and 8.7%
the sixth
'laSexta clave': 697,000 and 5.1%
'The intermediate': 1,229,000 and 8%
'Ana Pastor's goal': 522,000 and 4.1%
Four
'First dates': 656,000 and 4.6%
'First dates': 1,109,000 and 7.2%
'Everything is true': 590,000 and 6.7%
The 2
'My place of retirement': 245,000 and 1.7%
'My place of retirement': 315,000 and 2.1%
'Documaster': 500,000 and 3.4%
Late night
Antenna 3
'ACI: High Intellectual Capacity': 760,000 and 10.8%
'Cinema': 'A perfect crime': 233,000 and 7.7%
Telecinco
'Ada Masali: The Island's Tale': 392,000 and 12.7%
Four
'Monica and sex' "The kids and sex": 100,000 and 3.8%
The 1
'Blood ties: The debate': 616,000 and 8.6%
'The Wanninkhof case': 142,000 and 5.1%
the sixth
'Cinema' "A date in the park": 161,000 and 2.9%
'Arrow': 52,000 and 2.3%
The 2
'Philippe of Edinburgh: The King without a Crown': 394,000 and 3.5%
'Chronicles' "Passport for diversity": 119,000 and 1.6%
'The world we wanted to live in': 54,000 and 1.2%
Afternoon and afternoon
Antenna 3
'Loving is forever': 1,204,000 and 12.4%
'Bitter land': 1,476,000 and 15.7%
'Boom!': 1,387,000 and 13.8%
'Pasapalabra': 2,687,000 and 22.1%
Telecinco
'Save me lemon': 1,279,000 and 12.2%
'Save me orange': 1,487,000 and 15.3%
'Secret Story: Last minute': 1,434,000 and 11.6%
The 1
'Two lives': 658,000 and 6.7%
'Serve and protect': 655,000 and 7%
'The hunter': 789,000 and 8.3%
'Direct Spain': 883,000 and 8.1%
'Here the Earth': 1,570,000 and 12.4%
the sixth
'Zapping': 698,000 and 6.8%
'Better late': 585,000 and 6%
Four
'Everything is a lie': 532,000 and 5%
'Everything is a lie bis': 589,000 and 6.2%
'Four a day': 563,000 and 5.8%
'Four a day at 8pm': 586,000 and 5%
The 2
'Know and win': 867,000 and 8%
'Great documentaries': 470,000 and 4.9%
'Documenta2': 226,000 and 2.4%
'Journey to the past of the cities': 150,000 and 1.5%
'Journey to the past of the cities': 149,000 and 1.4%
'Human scale': 115,000 and 1%
'Passion for Italy': 195,000 and 1.5%