Alec Soth, from a distance | Babelia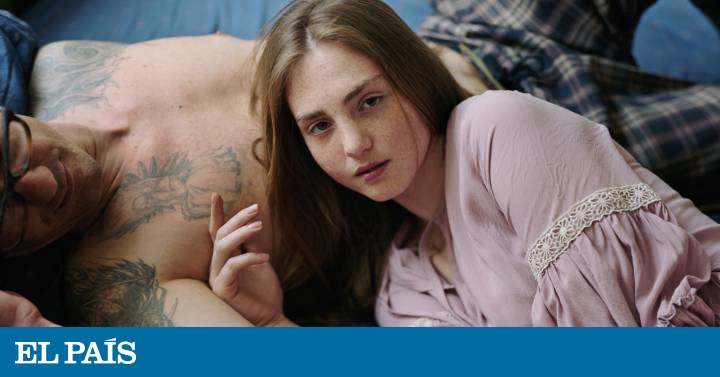 Photography has always been closely associated with separation for Alec soth (Minnesota, 1969). Chronicler of life on the margins of America who describes himself as "a connoisseur of social distance." In the same way, he has referred to the act of portraying as "capturing the space that exists between himself and his subject." However, his artistic work was significantly affected in 2016, when during a trip to Helsinki he suffered a mystical experience that led him to perceive a connection between all the elements of the universe. This meant a year of seclusion and introspection, during which he delved into the meaning of photographing strangers. Something he had been doing for years. Since one day he set out to find his own voice following the meanders of a river, and in 2004 he rose to fame with Sleeping By the Mississippi (MACK), a publication, today a reference, which consolidated him as one of the most prominent figures in contemporary documentary photography.
His return to photography resulted in I Know How Furiously Your Heart is Beating, a series made up of 35 images that was collected in a monograph published by MACK and that can be seen today in an exhibition held at the headquarters of FOAM , in Amsterdam, under the title of the same name. The author wanted to spend more time observing his models and, thus, "hopefully, succinctly glimpse their inner life". Aware of the predatory component involved in the act of portraying, and of the power dynamics that is established between the photographer and his subject, he has tried to dispense with part of the control that he usually exercises. On this occasion, instead of focusing on a place, a community or a demographic, it has focused on the individual; in characters chosen at random by different geographies. "I chose to photograph indoors looking for more privacy and the feeling of protection from the outside; the space inhabited by the subject to make him feel more comfortable ". Sometimes the author will repress himself, avoiding manipulating the situation in search of a more powerful image. Thus his portraits have become even more silent and reserved. Driven by his curiosity, he will also have looked at the corners of the different dwellings, seeking to reflect the nature of those who inhabit them.
Nancy is the beautiful portrait of the photographer Nancy Rexroth whose melancholic gaze comes into play with that of her cat, sheltered behind the body of its owner. It is the most significant image for the artist, as the meeting recalls: "It was a very powerful experience. We did not know each other in person. She was vulnerable and so was I. We shared that fragility. This work is fundamentally about the human being. To allow another person to see you, not only in the way you usually present yourself to the world, or on social networks, but by showing off your guard but also with dignity. Without the armor that we all wear ".
The title the photographic series, I Know How Furiously Your Heart is Beating comes from a poem by the american Steven Wallace: Gray Room, whose title, in turn, is ironic given the drunkenness of color that comes to uncover. A feast of color that the photographer wanted to reflect in his images. "He wanted to save beauty," Soth emphasizes, "the beauty that is found on the surface of things. After all, this is partly about photography; of a light that is reflected after hitting a surface producing a moment of great visual beauty. I wanted to allow myself this banquet of color ".
The work of Wallace revolves around the conflict between reality and how we process it through our imagination. "Part of my attraction to poetry is that it deals with our consciousness and perception. There is a whole universe out there and our dreams are there to process it. But as a photographer, I start from the general feeling that photography is reality, and it is not: it is a construction. Thus, when making a portrait we find a lot of visual information but we are confronted with a duality: we are hungry to connect but at the same time we cannot, we are limited. Hence, I try to accept beauty and also distance ".
The images reflect the romantic melancholy to which we are accustomed, but there is a greater restraint when providing narrative data to the viewer, a more simplified or minimalist character. "Photography can be very frustrating because it can be very cold," adds the author. It is an artistic discipline that comes from science, from machinery. So I always try to reflect this conflict in my work ".
MACK publisher has just released the author's latest post,The Parameters of Our Cage (The parameters of our cage), The book arose in a way that was as unexpected as it was timely, and includes the correspondence maintained over nine months between C. Fausto Cabrera, an inmate at the Rush City, Minnesota jail, and the photographer. A rich and deep dialogue that has as its background the current pandemic, the Black Lives Matter movement and the instability our world experiences. Without premeditation, Soth has constructed a portrait of his sender in the form of letters. "In a sense, it is the opposite of I Know How Furiously Your Heart is Beating, since the tool is the word ", highlights the photographer, who confesses that he has no desire to portray Cabrera with his camera. Something that usually happens with his family and close friends, of whom he knows all the gestures, a fact that conditions his imagination. "Fausto and I haven't gotten to know each other, we've never shared a physical space, so I can't quite understand this lack of desire," he explains.
The correspondence has served Soth to deepen his interest in the relationship between photography and the lack of freedom, a reflection that is very relevant in times of confinement. "Now it might be prescient that while I was working on I Know How Furiously Your Heart is Beating It started from the metaphor of observing the models as caged birds ", says the photographer. "Title The Parameters of Our Cage It comes from a phrase written by Fausto, but there is something about seeing human life contained in a space that has always been beautiful to me ". Hence the presence of frames, windows and mirrors in his work, something that speaks to us of the type of longing that led him to photography. After all, Soth always wanted to be like James Stewart in The Rear Window, "Yes, always, although I do not see myself as the photojournalist who loves irrigation and adventure, but what is blurred attracts me. More than the act of connection itself, the distance attracts me, the desire to connect ".
Alec Soth. I Know How Furiouly Your Heart is Beating. Foam Fotografiemuseum. Amsterdam. Until December 6.
I Know How Furiouly Your Heart is Beating. Alec Soth. MACK Books. 55.07 euros.
The Parameters of Our Cage. C Fausto Cabrera & Alec Soth. MACK Books. 8.23 euros.