Aldama takes advantage of the Grizzlies' historic victory to leave his mark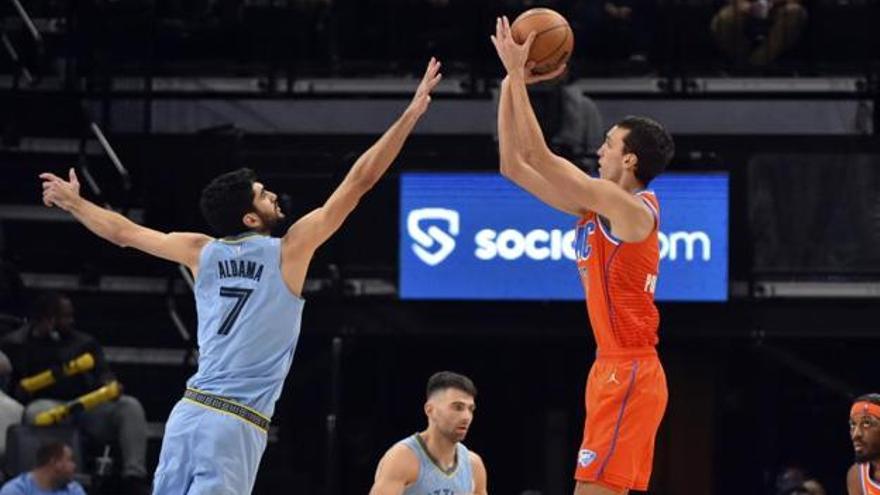 The player from Gran Canaria Santi Aldama did not waste this morning the historic night in the NBA that his team, Memphis Grizzlies lived, to shine and make their mark in the landslide 152-79 victory over the Oklahoma City Thunder.
Never in the history of the American league has such a difference been recorded, 73 points, in one game, and the Grizzlies entered history with an exhibition that exceeded the 68 difference (148-80) that the Cleveland Cavaliers had achieved against the Miami Heat in 1991.
And the power forward from Gran Canaria Nor did he miss the opportunity to be the protagonist at a time where he is counting on enough minutes. On this occasion, there were more than 28 that served to be the top rebounder of his team with 10 sacks, half offensive, and close a great 'double-double' with 18 points, with 8/16 in shooting, the third that he scored the most of his own behind Jaren Jackson (27) and De'Anthony Melton (19).
Aldama also has a personal record: the best rating +/- (plus / minus statistic) for a Grizzlies player in the entire career of the franchise.
The Spanish got a +52 tonight in that statistical section that measures the individual contribution of a player in a match taking as a reference the score when he enters the field and comparing it with when he goes to the bench.
This data also places Aldama with the third best over / under in a game in NBA history only behind Luc Mbah a Moute, who achieved a +57 with the Houston Rockets in 2017; and Gary Trent Jr., who posted a +54 with the Toronto Raptors last April.
With a total of nine players in double-digit scoring and nearly 63 percent shooting, Memphis also broke its record for points in an NBA game, which was so far at the 144 they signed in 2007 against the Golden State Warriors. .
"It was an incredible game, of course. We have all played very well and it has been a lot of fun to play, but at the same time we have another match in two days," recalled the Gran Canaria.