Alcorac Caballero: «I will continue to be the first to arrive at the gym and the last to leave»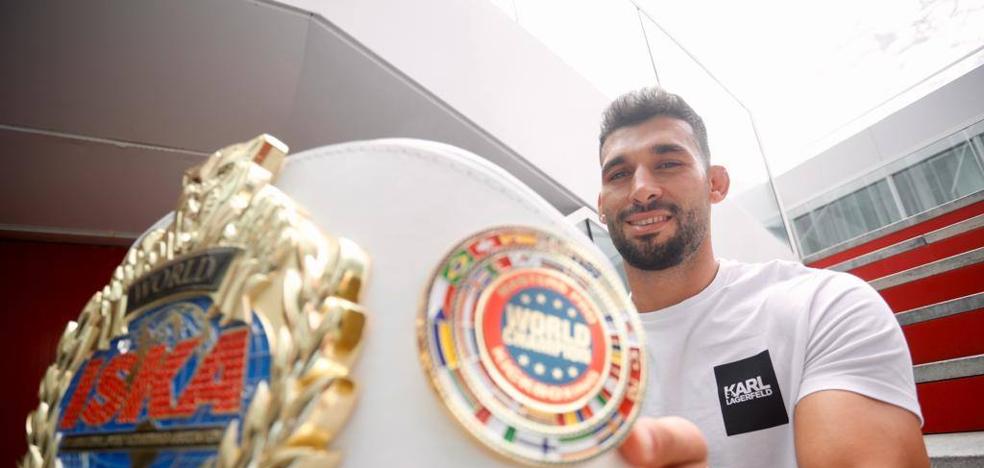 contact sports
The brand new K1 world champion assures that his feat will not change his work philosophy based on sacrifice and humility
Alcorac Caballero, brand new K1 world champion, a modality that differs from kickboxing by allowing the use of the knees, He admits that he has barely been able to sleep "a couple of hours" after completing his sports feat last night. "Many emotions, many memories, many privations on the way to getting this belt, hours and hours of training...", she justifies herself. Now it doesn't fit. He is a happy man and
keep fulfilling your dreamsalthough he does not lose perspective. He knows that gigantic challenges are now open to him and he knows the way to rise to the challenge: maintain the humility and spirit of sacrifice that has brought him to the top.
-How do you feel now that you are world champion?
-There are no words, really. Since he finished the fight hardly rested. I have not stopped receiving messages and congratulations... They are being very nice hours.
- Do you assimilate it already?
-I think it will take a few days for me to realize what I have achieved. Now I am like in a cloud, everything is very recent. I have seen the fight several times, I am still analyzing things... But from the joy I have of having been able to fulfill the objective.
-The fight starts well, then, in the second round, Jéremy Antonio submits him, and, already in the third round, decides that it has to be finished and his knee arrives in a lethal jump.
-I started very well and there was even a count against the opponent because I hit him with a crochet. Then it all evened out and he kicked me a few times. I didn't want to go to five rounds and in the third I threw myself in and he hit the jumping knee that gave me the win. It seems simple but it was not.
And then comes the culminating moment. He breaks down in tears feeling world champion.
-Yes. She didn't even know how to react at that moment. I felt many things. All the work had paid off, it all made sense.
-Because there was much to gain but also much to lose.
-I dreamed of being champion of Spain and I achieved it. Then I wanted to be European champion. And also. Being the best in the world was already the best. And yes, she knew he couldn't pass up the opportunity. More for fighting at home. I didn't feel pressured or nervous. If I did what I had to do, I was going to have my options as it was.
-And now that?
-I have six months to defend the title and I'm going to take it easy. For now, I'm going for a couple of weeks with the family to Fuerteventura on vacation. And, since September 19, I return to training. I have a boxing evening at the end of October that will come in handy to intensify my training.
-Best bags and big promoters?
-That's coming now. I hope that the two great promoters, One Champion and Glory Kick Boxing, notice me for the defense that I have to make. Money is important, of course, but it's not something that obsesses me either.
-Because being a professional is still nothing...
-I love the work I do as a social service in Quorum Social 77 and not even for all the money they give me do I intend to leave it. I have always planned to the maximum to be able to reconcile everything.
-How do you keep your hunger competitive at this point?
-I am aware, and it is a pride for me, that I am leading a career full of successes. That's why I work very hard every day. But this is not going to raise my ego or make me change my way of being. I will still be the first to the gym and the last to leave. It is my work philosophy that will never change.
-Chapter of thanks now that it is news for his deed. Expand.
-The family above all, my girlfriend and my daughter, who have had to suffer the resignations that I have assumed to prepare myself. My coach, Ney Montesdeoca. Pedro Miranda, my nutritionist BM Nutrition, the people from Taz Jinámar, the fans who supported me a lot, my company, Quorum Social 77, the sponsors who supported the evening and, of course, Aridany Romero who, as Councilor for Sports, He threw himself into organizing the event.