Alcaraz throws down the door of Madrid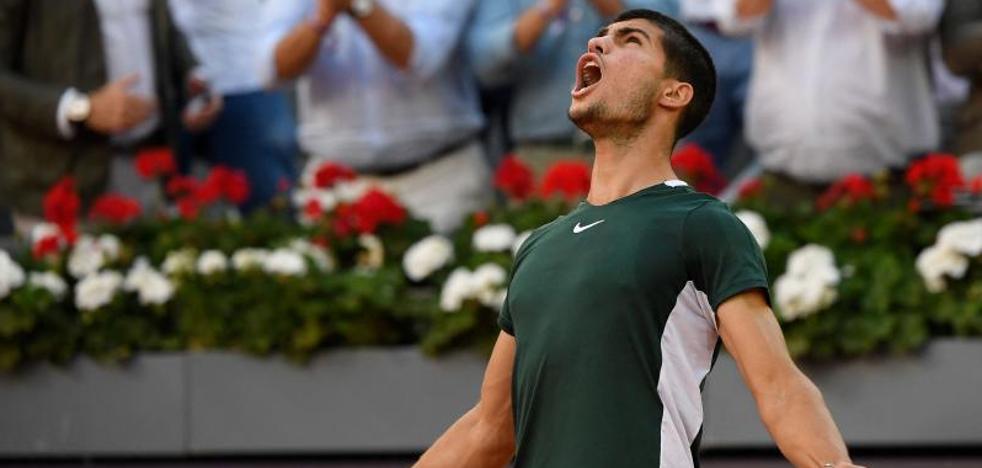 The Murcian knocks down Zverev in an hour and wins his second Masters 1,000 in his second final
In three days, Carlos Alcaraz has beaten Rafa Nadal, Novak Djokovic and Alexander Zverev to lift his first Madrid Masters 1,000. If the Murcian has some kind of limit in his career, it has been completely blurred for a long time. It is impossible to glimpse the ceiling of a tennis player who, at the age of 19, disintegrated Zverev (6-3 and 6-1) to win the most important title of his career along with Miami, to raise the number of trophies won this season to four and to improve his impeccable record in finals. Six of six.
Alcaraz was not only born to play this kind of games, there is no way to think that he can lose them. Alexander Zverev, champion here last year, was unable to handle the records enjoyed by his rival. Watching Alcaraz is knowing that anything can happen, that he can cross a backhand at breakneck speed, that he can bite with his right hand, surprise at the net and kill with a dropshot.
His game is a caper, a display of superiority that harasses the rival and hooks the fan, who when changing sides shouted "Carlos, Carlos!", a chant that will be repeated a lot in Spain and all over the world. .
Because Alcaraz enjoyed a Caja Mágica delivered and which did not disappoint at any time. From him bringing a smile to the crowd by forgetting to take the protocol photo with Zverev before the match, to how he stifled a heavy start without many exchanges, in which he stopped Zverev's hammer. The only option for the German was to emerge victorious from a dizzying distribution of blows, but he was only able to impose that style for a few minutes.
The German maintained equality for five games and in the sixth Alcaraz forced two errors, nailed a 'passing' and an inverted forehand. He fell like a blow to Zverev, who did not believe the level of the 19-year-old boy in front of him. After years and years of promulgating the existence of the 'next gen', Alcaraz has arrived and in less than a year has devoured them all. The pending throne that will have to be picked up with the departure of Nadal, Djokovic and Federer belongs to him.
a cyclone

The first 'break' was decisive for Zverev to see himself out, not because of mental fatigue or because of the derangement that the German has had, disqualified just a couple of months ago in Acapulco, but because psychologically it is very difficult to face someone It doesn't give an iota.
From the break, Alcaraz crimped a run of nine games to two. The second set was a seen and not seen of just half an hour. Zverev couldn't even look to tickle a guy coming off a 3 hour 40 minute beating 24 hours earlier. A boy who had to dig deep to kill the number one in the world and who a day later faced one of the circuit's sluggers, a double winner in the capital and one of those called to dominate this sport in the next decade.
Juan Carlos Ferrero's smile, when Alcaraz enjoyed his first three match points, was the smile of confidence, of the joy that has always accompanied him. He did not tarnish the victory or the two consecutive double faults with which Zverev cut short his final. Alcaraz looked at his bench, extended his arms and congratulated the German. He released the adrenaline with a "Come on!" as soon as he left the racket and he planted a "Long live El Palmar and long live Murcia" on the television camera.
«I have a great time, since we launched the coin to choose the field. With the support of this public it is incredible, "said Alcaraz as soon as the meeting ended. In the stands, his father and his mother enjoyed the culmination of the best week of his life, in which he became the first tennis player to beat Djokovic and Nadal consecutively in a tennis tournament. beaten ground This Monday he will be number six in the world, the best classification of his career.