Alcaraz is the best in the world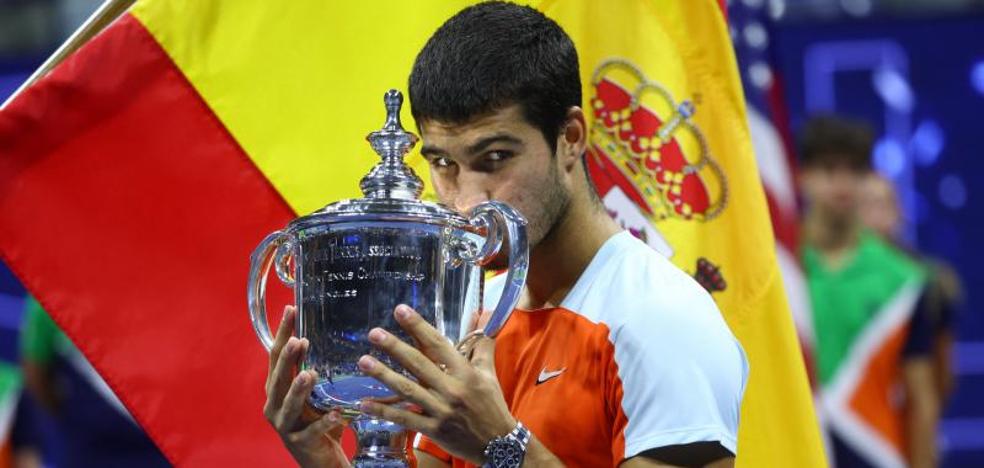 US Open
The Murcian wins his first Grand Slam and becomes, at 19, the youngest number one in history
Carlos Alcaraz is the best tennis player in the world. It is not said by anyone, the experts do not say it. The world ranking says so, the one that places him on the throne after winning his first Grand Slam, the US Open, in which he defeated Casper Ruud in the final, 6-4, 2-6, 7-6 (1 ) and 6-3, to achieve the most important title of his career and the one that makes him the best on the planet. Alcaraz, who ended up lying on the track with his arms wide open and crying on the cement, becomes the youngest number one in history at 19, an inhuman milestone for a boy who in less than a year has gone from dreaming of get into the top ten in the world to be directly the best.
The player from El Palmar showed that he is a competitive beast and that neither the fatigue, the physical exhaustion nor the nerves of being in a first Grand Slam final took their toll on him. In fact, the start of his match indicated that, mentally, he was well above Casper Ruud, who had already been in this scenario and that not even with those did he have a single iota of advantage over the Spaniard. Alcaraz started as if he were 36 instead of 19, as if he had dedicated his whole life to playing games of this kind and as if it was not his first Grand Slam final, the pinnacle of tennis, but just one more. After comings and goings of 'break' points, Alcaraz broke the first and began to exhibit a service that would be key in the final moments.
The Spanish placed a 6-4 in a final that was not being brilliant, but it did not have to be. Alcaraz just had to win it, but he looked so superior that his overconfidence cost him several scares. He was overconfident, he saw himself as the winner and began to play very bravely. A bad dropshot, on a dead ball to finish it off, allowed Ruud to go as far as 4-2 in the second set and accelerate to 6-2.
The match was in Alcaraz's racket, but his failures caused the Norwegian, somewhat lacking in ambition, to begin to see himself with possibilities, to play with a forehand that is one of the best on the circuit and not to fail so much. The third set, in which Alcaraz squandered a 2-0 lead and ball for 3-0, was key.
Ruud, in a twelfth game of more than 10 minutes, had two set points. Two knives that Alcaraz dodged as he only knows how. With bravery, courage and aggressiveness. He went to the network and disabled them. There is no better attack than a great attack. Although many thought that he was crazy, this is Alcaraz. If he didn't do them, he wouldn't be Alcaraz and surely he wouldn't be number one in the world.
direct kicks

The adrenaline rush of being on the brink lifted him off the canvas. Alcaraz, who had just lost the four tie breaks he had played in the tournament, forced the fifth against Ruud and sealed it by winning seven of the eight points. Alcaraz took the tiebreaker by a resounding 7-1. And the public exploded with joy, because their favorite won, although they knew that the end was near.
Alcaraz was no longer going to fail, who only had to discover what it is like to be one step away from winning a big one. There could be doubts about whether he would get nervous, if his pulse would tremble and he solved it with direct serves. He made seven in his last three turns of duty. He told Ruud, "I'm not going to lose this." And he won his first Grand Slam. The figure of him went to the cement, opened his arms, shrugged, cried and congratulated the Norwegian Ruud for the game.
Still disconcerted by everything that was coming his way, he went to the stands to hug his people. His father was waiting there, his coach, Juan Carlos Ferrero, his physio, his brother... "It's hard to talk right now, because I have a lot of emotions on me. I have worked hard for this, together with my family and my team. I'm only 19 years old and I make decisions with them. I have thought a lot about my mother, who is not here, and about my grandfather too, "said Alcaraz at the foot of the track. He is already the youngest number one of all time and the ninth Spaniard to win a Grand Slam.