Alcaraz falls to Auger-Aliassime in his premiere as number one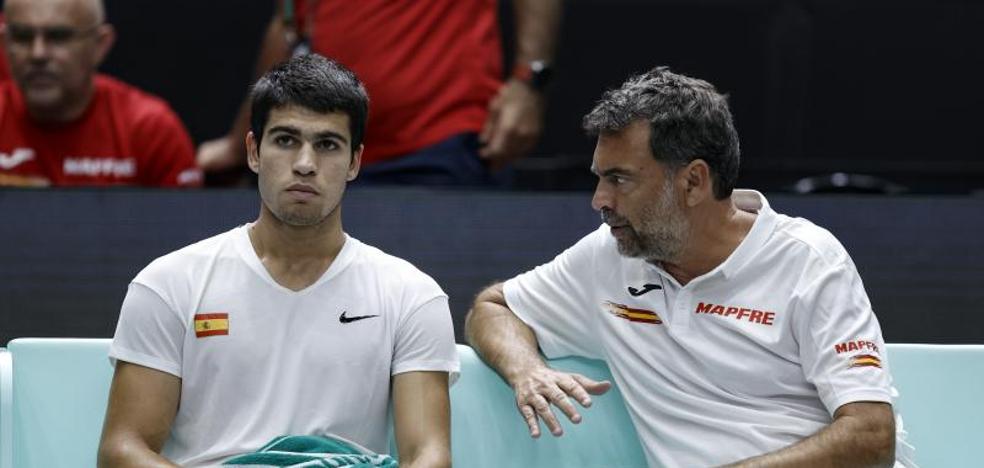 Spain-Canada
The Murcian was surprised by the inspired Canadian player, intractable on serve, and lost 3-6, 6-3, 6-3
Carlos Alcaraz fell this Friday in his debut as number one in the world against the Canadian Félix Auger-Aliassime in the Davis Cup tie between the two countries, which would decide the doubles match, at stake at the close of this edition. The Canadian, 13 in the world, prevailed 6-7 (3-7), 6-4, 6-2, after Roberto Bautista had previously overtaken Spain by beating Vasek Pospisil 3-6, 6-3, 6-3.
The number one in the world suffered against a very inspired and intractable Auger-Aliassime on serve - he added 16 'aces' throughout the match - and won the match after 2 hours and 50 minutes of play. Alcaraz, who has barely had three days since his arrival on Tuesday from the United States, where he won the US Open on Sunday, ended up pulling hard to keep up with the Canadian and take the first set to a tie-break. In sudden death, the errors that the Canadian had not made in the previous twelve games appeared, allowing the Spanish to prevail 7-3.
In the second set, the Canadian managed to break his opponent's serve to go up 5-4 and serve to take the set. The match went to the third and final set, where Auger-Aliassime, with two consecutive 'breaks', put the duel on track.
Earlier, Bautista (#21) beat Vasek Pospisil 3-6, 6-3, 6-3. Pospisil (No. 141) started strongly, going over Bautista in the first set, supported by his serve, short points and deadly net climbs. Bautista reacted in the second to take a 3-0 lead and end up taking the set. The last round started level, but some physical discomfort for which Pospisil had to be treated paved the way for Bautista. The Canadian managed to save three match points, but could not avoid the fourth.