Alcaraz debuts in a Grand Slam with victory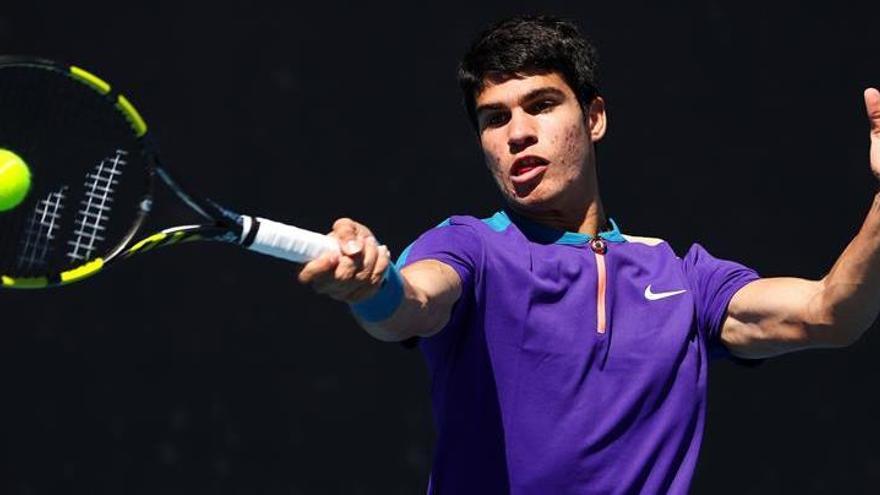 The young Spaniard Carlos Alcaraz, aged 17, debuted with victory in his first Grand Slam after beating Dutchman Botic Van De Zandschulp by 6-1, 6-1 and 6-4.
The Murcian entered the final phase after overcoming the three games of a previous phase held in Dubai and immediately drew attention in Melbourne Park after endorsing a resounding double 6-3 to the fourteenth world-ranked David Goffin (13) in one of the preparatory tournaments to 'Open'.
His partner and compatriot warned this Monday after his match Pablo Carreño (15) of the potential of Murcia: "He learns very quickly and is different but, above all, he is a great boy and very humble.
He started the game at a devilish pace, dominating the points from the start and intimidating his opponent who only managed to convert one game to service during the first round.
He also knew how to suffer and remained calm during the second round despite receiving a 'counter-break' and seeing how his rival found the rhythm of the fast tracks of this edition that favor the dynamism of the young Alcaraz.
Finally, he took a valuable set by a tight 6-4 after intimidating the service of his rival when the scoreboard reflected a level 3-3.
Dutchman Van De Zandschulp became powerful on serve and three of his first service games were a blank. However, the self-confidence of Alcaraz, who faced his first match to five sets, caused a break 'in extremis' That would mean his first Grand Slam win.
His rival in the second round will be known after the conclusion of the clash between the Pole Hubert Hurkacz and the Swede Mikaer Ymer.