Alcaraz becomes even bigger against Djokovic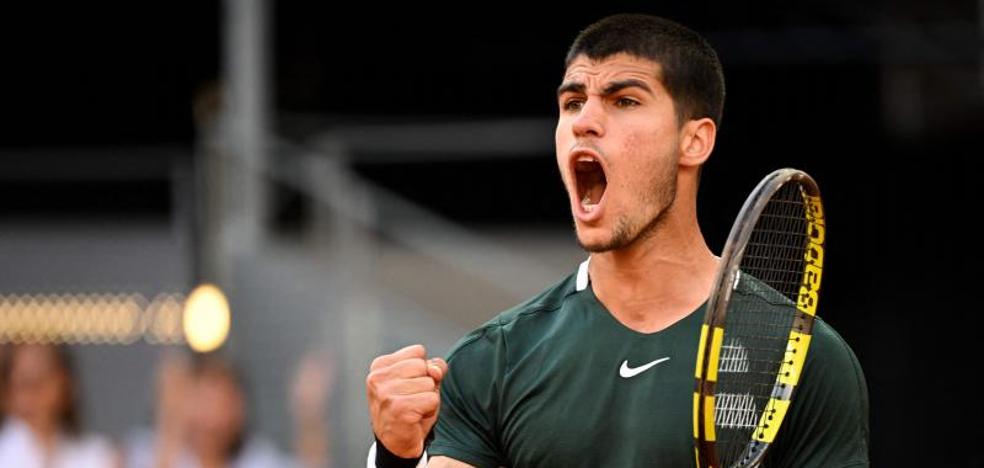 Madrid Masters 1,000
The young player from Murcia also defeated the number one in the world, with a comeback included and in the final tiebreaker in a huge match between both
The day after defeating Rafa Nadal for the first time in the third confrontation between the student and the teacher, Carlos Alcaraz also overcame another high challenge by beating, at the first opportunity, the current number one in the world. Just turned 19, the Murcian tennis player became even bigger by defeating Novak Djokovic in the semifinals of the Mutua Madrid Open to take another step in his unstoppable progression, sprinkled with greatness, and this Sunday have the opportunity to win the second Masters 1,000 of his dazzling career, which promises to be glorious.
With a comeback included and in the final tiebreaker, so that his historic victory against Djokovic would have even better flavor, Alcaraz signed, by 6-7 (5), 7-5 and 7-6 (5), a victory of enormous prestige against a true champion of 20 Grand Slam titles and 37 Masters 1,000, when Nadal's heir has only won one of this second category, a month ago in Miami. The talent, faith, power of his shots, courage and indestructible mentality of Alcaraz outweighed the experience and powerful service of the world number one, who after his complicated and controversial start to the season was eager to win his fourth title in Madrid and he had to surrender to a rival called, sooner rather than later, to take over from the tennis legends.
In a huge match between Alcaraz and Djokovic that lasted three hours and 35 minutes, the Murcian again fulfilled the motto that his grandfather taught him of "head, heart and balls" for, despite his hasty mistakes as a result of his youth, take down another colossus. At the moment, Alcaraz has already defeated two of the members of the mythical 'Big Three' - only Roger Federer would be missing -, after two consecutive exhibitions. The one he offered against Djokovic was still of greater value than against Nadal, because while the Spaniard has just reappeared and is still far from his best game, the Serbian offered samples of his best tennis in his second semifinals of the year, which he reached with barely to wear yourself out, to meet up with a forward tennis player who has reasons to aspire to already conquer a Grand Slam. His physical power and his winning gene allow him to dream of everything he sets out to do.
In an epic duel, exciting to the decisive point in a 'tie-break' forced by Djokovic by saving a match point with a direct serve in the third set, the Serb and Alcaraz experienced a clash dotted with tennis players from Vaines but, above all, , emotional, in which the young player from El Palmar enjoyed taking the Balkan to the limit and drove him to despair with his incredible and daring drop shots. When another would have sank morally after falling in the tiebreaker of the first round, Alcaraz, with a devastating right hand and an impressive physical display, not only resisted the push of the number one, but also had the reaction of an athlete who is made of paste really special and as soon as you see him move and dominate on the track you can see that you have to sweat blood to beat him.