Alberto Comesaña: "My epitaph: I was a great composer of erotic songs"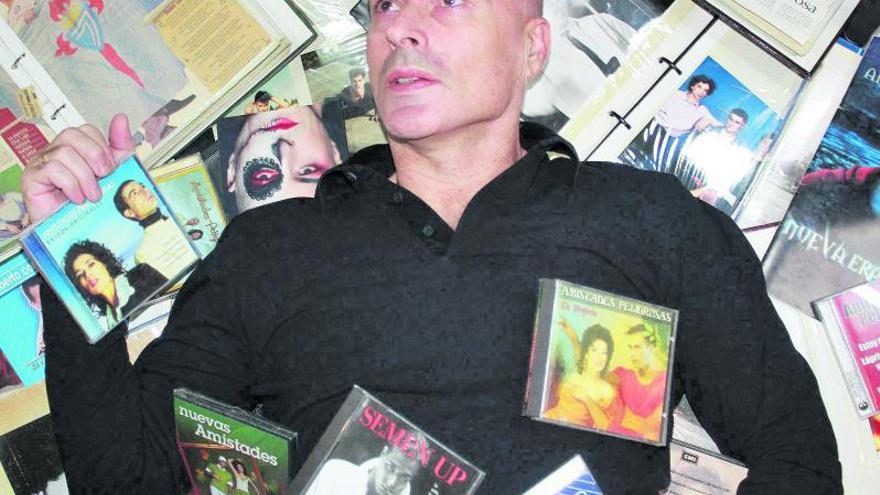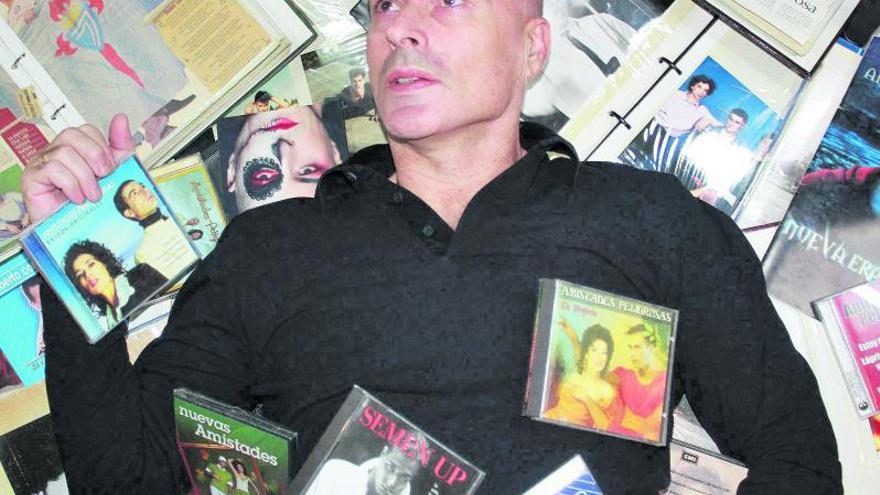 In the midst of this pandemic, the news arises that you and Cristina del Valle decide to restart the trajectory of Dangerous Friendships and the first question that occurs to me is why.
I don't think reboot is the right word. What happens is that, a little before the confinement, as the date of the 30th anniversary of the formation of Dangerous Friends was approaching, Cristina suggested to me that it might be worth doing something, so she proposed to reconstitute the duo. At first I was a bit reluctant but, well, I thought better of it, because I came to the conclusion that yes, that it was worth celebrating, and not only because of going back on stage together on a tour, but also because it would give me the possibility to take a compilation look to write a biography of the group and to mount a documentary about its trajectory, which is what I'm doing right now.
In that biography, I suppose you will answer many questions that your followers ask about why the break, both professional and personal, between you and Cristina occurred.
Well, we will answer many questions. The truth is that starting over with Cristina means cutting off a series of bad vibes and mistakes that we made and that we are now trying to understand and fix among ourselves, and that with this return we are going to consolidate it.
Is the return only for this tour or is it another stage of the duo?
Cristina is in favor of a return with all the consequences, but I am more cautious. I take it as a "Ceasefire" (which is the title of the only new song that we are going to interpret), that is, as an armistice, a time out. We will try to make the best of this work and, if things go well, if it flows, we will move on. Otherwise, it would be left alone in this: the celebration of the 30th anniversary and the historical account of what these three decades have been.
How did you and Cristina meet?
Our beginnings were very Galician. We met on a year-end program on Televisión de Galicia and, shortly after, we met again on another musical program, Auga de Verá ", which was filmed at the Samil hotel. I remember that, after a crazy night in Vigo, I decided to go to Madrid, live with her, and that's how Dangerous Friendships began.
How will this new stage of Friendships be? Are you going to change something in your musical style?
Obviously, the same cannot be, because we are no longer a couple and many years have passed. However, it is clear that people will want to hear our traditional songs, especially the greatest hits, and in that we cannot disappoint them: they will be in the repertoire of the concerts. In addition, of course, we will try to continue contributing the interpretive force of each of the two and we hope that people enjoy it even if it is not exactly the same as before, although it will be inevitable that the point of nostalgia will continue to be there.
Before Friendships, what you were known for was, above all, for being the singer, and showman, of Semen Up. Within the Vigo scene, did you feel fully integrated or did you always consider yours to be a separate case?
Yes, there is some of that. To begin with, I arrived in Vigo with the movement already underway. Of all those musicians, the only one I knew well was German Copini, who was, let's say, my hook with all that. Logically, I had to dissolve the Semen Up that I had founded in Lugo and, in turn, found the Semen Up de Vigo, which, at that time, was the only group in the movement that did not have in its formation with any member who had passed through Total Sinister, as it happened with Low Blow, Federal Airlines or You Resentidos. So we were included in the Vigo movement, and we accepted it, of course, but it is true that we were not part of the "hard core".
Hasn't the prospect of a career as a movie actor tempted you?
It is not that they have tempted me, it is that there was a stage in my life when I wanted to be a film actor, even more than a singer. In 1989, I began to move within the world of cinema and I met a producer, who put me in touch with an Italian director who was looking for an actor to play the role of a footballer in a series that told the story of the Italian national team. in 1932. You can see that the Italian director liked my look and, well, that was it. I went to shoot in Italy.
But his acting career was almost over when he started.
Yes, because it was not as easy as I thought. The footballer thing came out by chance, I was very lucky, because later I began to appear at castings and, although I reached the finals of all of them, I never got to be chosen, there was always someone else who was cast. So, of course, I put it aside and went back to my thing, to seek to consolidate myself as a singer.
Being an artist with charisma and a great stage presence, why didn't he just come to fruition as a solo singer?
I attribute it to temporary and structural reasons. On the one hand, I had the feeling that, when someone left a group, in this case of Dangerous Friendships, the former followers subjected them to a kind of punishment, they preferred to remind you for what you were doing before, and not for what that you were doing in your new stage. I noticed that, without knowing why, something was happening that was not working well. To this we must add that, when I published my first solo album, "Perversiones", the record companies were already at the beginning of their destruction process, devoured by the Internet and piracy. At that time, at the end of the 90s, every day they fired someone from the companies, and naturally the artists were also touching us: those who did not reach a minimum sales quota were charged. As if that weren't enough, "Operación Triunfo" came into play, displacing and engulfing all the potential space that I, and many like me, had available.
However 'Perversiones' was a good album.
For me, apart from everything contributed in Dangerous Friendships, and I sincerely say it, Perversions is the best thing I have done in my life, it is my most personal work and in which I felt most comfortable and satisfied. Perversions, which unfortunately happened with more pain than glory, is an album that reflects my true essence. Because if I went down in history, and I say it thinking about what they would put in my epitaph, I would like them to say that I was a great composer of erotic songs, and there I think I show it; That album does bring together that spirit, that of a Semen Up from the second stage, with the softest pop porn, and the elegant eroticism that was the hallmark of Dangerous Friendships.
This pandemic has interrupted everyone something.What has interrupted you?
The truth is that in my personal life I am a very homely man and, from that point of view, nothing has interrupted me. But, of course, on a professional level it has ruined everything: you cannot make trips, or tours, or concerts … We already prefer to forget about 2020, which was when the start of the tour was scheduled, and focus on what is coming. And just in case, in view of the panorama, we do not rule out the via streaming (online concerts) and with them reach both our Spanish and Latin American audiences. After the suspension of the San Fermín festivities, the summer, of course, we already give it up almost for lost in terms of concerts with an audience.
It does not surprise me that he quotes, in addition to Spanish, the Latin American public. Friendships there was a bombshell.
Yes, yes and you know what? If Cristina and I "regret" something, it is for not having proliferated there.