Albert Oliver and Eulis Báez, two legends forever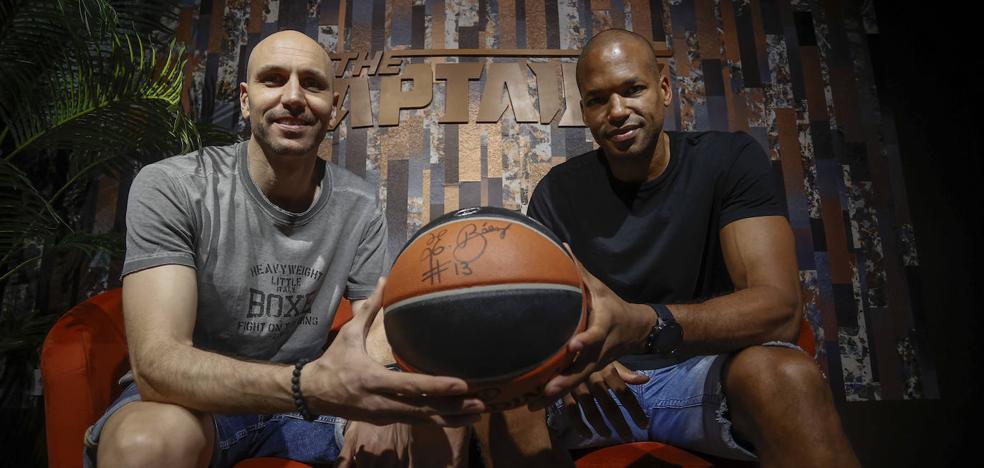 Albert Oliver and Eulis Báez occupy
a privileged place in the sporting career of CB Gran Canaria. The point guard from Terrasa defended the Claretian jersey for six campaigns (2013-2019) and the interior of Santo Domingo did so for seven (2012-2019), enjoying the most successful cycle with the conquest of the Super Cup in Vitoria in 2016, at the same time who competed for the EuroCup title against Russian Khimki in the 2014-2015 financial year, for the Copa del Rey against Real Madrid in A Coruña 2016 and for another Super Cup against Valencia Basket in 2017 at the Gran Canaria Arena.
both symbolized
the pride of catapulting the yellow club to the national and international elite. They found a home on the island and, beyond the results, their importance continues to be remembered by all.
Now, Báez and Oliver return to Gran Canaria
to reunite with their families after finishing the season with Coosur Real Betis and Monbus Obradoiro, respectively,
and, with Canarias7, talk about the present and the future. Precisely, the Catalan base, 43 years old,
announced his retirement a few days ago after 22 seasons in the Endesa League.
«My intention was to continue playing when I started this year, but, as it has been, I have played very little, games that I have not played, the last few months there were games that I did not even go to,
I have been thinking about the last two months and the time has comeOliver argues.
The former Claretian captain, who played for the Galician team the last two years, having played 20 games with an average of six minutes, pointed out that «in the end, if you don't play, it's not worth it and on top of that being away from the family. Also if the coach doesn't put you on it's for something. Surely it is that I do not compete as before.
I decided a month and a half ago at 99%, although I did not know what could happen».
"I have enjoyed a lot"
Questioned about his memories in a race to remember, Oliver assures that «
I have enjoyed a lot, with good moments and others hard. In the end, the aftertaste is very good, but with episodes in which you have a bad time too. It has been a very long trip, I have enjoyed it, but also my wife and my children, especially the last stage in Gran Canaria».
«
I stay with that, that I have competed for many years, I never thought I would play for so many years. Since he was little he said that until he was 40 he was going to arrive, but with a small mouth, very convinced from the outside, but I was not so clear. This year I have played less, but I have always competed and that is what I stay with », he says.
The recognition of his figure is being unanimous by all sectors of national basketball since he said goodbye by letter on the 12th of this month. «It is true that I have felt recognized in recent years when he was going to play against other teams. Players, coaches, sports directors... In the end, when I say I'm quitting and stuff, people recognize my work. I am grateful that you never think you can reach so many people and surprised also that I did not expect it.
All the people have behaved very well and it is appreciated that they have that affection, I think that with age you fall better in quotes", smile.
It's time to think about the future and
Oliver states that "
I will try to continue linked to basketball, it is what I have done all my life. Now I have to pass the Superior Coaching Course. I really like basketball, day to day, training... In recent years I've already corrected my teammates and helped the coach, I've always liked it».
«
We'll see what happens, who loves me, how they love me and in what way they love me. In the end, you can want one thing and then there is what they offer you, but I hope so », she adds.
His best years on the island
«I keep the main thing that was that I signed here because it was a Copa del Rey and Playoff team almost certainly. I have had my best successes as a professional, especially as a team. EuroCup final, two Super Cup finals and one of them we won, Copa del Rey final, Euroleague, I went to the national team in the windows...
However, the truth is that we have been very comfortable", remember.
Oliver elaborates that "it shows because my family stayed here when I was playing outside.
Canarian people are very open and they made us feel at home from the first day».
Authorized voice to analyze Granca's season and the Playoff tie against Barça. Regarding the first, he states that «
It started very strong, with the injuries it went down a lot. We've all had injuries, but it affected them a little more, especially Albicy and Pustovyi. Later in this end of the season he has had good and bad games, from the outside it seems that they lack more stability. The EuroCup looked very close to the final and more so at home, and as a match has been seen it is very complicated. It happened to Partizán, la Penya... Andorra did not play anything and went out to enjoy it».
«Despite not being in the Cup, he has entered the Playoff and now we will see how he competes against Barça. It is difficult to assess from the outside, but I have followed them quite a bit. He has played a great role in the EuroCup, being able to win both games against Valencia, here against Virtus...
It is not easy to be first in that group, in the Endesa League it has been more irregular", it states.
It affects the pulse against Jasikevicius's squad. "When you are eighth, playing against the first is always difficult.
Barça is playing at a great level, after three games the surprise can be more than after five», he manifests.
Oliver responds to the attentive gaze of
Baez. «
He is a great competitor and is one of the keys to Betis being saved», ends to hand over the conversation to the Dominican, who says excitedly that «I am super proud to have been his teammate, roommate, captaincy, when we looked good and bad, exchanging opinions on how to change things. He has been a great player and even more of a teammate.
I feel very proud to share the track and dressing room with him».
«I tell him that he has to be a coach and that he does not risk it. I know that he is excited and that he wants to do it, you can see it in his face and she is always willing to help, which she has already done a lot as a player.
He has more than enough preparation to do it, to enter that world, which is the difficult part.. A person like Albert should have some chance », she asserts.
Báez, who joined the project of Berdi Pérez and Luis Casimiro -supplying Joan Plaza- in November with the Sevillian block as a prominent bottom player until starring in a brilliant finale to obtain permanence, highlights that «
when I arrived the situation was difficult because it looked like the team had fallen, but no. The club made an effort and the squad was rebuilt.
Báez believes that the year of Granca was «
of ups and downs, Andorra's victory here came as a surprise. It's basketball and anyone can win, but Granca was the favourite."
«They have competed, they had a very good moment in the season, seeing a team with a lot of talent and superior, but then the slumps have come. Shurna got sick and more things that later take your rhythm away.
They went through that pothole that all teams go through», he argues.
"I wish the best of lucks.
Barça is a great team and a little bit of luck I do think they are going to need", Add.
The anecdote with Delgado
A Playoff that Granca sealed on the last date thanks to a carom. The defeat against Real Madrid forced him to wait for the setbacks of Murcia and Bilbao. Precisely, the latter gave in to Betis in extra time. «
I remember that Delgado approached me during the game to tell me that if they won they would get into the Playoff and I told him that I thought it was finebut that we had to do our job", he smiles.
Báez, 40 years old and with rope for a while, concludes that «if I can compete, I want to continue playing this and I want to be.
When I had the opportunity to be on the track, I think I was quite good at competing at this level still.».