Albares defends that the agreement with Morocco has already benefited the islands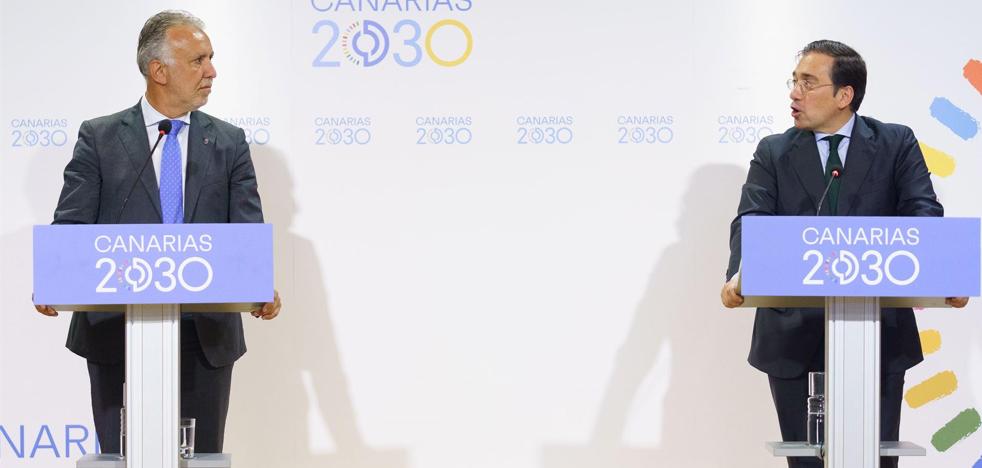 The Minister of Foreign Affairs assures that he has helped to "unlock" the Sahara conflict and reduce immigration
The explanations about the turn of the Spanish Government regarding the Western Sahara conflict have arrived this Wednesday from the Minister of Foreign Affairs, José Manuel Albares, after two months since
the well-known letter from President Pedro Sánchez to Rabat.
He defended that the Canary Islands have already seen the positive effects of this agreement, for example, with the decrease in immigration. Although the minister acknowledges that the phenomenon can never "reach zero", he alludes to
a protracted decline in arrivals from January Until April they represent 80% less. However, the Interior figures continue to indicate a 50% increase compared to the same period of the previous year.
"The roadmap has allowed the working group with Morocco to be reactivated, that the ministries of both countries have begun to work and the results will be seen even more in the coming months," he insisted.
The minister did not show any signs of annoyance towards the historic position in defense of the Saharawi people, which has launched
harsh criticism of Spain for "evading responsibilities" and "legitimizing" Moroccan sovereignty.
On this matter, Albares only guaranteed that Spain would not abandon its support for the territory as the main "donor" within the European Union to the Saharawi refugee camps.
On the other hand, the minister assured that the agreement will not only allow managing the migratory phenomenon, which has saturated the archipelago's capacity in recent years, but also represents a "moral imperative" to prevent the Atlantic from being the grave of thousands of human lives.
Albares alluded in this regard to the fact that collaboration between countries will allow
intensify the fight against the mafiasthe control of the jihadism that prevails in the Sahel zone and attending to an Africa that will be especially affected by the rise in the price of raw materials.
The President of the Canary Islands
Angel Victor Torres joined these statements reinforcing the commitment of the islands to the position of the central government. He underlined the benefit of recovering trade relations with the Alawite country and, in addition, has announced that he plans to agree on a date for a regional delegation to visit Morocco at the turn of the summer.
Pending on the horizon, on the other hand, is the bilateral meeting to
the delimitation of maritime spaces, although both the president and the minister did confirm that the islands would be present.
Albares, who visits the Canary Islands for the first time, assures that "it will not be the last". The minister will also be at Casa Africa this afternoon for a lunch with different leaders of the country, coinciding with
Africa Day.