Alavés takes a breath and complicates the situation in Cádiz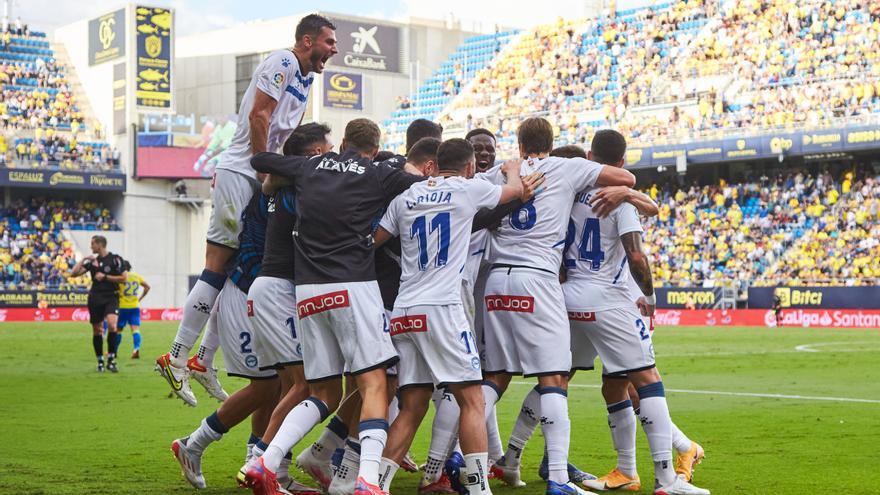 The Alaves He achieved his second league win this Saturday, the first as a visitor, and breathes in the classification despite not leaving the relegation positions, after win at Cadiz by 0-2 with two goals from José Luis Mato 'Joselu'.
The Andalusian team is dangerously close to the danger zone by remaining with 7 points, only one more than the Basque team.
As soon as the first half started, Alavés came forward with a penalty converted by Joselu at 4 minutes that they committed on himself. The Chilean Tomás Alarcón clearly knocked down the striker of the Vitoria team, who scored the first goal of the game.
After the goal, Cádiz took command with attacking inertia, Alavés standing well behind to protect their area and the first local chance came after 24 minutes, with a cross shot from Rubén Sobrino that went wide.
The triangle arranged in the center of the field by coach Javier Calleja caused Cádiz to redouble its efforts to occupy the empty spaces, and thus the Uruguayan Facundo Pellistri was able to score the second goal for Alavés, but was very slow in the face-to-face with the Argentine goal Jeremías Conan Ledesma.
After the break, those of Álvaro Cervera came out like a cyclone and after three minutes they had their clearest opportunity, a Chilean by Álvaro Negredo to which Fernando Pacheco responded with a stop.
Calleja put Pere Pons on the field to support his defensive line, increasingly loaded with troops with the addition of Senegalese Mamadou Loum as third center-back.
Víctor Laguardia saved a shot from Alberto Perea on the goal line with the beaten goalkeeper (m.62).
The visitors took a step forward in the last quarter of an hour and created danger before the rival goal with a header from Joselu that stopped Ledesma (m.72) and another attempt by the Galician to which the Argentine responded well (m.82) .
The third time was the charm and Joselu signed the second goal of the game, on goal, after a cross by Miguel de la Fuente, who was agile to scrape a ball that was lost over the baseline.
Data sheet:
0 – Cádiz: Ledesma; Carcelén, Haroyan, Chust (Álex Fernández, m.46), Espino; Fali, Alarcón (Jonsson, m.46), Salvi (Lozano, m.67), Perea; Sobrino (Jiménez, m.83) and Negredo.
2 – Alavés: Pacheco; Navarro, Laguardia, Miazga, Duarte; Moya (Pina, m.83), Loum, Manu García (Pons, m.56), Pellistri (Edgar, m.61), Rioja (Miguel, m.77); and Joselu.
Goals: 0-1, M.04: Joselu, from a penalty. 0-2, M.91: Joselu.
Referee: Alberola Rojas (Castilian-Manchego Committee). He admonished the visitors Miazga and Navarro.
Incidents: Match of the tenth day of LaLiga Santander played at the Nuevo Mirandilla stadium in front of some 14,000 spectators.