Al-Attiyah wins the prologue and takes 36 seconds from Sainz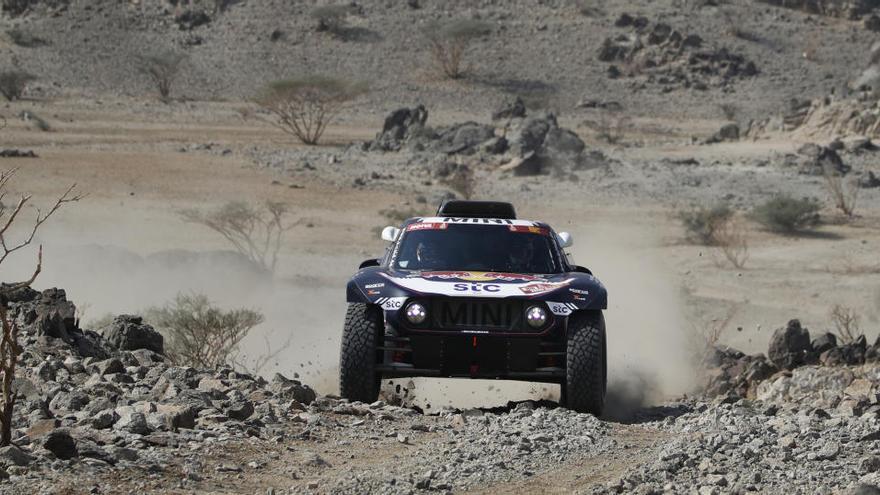 The Qatari Nasser Al-Attiyah (Toyota Gazoo Racing) dominated this Saturday's special and took the lead in the car classification of the Dakar Rally 36 seconds ahead of the Spanish Carlos Sainz (X-Raid Mini JCW), the defending champion, who suffered a puncture.
The last champion was the first of the drivers in the car category to start and, accompanied by his co-driver Lucas Cruz, gave 36 seconds in the prologue stage, 11 kilometers, in the port city of Jeddah. Carlos Sainz suffered a puncture after two kilometers of the special on the right rear wheel and, at the end of it, he had to change the tire.
This setback caused the Madrilenian lost ground with respect to the great favorites.
In this first route, which allows the organization to qualify for the first stage this Sunday, the Toyota of Nasser Al-Attiyah (5:48), the Saudi Yazeed Al Rajhi (+00: 08) and the Polish Jakub shone. Przygonski (+00: 12).
In the top-10 they finished likewise the Dutch Bernhard Ten Brinke, the Argentine Orlando Terranova, the French Mathieu Serradori, the Emirati Khalid Al Qassimi, the French Sebastien Loeb, the Czech Martin Prokop and the Russian Vladimir Vasilyev. The top ten were grouped within 17 seconds.
He also french Stéphane Peterhansel, winner of the Dakar Rally 13 times, was eleventh, 19 seconds behind the leader.
Until January 15, participants will go through twelve stages Saudi Arabia in a south-east-north-south direction. Of the 7,646 kilometers traveled, 4,767 are timed (63%, 2% less than in 2020).
Drivers and teams have had to undergo protective measures against COVID-19, just like the rest of the race environment. More than 2,400 PCR tests have been carried out to form the "Dakar bubble group", in which the rally caravan will advance.