Aíto García Reneses: "The NBA bores me, it's marketing oriented"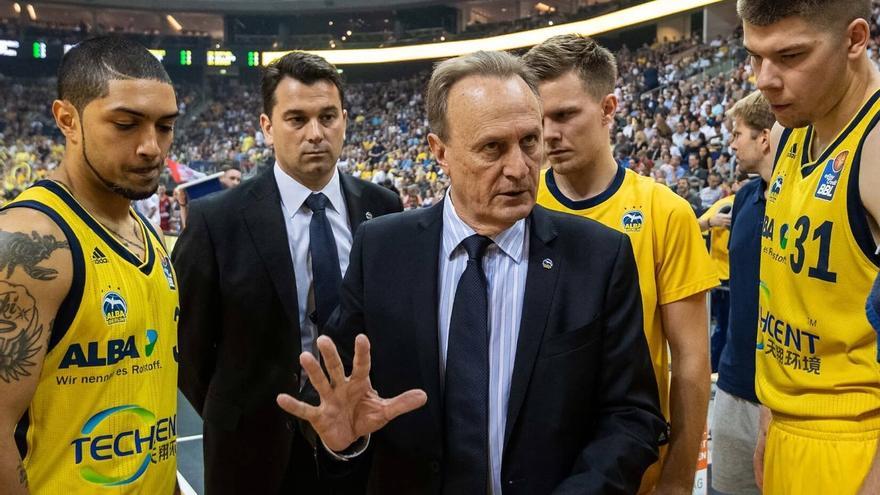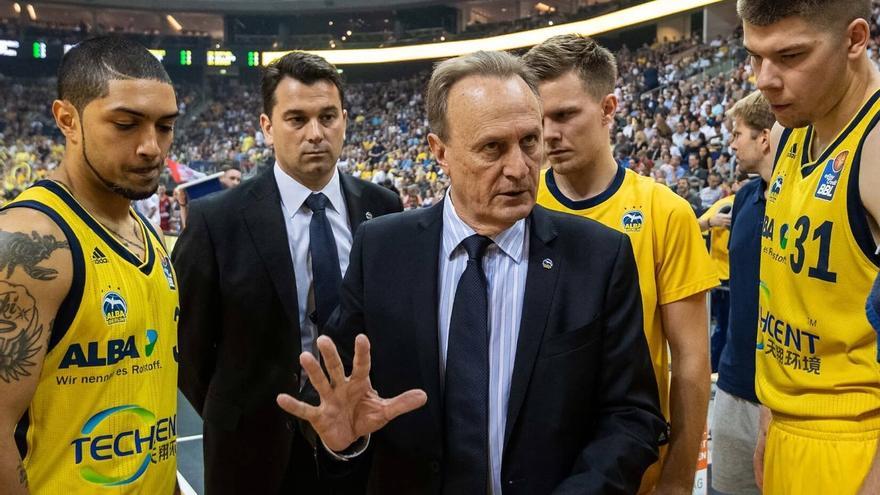 Question – Good afternoon, Aíto, I called him from EL PERIÓDICO DE ESPAÑA to propose an interview.
Answer. The truth is that I am a little tired of interviews.
-[…]
-Come on, call me tomorrow at nine in the morning.
AND Alejandro Garcia Reneses (Madrid, 1946), punctually, he answered the call arranged a few hours before to, at first, play cat and mouse with the journalist about his future and then openly talk about "sabbatical". This expression reflects the desire to return sooner or later to the benches, despite the fact that his DNI says that in two months he will be 75 years old, the age of those who have retired for about a decade. He says that in the summer he decided to put an end to his adventure in Berlin, where he was directing Alba for the last four seasons, to "recharge the batteries." He does it relaxed at his home in Barcelona, ​​he watches games, goes to some Joventut training session and photographs birds. He says he's not bored, but it's hard to believe him. They are already 50 years training teams and Although he does not rule out the possibility that his career has finally ended, everything suggests that he has one last dance left.. Although now he does not want it or raise it. That says.
Question – How many times have you been called this summer to offer you a bench?
Answer – Well, none, really. When Alba and I announced that I was not going to continue, the season was almost started [fue el 17 de agosto] and the benches occupied.
-Tell me you did it on purpose to avoid the temptation of having to listen to offers …
-Nerd. I waited for the Alba to announce it when I saw fit, nothing more. It is a decision that was final at the end of the season and it was Alba who announced it when it was considered. And that's it.
-And now what do you do …
-Leisure? I'm in Barcelona, ​​watching a lot of games on television. Live I only saw a couple in Berlin, the first two of the season, and then another two from Barcelona at the Palau. I have also gone to see three Joventut training sessions. And I take walks.
"I watch many games on television, I have gone to some training … And I take walks"
– Are you bored?
-No, I also like to take pictures. People are struck by it, but I like to photograph birds, both in the city and in natural settings. In his day, he also dedicated a lot of time to electronics and computing, but I have it more neglected. Now I prefer photography.
-What is left to do in basketball?
-What to any coach. What motivates me is helping players, clubs … I keep that concern, basketball has always been my life.
-Is your passion the same?
-Approximately yes, I think I was already born with that passion.
-Do you consider yourself a better coach now than 20 or 30 years ago?
-With less energy, but with more experience.
"Now I have less energy, more experience and the same passion"
-Energy.
-I used to, in addition to training the first team, I took care of all the singles practically at all hours, I went to see all the club's quarry teams … And in recent years not anymore. I have had assistants who have taken care of those facets. I am no longer working 24 hours a day.
-Was it difficult for you to assume that you no longer reached everything?
-No, no, what's up. I mean, it could have come to everything, but if you work with people like Israel González by your side [su segundo en Berlín y quien ahora le ha relevado al frente del Alba], which you fully trust, is easier. He has been with me for six years, two in Gran Canaria and four in Berlin, and he was delighted that those themes were brought by him.
– Are you considering going back to an office?
-I do not even want to think. Not because it is a bad thing, although it is true that at first it does not attract me too much, but now I am completely disconnecting from four years. I want to stop for a year and we'll see.
-He has stopped very little in his 50-year career.
-I think I've had three or four sabbaticals. After Barça (2001), after Malaga (2011) and after Gran Canaria (2016). And now. I really like basketball and what I do. Now that I am not training I have seen few games live, but many on television.
-The press, in general, treats you better now, right?
-There was a time when perhaps it was not understood what I was doing, but now I am treated excessively well. But that didn't concern me so much about myself, but about the players.
– Explain yourself.
-When people tell you that you are doing everything wrong, it is more difficult to stay in line. Not by yourself, but it makes it more difficult for your players, it makes it difficult for them to believe in what they are doing. Still, we did.
"There was a time when perhaps it was not understood what I was doing, but now I am treated excessively well"
-Do you keep discovering new things about yourself as a coach?
-Well, this is like a little boy. His aunt sees him after three or four months and says "how much have you grown!", But the boy thinks "well I look the same". I think the same, that I am always the same, although in reality I know that there are new discoveries at every moment, in everything you think.
-What have the last four years in Germany brought you after all your life training in Spain?
-The experience of being in Berlin, which is very interesting. But not many more things other than what I lived here. It is true that the general character is different, both for the German players and the fans. In Germany, the fans of the teams are very faithful, the fields are full, but the general public, the public in the street, is not so much a fan of basketball. In Spain that step was taken when there was a slump in football, I would say that at the beginning of the 90s, and basketball took a media leap. In that there are differences.
-Which coaches do you learn the most from?
R. Of all and none. Throughout history, I have seen training sessions, championships of European and American teams… I have done it a lot and although I no longer travel that much, I still have my eyes wide open.
-He hasn't told me about the NBA.
-No, I don't see it too much. In the past, our focus in the US was the universities, later it was the NBA. And it is no longer. The NBA has done more to boost marketing than good play. I am much more interested in European basketball than the NBA.
-Not amused?
-Well, the truth is that no, it bores me. It has a type of game that is designed to highlight a dunk, a one-on-one, a stopper … It lacks game, which is what European basketball has for now, which still retains its defensive intensity, which is what encourages the game have quality. Marketing has been prioritized at all levels, in the style of the teams and even in the rules.
-The NBA has occupied more space in the media for years than the ACB or the Euroleague. What does he think about that?
-That people choose what they want. If you like it, great. We, to do our thing.
For players to go young to the NBA is good for your pocketbook and bad for your progression
-Guys like Doncic and Garuba already last a sigh in Europe. Before the great stars were forever.
– I consider that, in general lines, it is bad for the players to go so early to the NBA. It will be good from an economic point of view, because they will make much more money, for themselves and for their agents, but for the development of the player sometimes it is not that good. For some players it is good, if they find a team that has turned around them, but if you are very young, with little experience and do not play a lot, you will have a significant slowdown in your progression.
-Pau Gasol and Sergio Rodríguez would be two examples of those profiles.
A. That's right, but there are much more Sergios than Paus. There are many more examples of players who have seen their progression in the NBA slowed.
-Have you ever been tempted to try out in the NBA, like Scariolo or Messina?
-I have been so seduced by what I have done here that I felt that I did not need to try myself in the US, apart from serving as training. Yes, I have seen many training sessions, most of the time in Summer Leagues, although in my sabbatical years I have also gone in winter. See their preparation, talk to the coaches … Of course, but training in the NBA requires a very long process: to get into their head you need to do a college season, after being an assistant … As I have always enjoyed what I do, I really didn't even I have thought about it.
-What does NBA Europe sound like?
– It sounds like 1975 to me. There was a professional league in Europe, when basketball was still unprofessional. There was the Iberia Superstars. I don't know if that lasted a year, it was difficult. That process is no longer necessary, at that time basketball was almost amateur, nor was the public prepared to see it. But now with the Euroleague, the Eurocup, the national leagues… That is already more than overcome.
-Pau, Navarro, Ricky… What do you consider to be your greatest work?
-None. The works are theirs. I can help them, the technical team can help them, like the personal environment, but they are the ones who have the merit.
– And the team that made you most proud?
-I could not tell you … I have enjoyed all of them and it has been a collective effort with your assistants, managers, players, the public … I have almost always had great satisfaction.
– Would you have liked to be a coach for a longer time?
-No. I stopped doing it because I was not seduced by training for a month and a half a year. When you have the energy that I had at that moment, that is not enough. It's like a sabbatical. I decided not to continue after the Beijing Games [en 2008], I had that option in the contract with the Federation at the end of each championship and after the first I decided to leave.
"I stopped being a coach because I was not seduced by training for a month and a half, it was like a sabbatical"
-Do you think about closing the circle and going back to Estudiantes, where you started playing, at some point?
-I have been with them, in my previous sabbatical I spent three weeks training with the young boys. And mentally I have always been close to them. Now I hope he recovers what he has always been: creating players, giving them opportunities in the first team, as Joventut does, and maintaining a good level. I hope they do it again.
-You have mentioned several times in this interview that you are on a "sabbatical". Does that mean it is still active?
-No, I'm not active. I am not training.
-But he's not retired either. Or if?
-Well, when you are not active it is because you are retired. What happens is that I have already retired several times throughout my career and …
"I've already retired several times throughout my career and …"
-So this isn't the final one either?
– Let's say it's not safe.
-And what is it that makes you doubt?
-I have no doubts, it's not about that. What I want is to let a little time pass after these four years in Berlin. Especially after the last one, with 90 games, sometimes four a week, and many trips with bad flights, because during the pandemic there were fewer and the connections we had to make at the airports were tremendous. I want to rest the situation a bit and we will see what happens later.
-How and where do you imagine the day of your retirement?
– Not the slightest idea, I don't want to think much about the future. Not too much, not too little right now.