Airplane food goes down to earth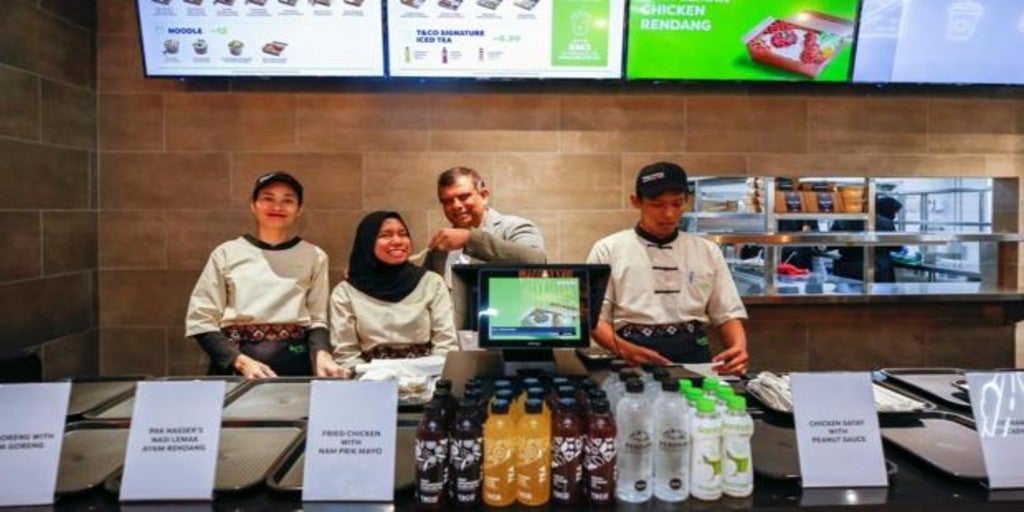 Updated:
save

Even less fine palates know that airplane food is not Michelin stars. With few exceptions, such as certain Japanese, Middle Eastern and Turkish airlines, on-board menus serve little more than entertaining passengers during the flight. So that they fall asleep soon and do not disturb more than the bill, nothing better than to occupy them in opening superheated aluminum foil cakes and removing soft rolls from bags inflated by pressure while having breakfast wine or beer in that space without time that is the cabin of a plane.
But, without fear of this stigma, the airline Air Asia He has dared to open a restaurant on the ground that offers the same menu as on his flights. And that is low cost! Inaugurated in Kuala Lumpur, after the idea is the Malaysian businessman Tony Fernandes (55 years old), the founder of this airline that is the largest in Malaysia and, as his motto says, has made "now everyone can fly." Operating in 165 destinations in 25 countries, its expansion is due to the more than affordable prices of its tickets, which are then becoming more expensive if the seat is a window or aisle and depending on the weight of the luggage.
Taking advantage of this success, and attentive to everything that can give you more money, Fernandes He has launched this restaurant with the catering service of his airline, Santan and T&CO. Its name, Santan, is already a tribute to the cuisine of this continent, as it refers to the coconut milk that is widely used in Asia.
Next to the typical white coffee of Malaysia, the place offers more dishes than are usually served on airplanes and invites you to a gastronomic tour of the countries of Southeast Asia to which the company flies. In addition to chicken skewers (satay) and traditional boiled rice with coconut milk and Malaysian pandanaceous leaves, the menu includes spicy tom yam soup from Thai prawns, pho (noodles) from Vietnam, fish with pineapple from Cambodia and other specialties from Indonesia and the Philippines. And all this at prices of "fast food" that do not reach three euros per dish (12 ringgit) and subject to tasty promotions on the Internet to build customer loyalty.
In the future
"We are very proud to extend what we started as an on-board menu to new markets and to reiterate our support to Southeast Asian producers, in addition to creating new job opportunities with affordable franchises," congratulates the director of Santan and T&CO, Catherine Goh, in a statement released by the Air Asia website. For the future, his plan is most ambitious: open five restaurants at the end of 2020 and one hundred franchises in three to five years.
. (tagsToTranslate) against (t) food (t) plane



Source link