Airbnb soars 113.24% in its launch on Wall Street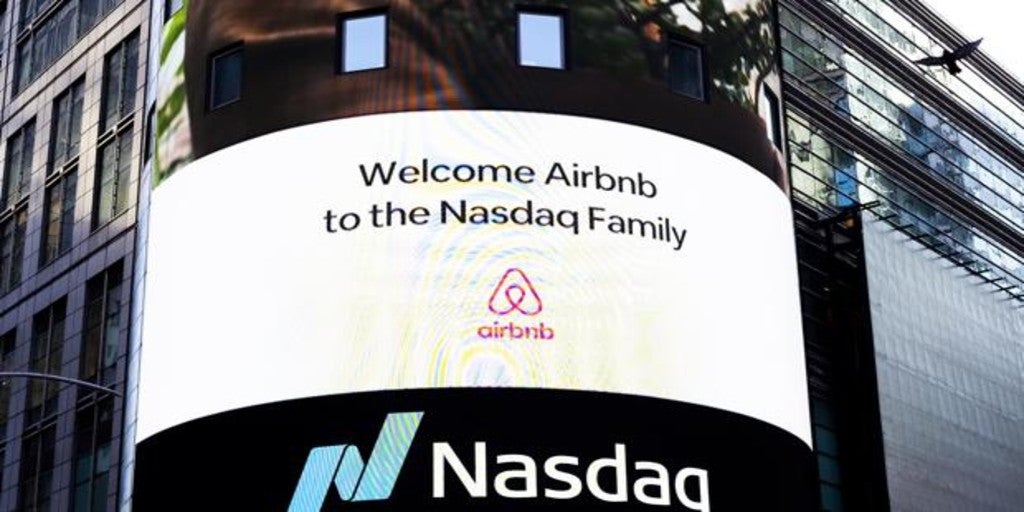 Madrid
Updated:
save

Premiere at the top of the Airbnb digital platform, which in its first steps on the market has shot up 113.24% after its premiere on Wall Street, in line with the experts who anticipated that it could double its starting price, set at $ 68.
At 2.30pm local time (7.30pm GMT) the shares of the vacation rentals platform were at 145 dollars, that is, 77 more than at the time of its premiere on the market, which has been surrounded by great expectation.
Experts had advanced that the price of Airbnb shares, which trades under the name ABNB on the Nasdaq index, could be situated around $ 155, bringing Airbnb to a valuation close to $ 93 billion dollars, well above expectations.
The premiere of the technology company is one of the most anticipated of the year on Wall Street, especially after it was forced to modify its plans due to the outbreak of the coronavirus pandemic. According to the specialized channel CNBC, the jump experienced by the price of its shares is the tenth largest recorded in 2020 by a company on its exit to the Wall Street stock market.
Airbnb planned to go public months ago, but stopped due to the impact that the health crisishe had in his business and in that of the entire tourism sector.
Airbnb weathered the storm by seeking financial injections, laying off a quarter of its workforce and sidelining operations outside of its core business. In the third quarter, bookings through the platform began to recoverThanks above all to the stays of many Americans in country houses near their homes during the holidays.
After a collapse of your income during the first half of the year, between July and September Airbnb made a profit of about 219 million dollars.
Although the pandemic continues to be a significant threat to the business, the company is benefiting from its debut on the stock market of the enthusiasm of markets for technology stocks. Thus, when it began its presentations to investors last week, Airbnb had set a price range for its shares of between $ 44 and $ 50, an amount that progressively increased to $ 68 and that, if the latest forecasts are met, this will be pulverized. Thursday.