Aida Tarrío, from Tanxugueiras: "We would love to take the tambourines to Coachella"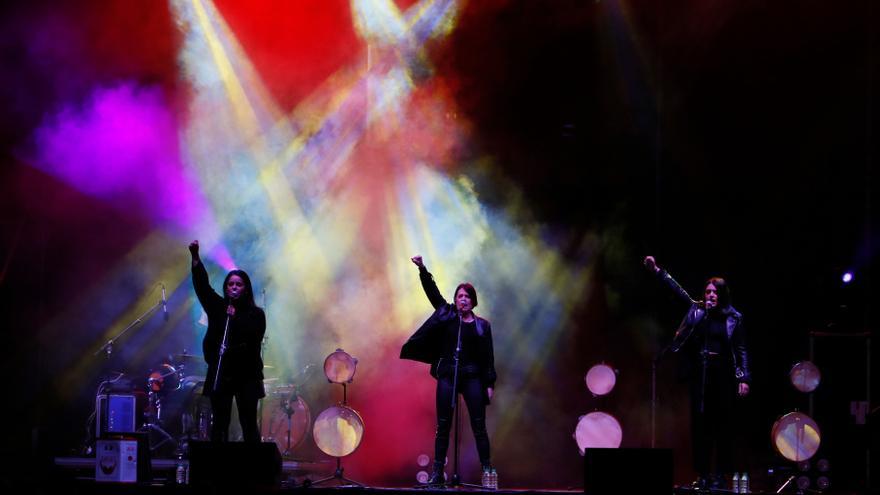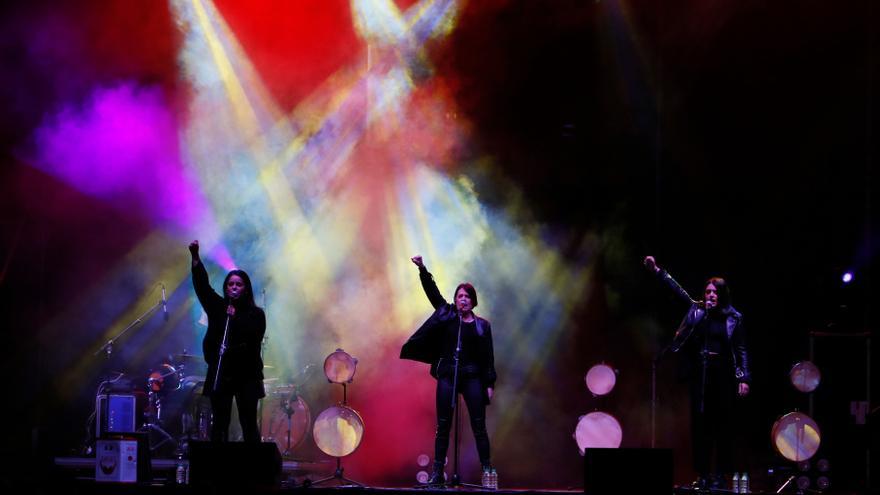 "We'd love to play Coachella, for the 'brilli, brilli'. Because there you can go dressed like a superstar." Aida Tarrío, the youngest member of the trio Tanxugueirassays that taking the tambourines to that music and arts festival, which this 2022 will be in the Indio desert, would be "the most".
"But this year we have already fulfilled so many dreams!" he told Efe in an interview. After the benidorm festwhere by far they received the most votes from the public, have an agenda that is bursting at the seams.
"We are in so many places! Last year we said: how cool it would be to play here. And now, here we are," she says, humbly, but how could it be otherwise, excited.
One of the wishes of the group was to be in unimaginable scenarios. "And we arrived. AndWe are in festivals that we will share with C. Tangana and Lola Índigo. Who was going to tell us?", this artist from Ribeira (A Coruña), who is from the fifth of 1997, blurts out over and over again.
The impact they have had not even crossed his mind, at least not with this magnitude. Both the twin sisters Olaia and Sabela Maneiro, born in the Coruña municipality of Teo on June 1, 1990, and Aida Tarrío, define themselves as women who firmly believe in their project from day one and who consider that their culture and also their language can reach all parts of the world.
"That is why, obviously, we have expectations of achieving everything we set out to do. But, obviously, we did not imagine this, and less so after so few years. Because really we, as a professional group, have been three years", although before that They were already known for being at 'foliadas', at those parties where traditional music is played and sung.
"The Galicians support us from the beginning. And now everything is going very fast," he details.
The Tanxugueiras were born into a traditional music association and are "super proud of it."
With this giant step that you have experienced, are aware that "there are many things in this life and in this industry that you have to knowand it is very little time to know everything, to evolve, and, of course, there is a lot of information that reaches us and we try to take it with all the spirit in the world and learn as much as possible from all this".
The families of all of them are surprised. Aida comments that Olaia and Sabela's father always had an intuition and that he already took the girls to singing competitions when they were little. Aida's relatives -not Aida- were aware of what she liked to sing, because she gave many recitals in the kitchen.
working on tour
"I already wanted to be an artist when I was little. But they never imagined, one, that I was going to dedicate myself to this; and two, that I would make a living from this. I have the support of my parents, unconditional, I have always had it, for everything. But they are hallucinating with us. They drool," he shares. At Sabela and Olaia's house, despite that hunch, they are just as "amazed."
There is a new doll, a Nancy Tanxugueira; and carnival costumes with her outfits. "That's a pride," says Aida, and affirms that this has been a "boom" but her path was opened before by others such as, she lists, Mercedes Peón, Xabier Díaz, Guadi Galego, Berrogüeto...
"Without them, we would not have come this far. This is a job of everythingyes And there are many groups in Galician that take our culture and our language to places we didn't even think of".
The Tanxugueiras hope that this will continue, that the current one is an important and firm step so that the Galician language, as well as the rest of the co-officials, has its space on stages, "without prejudice".
"The music it lives You don't have to understand the lyrics, you don't have to understand what you're talking about."
Aida, Sabela and Olaia steal hours of sleep in their renewed life to work on a "super cool, very intense, very different" album, in which one song does not resemble the other, although they all reflect its essence, the one that, predicts Tarrio, "will never be lost."
And other, are working on the preparation of the "direct ones that will come within the framework of their 'Midas' tour.
"We are working on making a super powerful live show. You may like it or not, but what we want is not to leave anyone indifferent. We are working super hard to make a very dynamic live show, with a lot of rhythm, very festival-oriented, but above all have our essence, that pure and hard tradition that we want to introduce to people a little bit", anticipates Aida.
"Now -he continues- it's time for the beauty, seeing the public, meeting those new people who have begun to follow us. Three minutes (those of the RTVE contest in which the Spanish song was selected to participate in Eurovision) is a short time. We need that hour, hour and a quarter, to communicate, to be able to talk with them. To vibrate both them and us in a concert together is what we most long for".
Aida was able to see Nathy Peluso live for the first time last year. "It was like... God! And she also receives that feedback. That's the beauty of it. And that's where we're going. In the end, our people are the ones who feed us and who make our project alive", she concludes.