Agüero: "I have a chip that if my heart speeds up, the doctor jumps"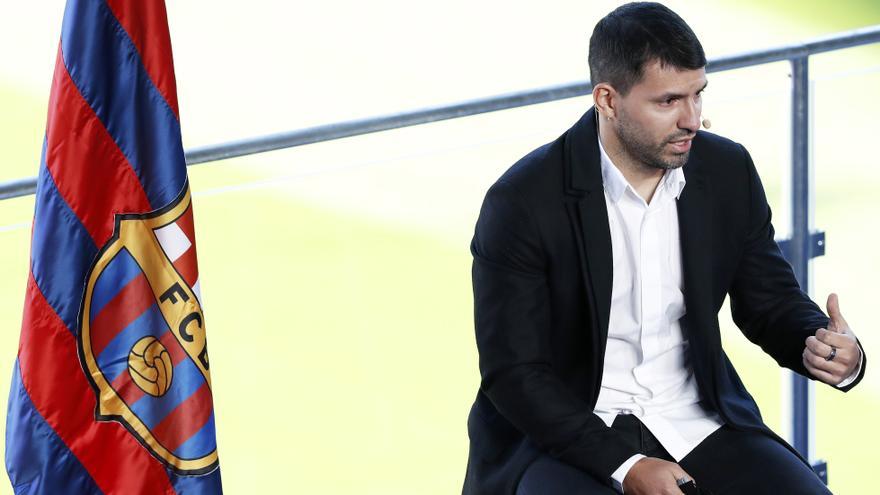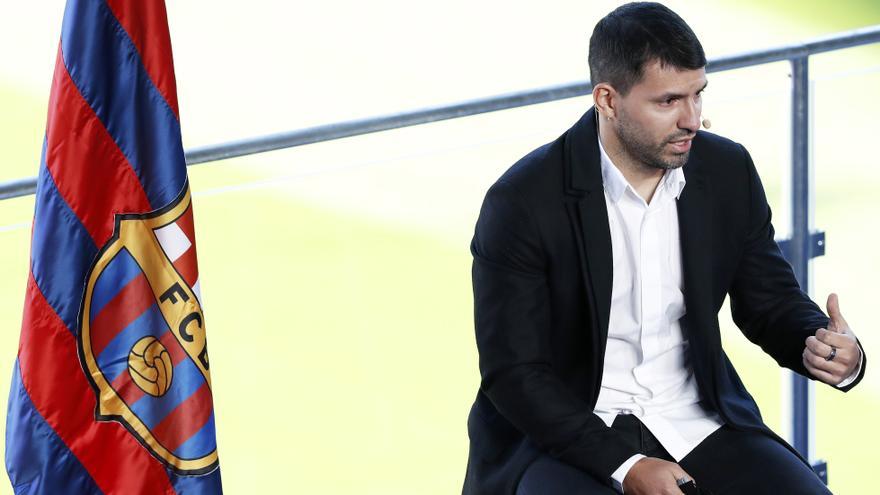 The Kun Aguero, via Twitter, commented on the process since November 30 suffered a cardiac arrhythmia against him Alaves until withdrawal in mid-November.
Until then, the Blaugrana striker explained when he knew he had to stop playing: "I knew a week or 10 days before they told me that I would probably have to retire, but I didn't assume it and I was preparing myself for that moment." In addition, he recounted how the moments before announcing his withdrawal were: "When they told me that it was the end, that I had to say it, I went to Abu Dhabi to distract myself a bit and on the day of the farewell I was calm. I was going to say what happened to me and what I felt. I was with laporta before leaving for the conference and when I see the stairs with my chair there I broke down and started crying. I hugged Laporta. I had to go out and I didn't want to because it's hard for me. I didn't want them to see me crying and Laporta told me that I had to go out and talk. I started to think that I had to be relaxed and I relaxed."
First days in the hospital
Kun also explained how he lived his stay in the hospital after being transferred from the Camp Nou: "Before announcing the withdrawal. The first 15 days I had a very bad time. When the arrhythmia caught me one Saturday, I was hospitalized. My heart raced a little bit and I thought it was silly and that I was going to be cured. When they put me in that weird private room with some monitors, you're there kind of weird, you realize that things aren't going quite right, but they told me it was going well. They couldn't come to see me and I said: 'strange'. The next day I woke up fine and hours passed but they didn't tell me anything. They didn't tell me you can go home. Then the doctor came and told me that I had to stay one more night. I didn't know what was going on. I started to get nervous because I wanted to go home. On Monday morning I get up and the nurse arrives and tells me that they have to transfer me to a private clinic to do a more in-depth check-up. I already saw it coming".
in a private clinic
The attacker also tried a private clinic in the hope of overcoming the problem, just as he did with his knee: "I said one more, I already had it with my knee. In the clinic they give me a deeper check. They put a little hose on you through the groin They tell me they were going to provoke me arrhythmia attacks to see which one was the most similar to what happened to me. I was recharged."
The former also of Atletico Madrid Y Manchester City recounted the hardest part of the treatment: "It had been an hour and a half. And the doctor tells me: 'I'm going to do three arrhythmia attacks so you can tell me which of those three it is'. They put plates on my chest and I said: 'what am I doing here, they want to stop my heart'. They do the first attack, then the second and I make signs to him like more or less and he does the third and I told him 'stop'. That is. Finished everything and I said done. I went to my room and suddenly I start to feel dizzy and my heart starts racing again and tried to relax so that it would go down. Then the doctor told me it was normal.
chips in the heart
Finally, after all the tests, Kun had to have a chip implanted to control his heart problems: "They put a chip in my heart. At night I throw colored lights, I'm Ironman. I have a chip that if my heart races, the doctor jumps. The doctor told me I had to go get a chip. I arrive on Thursday, I lie down on the stretcher, the doctor prepared a needle and pricked me in the chest. After a while I see that he pulls out a blade like a razor and he tells me: 'does it hurt?' He squeezed me and said 'this one doesn't cut well' and changed the blade, like when you eat roast and want the serrated knife, which is the one that cuts the meat well. It didn't hurt. Then he started to insert the chip. If I feel something, I record the symptoms and the doctor tells me what to do."