Agüero, at least three months off due to his arrhythmia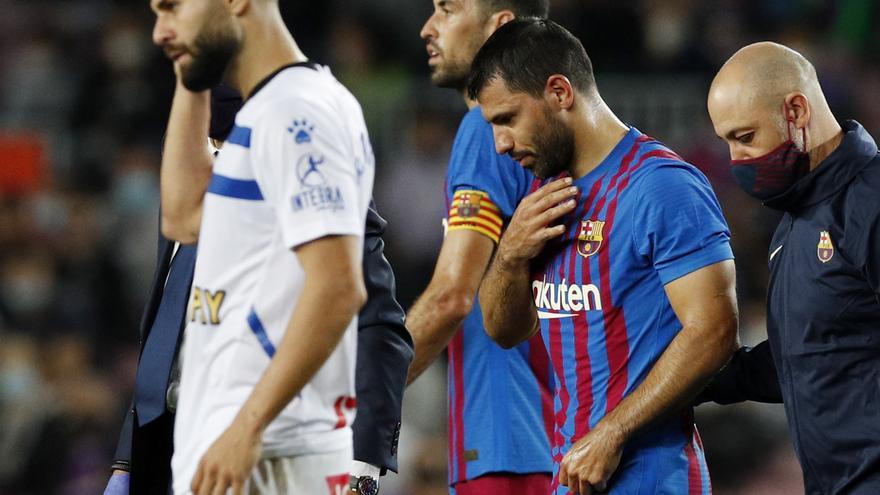 The Kun Aguero will be a minimum of three months without playing for the arrhythmia suffered before him Alaves. The club has reported that the player, who already suffered one 10 days ago and 12 years ago he already suffered from this heart condition, has undergone "a diagnostic and therapeutic procedure" by the doctor Josep Brugada. Not only will he miss this Tuesday's game in Kiev, but he will not wear a blaugrana again until next year. The Barça explained that for the next three months "the effectiveness of the treatment will be evaluated to determine the recovery process. "
Another hard hit
Another hard blow for Kun, to which nothing is going as expected in Barcelona. He came to play with Messi but could not even get to train with his partner in the Barcelona sports city. An injury to the inner calf of his right leg prevented him from attending the farewell to Leo and also to Gamper against Juve. After 10 weeks away from the grounds, Agüero was able to make his debut with his new team two weeks ago against Valencia.
After playing for three short moments in Champions and Liga (and scoring in the Clásico), he played his first full game against Rayo last week. On Saturday against Alavés he started again, but in his fifth game he collapsed with four minutes remaining in the first half. He hadn't had any previous blows. Or, at least, it was not seen. Even Piqué was scared when he saw his partner's gestures.
The Argentine striker left the grass on his own feet, although later he went by ambulance to the hospital where in a first diagnosis it was explained that he suffered "an episode of chest discomfort", for which he had undergone "a radiological study" . "I was talking to him yesterday, he is quiet, is locked in his room, within logic, quiet", has explained Sergi Barjuan at a press conference this Monday. Eight hours later the club has communicated that the player, who is still admitted to the Barcelona Hospital, will be at least until February without playing and that he has put himself in the hands of Dr. Brugada, who will supervise his return to the playing fields.