After Halloween and Black Friday, the fashion of Thanksgiving arrives: "We don't even have a free table"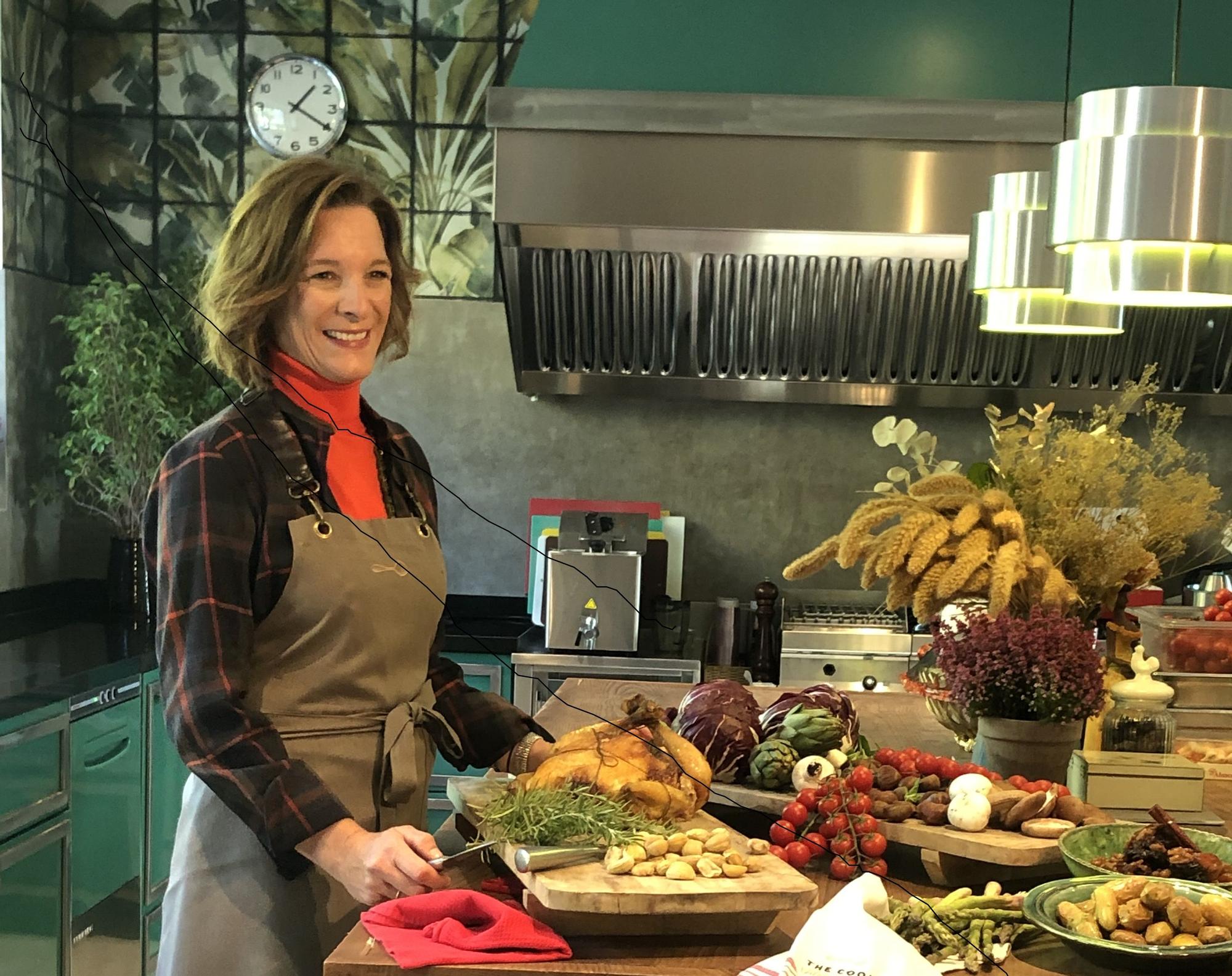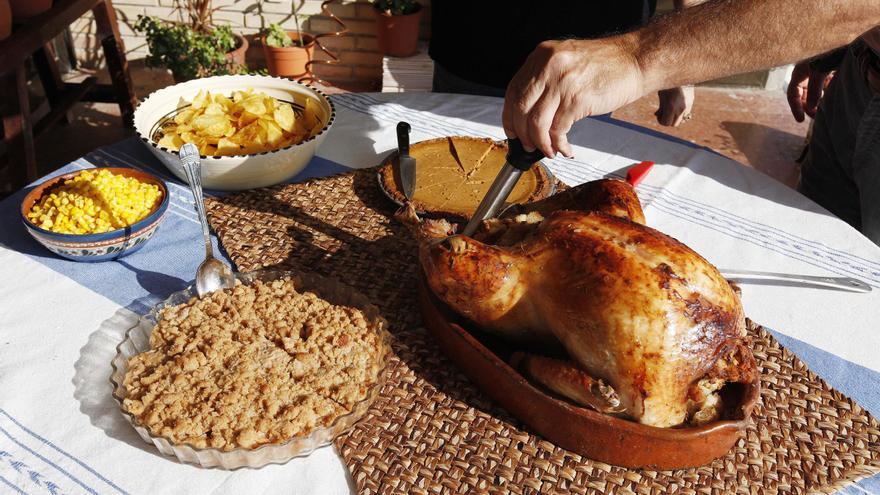 More and more restaurants and catering services are signing up to prepare roast turkey on the fourth Thursday of November

"There is more demand year after year and many more Spanish people come," they say in Puerto Lagasca, a Mediterranean cuisine establishment that prepares a special menu for the 25th.
First was Halloween, the traditional American holiday of Halloween, which le has been stealing little by little all the prominence to All Saints' Day.
Later, many Spaniards began to assume as their own the Black friday, the so-called 'Black Friday', the date on which Christmas shopping with important discounts in shops.
And now it's the turn of Thanksgiving Day, the most important festival in the United States, and whose traditional menu begins to fill the tables of Madrid restaurants on the fourth Thursday of November. Some of which no longer have tables available, while the products to make the sauces fly in the specialized establishments.
"We did it last year, and it was successful, but now it is being tremendous. We have everything reserved for Thursday (day 25), about 70 people, but there is also a lot of reservation for Friday, Saturday and Sunday ". Who speaks is Paco Carrascosa, the chef of Puerto Lagasca, a Chamberí restaurant with traditional Mediterranean cuisine that becomes the paradigm of the boom that the hospitality industry lives in the capital with him Thanksgiving Day.
More and more Madrid restaurants, and not only American cuisine, offer special menus to commemorate this holiday characterized by the family gathering in homes to prepare a banquet where the traditional dish is the roast turkey that is accompanied by a filling made of bread, corn and sage.
Two hours
This is how Carrascosa prepares it in Puerto Lagasca, accompanying it with cranberry sauce, green beans, and roasted sweet potato. "Among the clients we have a bit of everything, they are usually foreign people, but there are more and more Spaniards and people who have American friends"says the chef, who usually takes two hours to roast the turkey, which weighs between four and six kilos.
On Disengage, the restaurant of Ivan Saez In Paseo de la Habana, they have been giving importance to this day for several years and they also notice the increase in requests. "I think there is even more demand for the Thanksgiving menu than places where it is offered," says Jesús, the chef's brother and maître d 'of the establishment, who has a Repsol sun, and who prepares the turkey stuffed with mashed potato. Cumberland sauce, gravy, sautéed mushrooms, green beans and Brussels sprouts.
"The word is spreading more and more, and this year we have it full. There are 120 people and there are from all walks of life; many are Spaniards who spent time in the US and like to celebrate it or who have family that has been there. For example, for the 25th we have an important reserve from an American company"Jesus points out.
As no more people can enter Desencaja or the restaurant that the brothers have very close, Tajada, they also offer roast turkey to taste at home. "There are many people who prefer to celebrate the holiday at home," says the head waiter. The price of roast turkey is 70 euros and they already have numerous orders for next Thursday. "We will prepare like 300 kilos of turkey that day," he says.
On Dingo, in Recoletos, a restaurant with American cuisine, they are almost full for the next day 25. Of the total service of 120 diners they already have 90 reservations. "There is more and more demand. We have been doing it for five years and it is going on. It is a mixture of very strange people. Spanish, American people …", he points out. Angel Garcia, one of the restaurant's chef's collaborators, Jose Luis Inarejos.
Texan oven
Who could not miss the appointment is New York Burger, the American food chain where Pablo Colmenares, the executive chef, has prepared a special menu for the five restaurants in Madrid. The turkey is smoke for four hours in a texan oven. "We started a few years ago with a menu with smoked turkey and its sauces. At first people did not associate it with a day of celebration in Spain, but the gastronomic offer is cool and original and it is very tasty, and the people here have been joining little by little ", it states.
Last year 400 diners served, "mostly couples and groups of friends", and that was in the middle of the pandemic, but this year they expect to receive more. Here they serve it with gravy (sauce) turkey and roasted apples and mashed sweet potato with a touch of butter.
At home
For those who want to eat the traditional turkey at home there are several options. From doing it at home buying the ingredients to ordering it done. There who takes the cake is him Catering The Cook by Silvia Lodares, which has been preparing it for six years. "We give our touch to the filling, with crumbs, sausages and some dried fruit," says the cook.
"There is more and more demand, and more this year, that people are thanking many things," he says in reference to the coronavirus pandemic. "Our clients are usually people who have dinners at home, groups of friends and family," says Lodares, who already has 40 orders for that day.
Another catering company that serves freshly baked turkey is that of chef Yago de la Cierva, founder of Yagou.es, who before the Covid was a teacher at a cooking school. "We gave different workshops, and one of the most successful was always 'Thanksgiving' turkey." During the pandemic he set up the catering service, and included the traditional menu "with different toppings".
"I didn't do much publicity for it, and last year I already had several commissions, but this one I have quite a few, in fact, I have to look at it because I think I've done sold out "says the cook. "Here in Spain it is not so much to be thankful for what has happened this year as to have dinner with friends. All the requests I have are from Spanish people, mainly young people. There are people who take advantage of Thanksgiving to make Christmas dinner with friends, "he reveals.
The high demand is also noticeable in food stores specialized in poultry. "We have orders 11 turkeys, between restaurants and individuals, who are usually American ", says Juan, head of Pollería Herrero, in Malasaña. "Every year more is celebrated, although it is not that it is crazy. We have more or less the same requests as last year."
When it comes to preparing it at home, the stores The Taste of America They offer all the necessary products. "It is our strongest month", says Juan José Fernández, head of the Lavapiés establishment – there are also stores in Chueca, Fuencarral, Serrano or Pozuelo-.
"It is happening like with Halloween, if we all like the joke, in the US it is a main holiday because it is not religious, andIt's a Native American tradition", says the person in charge, who points out that above all they are selling the stuffing (filling) that accompanies turkey and traditional cakes: de campay, which is made with pecan nuts, typical of the United States; with natural maple, corn or pumpkin syrup.
Originally, at the beginning of the 17th century in the United States, the objective of the colonists with the dinner of Thanksgiving it was to come together to give thanks to God for the harvest and for the blessings received during the year. Although the tradition has religious roots, many celebrate it as a secular holiday.
"Spaniards celebrate them more and more. Because they have traveled, or because the children who have been there tell them about it. Spaniards usually buy it done," he says. In fact, by having a kitchen, in this franchise the turkey they sell It is from Cascajares, American style roast. "This year we have already sold four or five in this store," says Fernández.
Another of the restaurants that have been giving importance to this festival for years is the Meet You Restaurant & Lounge, in Gran Vía, which prepares a special menu consisting of clam chowder and the traditional baked turkey, stuffed according to the New England recipe, bathed in the popular sauce gravy and accompanied by all the traditional garnishes: coleslaw, purees and assorted creams, glazed onions, buttered tender peas, or sauteed carrots and Brussels sprouts. Accompany the dish, of course, the traditional blueberry sauce. The fresh whipped pumpkin pie completes this menu, which is around 35 euros.
The hotel Urso He has also prepared a special menu for that day in his restaurant, Half Portion, with roast turkey with cranberry sauce, green beans, mashed potatoes and sweet potatoes, pumpkin cream and for dessert a rhubarb pie with reduced cream. To accompany the food, of course, a wine from the California Ranches. The price, in this case, is a little higher, 75 euros.
Related news