Adzubenam Villullas and Amparo R. Montero: «Much history of the city is forgotten because only those who lived it remember it»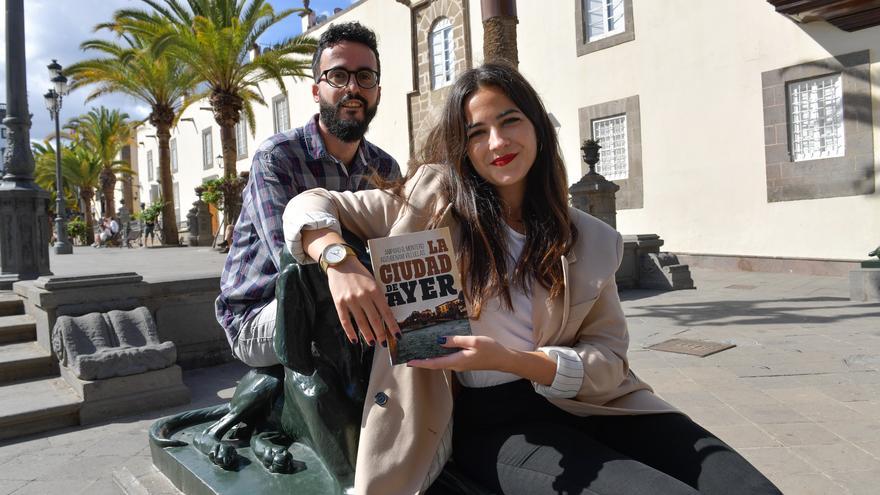 The City of Yesterday… has much changed in essence with today's city?
Adzubenam: The city has changed a lot, but at the same time not. That is, it has many traces, many signs that recall how the city of yesterday was, and those traces, details, gaps, have been many times in the collective imagination of the past, and we wanted to rescue it in this series of reports that we did, some of which are in this book.
What has made Las Palmas de Gran Canaria the city it is today, marked by this nexus of cultures and cosmopolitanism?
Protection: Las Palmas de Gran Canaria has always been a city at the forefront, being precisely that point of confluence of many cultures and people of different nationalities. And that is perhaps what has enriched her the most, along with her own history. It went from being a tiny nucleus in which rich and poor coexisted, and little by little it grew, it expanded, eliminating the very essence that it enjoyed at first, such as the dunes and that cultural wealth that is now under the asphalt. Those cracks in the origins and the confluence of cultures make the evolution of this city understood.
There are many secrets that this city hides … Does the public know them, or does it happen as in other corners of the world where foreigners seem to have a better idea than natives?
Protection: The reports we did are full of anecdotes that surprised us because they are not in the collective imagination. These are things that people who lived through it or who have studied these aspects in depth know. We all have grandparents, grandmothers, neighbors who tell us about these secrets, perhaps it is better known when you are part of the environment, but many of them are unknown.
Adzubenam: There are many stories that have been forgotten, many times people have not given them that importance, due to ignorance or because they were something everyday. Most young people are unaware that the city was dune fields at the time, or large tracts of farming areas in peripheral neighborhoods or the Upper City. Many of them do not get to know him until they are adults.
What was the hardest thing about getting the ins and outs of the city out over the centuries?
Protection: Perhaps the most complicated thing, for me that I am from abroad, was to contextualize and know if what seemed new to me because it was not from here was really it. In San Lorenzo I got to do the report and there was no one on the street, and I had to carry it out. In those moments it is difficult to string together all the stories, for the stories to have a meaning, a chronological order. It was above all laborious having to give that meaning to the whole series.
«Las Palmas de Gran Canaria is historically very rich and surely more secrets will be brought to light»
Adzubenam: For me it was difficult to count data that maybe are exacerbated or that do not coincide with the dates that we had. There are stories that are very, very well known, more visible, and there is much more information and even photographs, but not much has been written about other details of the city, or they have not been given much importance, perhaps because they have to do with neighborhoods. More popular.
You have discovered that there is a lot of history in this city beyond Vegueta in areas such as El Rincón, La Cícer, La Laja that perhaps were only in the memory of those who inhabited them, but that escaped the knowledge of the rest of the city. .
Adzubenam: One of the reports is dedicated to the Polvorín, which was born as a neighborhood in the 50s with social houses, although before this there were already some earth houses and cave houses. That is history, really, because they are people who lived there for much more than 100 years, but beyond the people who live there, no one else knew them. In other neighborhoods there were families who had relocated due to other circumstances, and from which many experiences that we got thanks to talking with their protagonists had also been lost.
Protection: If you had grown up in that environment, you controlled, you knew or the history of that neighborhood had come from your neighbor or your grandfather, but many people did not know, on the other hand, the history of any other area because they had not had that oral tradition, or that knowledge transferred from parents to children over generations.
Is there still something to discover about this city?
Protection: Surely, if someone continues investigating or investigating, many things will be discovered that we have not brought to light in that year that the series lasted. It is a historically very rich city, which would give for many more serials like this. There are things to remember or rediscover, rather than to discover. We have seen things later that we have thought that they would have served perfectly to relate them in the reports.
And was there anything left to discover about the city in this book?
Protection: Actually, we did about 30 reports throughout that year, and when the Canarias eBooks publishing house asked us to compile it, we did not follow a specific criteria, it was a bit like going from the center to the periphery. It is true that half of the articles were left out, but they were just as dear to us, just as worked. Perhaps we are rather following a chronological criterion, that this book makes some sense.
Adzubenam: Some of the reports were very similar, and in the book it might not make sense to put them. When they were published, they had much more distance between one and the other, so we could repeat some of the details to present new ones. As Amparo says, we try to make sense of it. It's sad many things that we worked on and were left out.
Act: Presentation of 'La Ciudad de Ayer', by Adzubenam Villullas and Amparo R. Montero
Place: State Public Library
Date: Today, at 7:00 p.m.