«Adriana Abascal was educated by a woman who called herself a witch»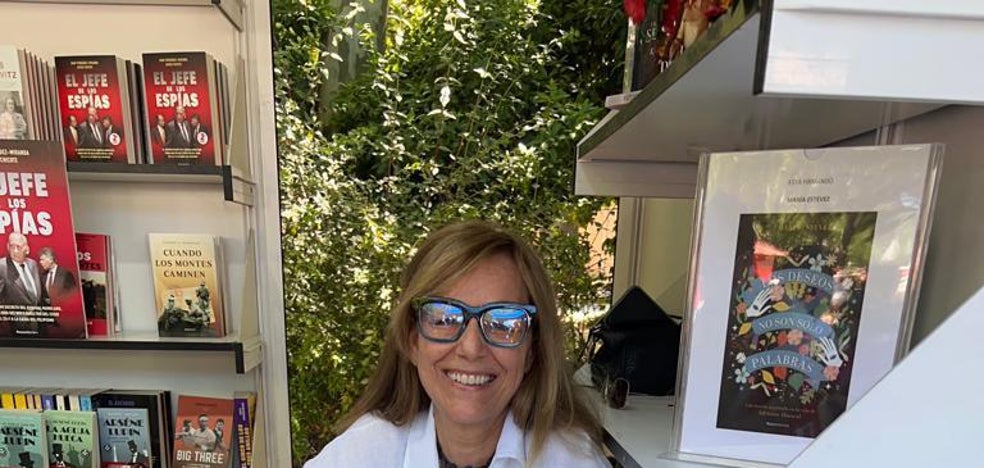 The journalist María Estévez delves into the life and loves of the former Mexican model in 'Wishes are not just words'
The journalist María Estévez (Madrid, 1966), a correspondent for Colpisa in Los Angeles, narrates the life of Adriana Abascal in her latest book 'Wishes are not just words' (Rocaeditorial), which went on sale in May and whose The author will sign copies at the Madrid Book Fair this Friday from 7 to 9 p.m. In her pages, Estévez also remembers the loves of the former model, crowned the most beautiful woman in Mexico at only 18 years old. Widow of millionaire Emilio Azcárraga and ex-wife of Juan Villalonga with whom she has three children, Abascal (Veracruz, 51 years old) separated from her in February from her third husband, businessman Emmanuel Schreder. "Professionally, he is doing very well with his new luxury footwear company, but on a personal level his situation is more complicated because he is divorcing," says Estévez, who invites the reader to immerse himself in the history of Abascal, of which he is good friend, and discover her passion for the world of magic, spells and esotericism.
-What is Adriana Abascal?
-Adriana is in Paris dedicated body and soul to her new fashion project Skorpios. It is a luxury footwear brand that she has dreamed of for many years and, fortunately, she is doing very well. On a personal level, her situation is more complicated because she is divorcing her third husband, Emmanuel Schreder.
-What has Adriana said about the book?
-The idea of ​​this book arose during the presentation in Los Angeles of my previous novel, 'Your damn voice in my memory', it was Adriana who suggested telling her experience with the world of magic. She and I have shared many personal conversations, many fantasies, and the novel is a story where reality and fiction walk hand in hand.
-Is beauty a means to achieve things?
-Beauty is the first impression. But beauty is useless without an inner source to feed that first impression. I think that beauty can be a double-edged sword because when you lose attention because of your beauty, the fear of the mirror turns against you and causes terror. The beauty of a woman like Adriana requires great effort because it involves work, dedication and a lot of intelligence.
«Adriana took me around Los Angeles to consult with sorcerers, diviners of the future and with Tarot readers»

-Why did you write this book?
-I think there is a group of women who are despised for their beauty. They are branded as frivolous for feeding the patriarchy. Sometimes, we forget that they themselves have been forced into that space by circumstances. I think Adriana is an admirable woman because she, as a mother and a woman, is very generous. In the universe of power it is very difficult to find someone who has triumphed in a world of men and is able to keep their integrity intact. On the other hand, I was fascinated by the idea of ​​exploring the world of spells and magical Mexico.
-The protagonist has a passion for the hidden world, for witchcraft. Where does this fondness for ghosts come from?
-She grew up in Veracruz, a city between the Caribbean and New Orleans with a lot of influence from santeros and witches. Adriana was educated by a woman who called herself a witch and taught her to cast spells, to use plants, to believe in the elements. In fact, Adriana took me around Los Angeles to consult with sorcerers, fortune-tellers, and Tarot readers. In her house there are always candles, white flowers, water and an altar dedicated to the Virgin with plants that evoke emotions.
-Is Adriana Abascal going to be at the signing of her book on Friday?
She is in Paris right now. She wanted to support the book, but her personal circumstances at the moment have become complicated and she prefers not to be exposed in the media.
Are you already thinking about your next book?
-Yes. I'm already thinking about a story about a young woman who loses her identity. I want to dare with a suspense novel.