Admits he killed his friend after arguing over refusing to pay for rounds of beer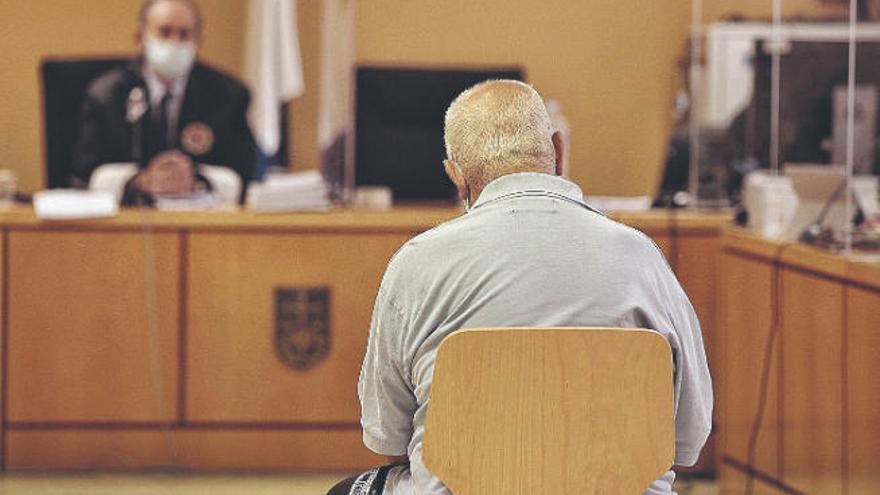 He accused of the homicide of his friend in La Laguna in July 2018, José Antonio Pérez Hernández, He acknowledged yesterday that he killed Manuel with several stabs in the neck during a fight that occurred on the access road to his home, in Guamasa. In the first session of the jury trial that takes place in Section II of the Provincial Court, Pérez Hernández assured that he was with his friend in two bars and in both he argued with him "because he never paid for the rounds." At the second location, the defendant explained that "I went to remember his mother" and the victim "felt very bad", among other things because he told him in front of other people.
Jose Antonio Perez He stated that he knew Manuel, because "he was a lifelong neighbor", as well as a friend. On the night of July 5, the two met in a bar. In this establishment there was a first verbal confrontation, since Manuel allegedly did not want to pay the round to several acquaintances. Later, both of them left in José Antonio's vehicle with the intention of going to their homes. But, along the way, they decided to go to a second bar, where a new discussion broke out between them for the same reason, although this time stronger. Furthermore, the now accused agreed from Manuel's mother.
According to the testimony of José Antonio Pérez, from that place each one left by their own side. The defendant left in his vehicle. The alleged perpetrator of the murder explained that he stopped before each roundabout to see if there was any traffic control, to the extent that he had drunk alcohol. And when he reached the entrance to the track towards his home, he found that Manuel was already there and that he had an iron in his hand, "what locksmiths call an angle." The victim was in the middle of the road, so "either I ran over him or I got off," he said. To questions from the prosecutor, the defendant stated that he preferred to get out before Manuel caused damage to his vehicle.
The accused recognized that Manuel was walking towards him, so he had to walk backwards. At a certain moment, always according to Pérez Hernández's version, both fell to the ground. And Manuel stayed on José Antonio. He said that he tried to take El Hierro from his friend, but he would not let go. And the now defendant decided to take out the knife that he carried in his pants pocket and stabbed him several times in the left side of the neck. The representative of the Prosecutor's Office reminded him that the victim received up to five stab wounds, while the defendant only remembers having given him "two" serious stab wounds.
From that moment on, he shook it off and left him sitting there. Jose Antonio took the vehicle to his home and returned to the scene of the fight. At first, the defendant said that, shortly after, he touched his friend to see how he was doing and his head was already tilted forward, "so there was nothing to do." That is, he had passed away. Later, he assured that Manuel took more than an hour to die and that all that time he remained by his side. After checking that his neighbor had no vital signs, he went back to his garage, where he took a sling, with which he transferred the body to another place. In that action it took several hours and he left it lying on an abandoned property. Later, he returned home, took off his clothes, which were full of blood, and threw them in the trash. He bathed and shortly after dawn. Between July 6 and 11, José Antonio did not tell anyone what he had done. The day after the murder, he went to the scene of the fight and threw dirt on the traces of blood to hide his action.