ADE is consolidated as the career with the most job opportunities | Fortune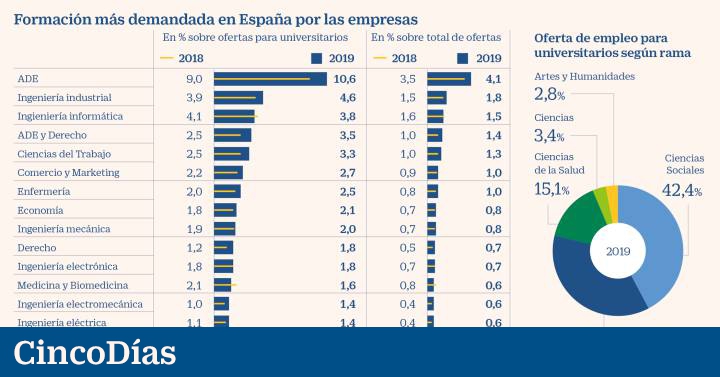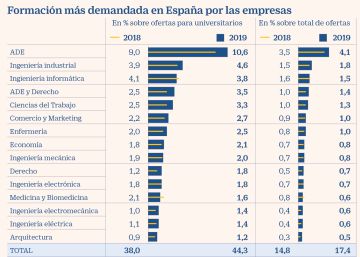 Business Administration and Management is the career with the most career opportunities in Spain. Specifically, 10.6% job offers that require university studies refer to this qualification, according to the report Infoempleo Adecco 2019. Job Offer and Demand in Spain, which has been prepared during the last year with a sample of 401,920 job offers for a total of 1,380,049 vacancies.
The figure consolidates this degree as the one most requested by companies, since it represents an increase of 1.6 percentage points with respect to the previous year, when it was around 9%. Graduates in ADE are not only, therefore, the most demanded, but the offer of their degree has also been the one that has grown the most in the last year.
As a novelty, it is followed by Industrial Engineering, which last year was in third position. Thus, its specific weight continues to rise above the global count, going from 3.9% last year to 4.6% today. Computer Engineering falls to third place despite remaining stable. Its offer now makes up 3.8% of the national total, representing a loss of 0.3 percentage points in the last year. Among the six careers with the most job opportunities, the combination of Business Administration and Law also stands out, with 3.6% that comes after an increase in the last year of more than one point, which makes this degree the second most it grows. Behind, Labor Sciences, Labor Relations and Human Resources, with 3.3% of the offer for university graduates, grew eight tenths in one year, and Commerce and Marketing, rose half a point to reach 2.7%.
This, in a context in which the Community of Madrid and Barcelona, ​​with 25.9% and 23%, respectively, accumulate almost half of some vacancies, which in the vast majority, more than 40%, require graduates university students. At a distance, the higher training cycles, which are requested in 23.5% of the offers, while the intermediate degrees are somewhat less required, 15.3%. Finally, the Baccalaureate qualification, which is requested in 9.9% of the vacancies, while the graduate is an indispensable requirement only in 9%.
By branches of knowledge, the careers of Social and Legal Sciences, with 42.4%, are those that agglutinate a greater number of offers, which strengthens its leadership, since last year they were already the most demanded, with 41 , 9%. Engineering and Architecture remains stable, with 36.2%, very close to 36.5% in 2018. At a certain distance, Health Sciences, which takes 15.1% of the offers, and very far, the branch of Pure Sciences, with 3.4%, and that of Humanities, which barely concentrated 2.8%.