Active cases rise in the Canary Islands after more than a month of constant decline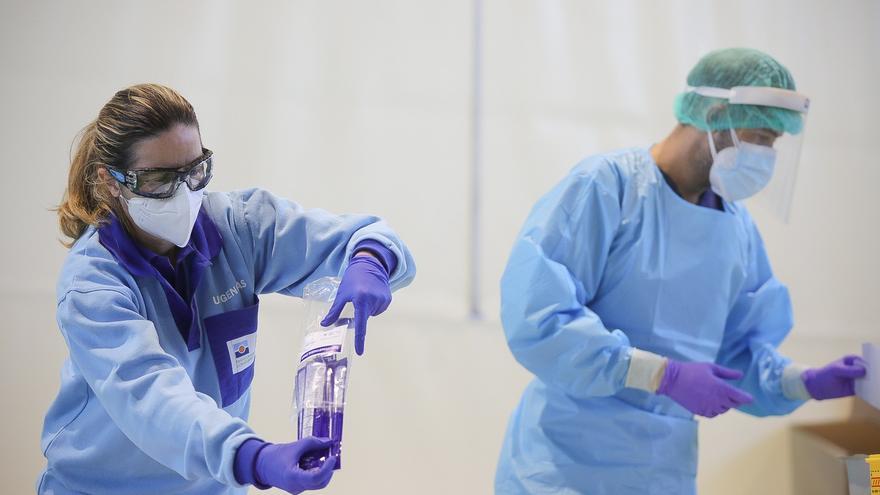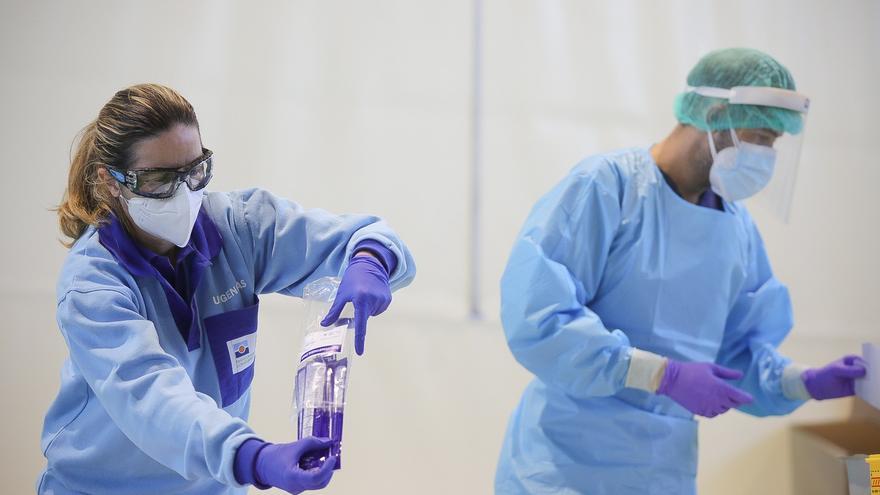 Despite this, the cumulative incidence at 7 and 14 days continues to decline in the Archipelago and stands at 17.97 and 43.98 cases per 100,000 inhabitants respectively, in a constant drop that has occurred since mid-August. With respect to the previous week, the seven-day period has fallen by eight points, while at 14 days it has fallen by seven points, going from 52.1 cases per 100,000 inhabitants on October 2 to almost 44 today .
Yesterday, in addition to the 63 new cases that were registered, which add up to 95,627 positives in these months of health crisis, there were also nine medical discharges, for which there are already 93,691 total, in a day in which no death had to be regretted due to the disease, which has happened three times in the last week, so the total number of deaths since the beginning of the pandemic remains at 994.
Regarding hospitalizations, 28 people are still in the ICUs of Canarian hospitals, while 96 are admitted to the ward, two more than those registered on Friday. The rest, up to 818 patients, are recovering at home with milder conditions.
By islands, Gran Canaria registered 14 more cases yesterday, making a total of 36,459 accumulated cases, of which 236 remain active, 12 more than the previous day. Tenerife, on the other hand, has 45,745 accumulated cases, after registering 41 new infections, so that convalescent patients amount to 450, 32 more than those that had been notified on Friday. On the other hand, Lanzarote added four new cases to reach the 6,947 accumulated since the beginning of the pandemic, of which 87 remain epidemiologically active, two less than the previous day. Fuerteventura, for its part, has 4,496 accumulated cases, with four more that were added yesterday, and 157 active, one less than on Friday.
Health did not notify new detections of Covid-19 yesterday on La Palma, which registers 1,109 total cases, of which six remain active; El Hierro, which has the same convalescent patients out of a total of 467 cases diagnosed since the beginning of the pandemic; and La Gomera, which has 403 total positives and is currently free of Covid by not having active cases.
During the day, 4,093 diagnostic tests for Covid were also carried out in the Islands, bringing the total to 2,170,818 tests since the pandemic began.
Researchers see "unacceptable" hoarding doses
The Barcelona Institute for Global Health (ISGlobal) considers that putting the third dose of the vaccine should only be done when it is scientifically endorsed and considers it "unacceptable" that rich countries hoard doses and expire when there are poor countries with just 0.2 % of its population vaccinated. No one will be safe unless everyone is. This statement is not only an attractive slogan, but it reflects the reality of a pandemic caused by a highly contagious disease in a globalized world, "say epidemiologist Clara Marín, immunologist Adelaida Sarukkan and analyst Marta Rodó, all three researchers at ISGlobal , a center promoted by la Caixa. The three specialists have published a report entitled "COVID vaccine: What consequences does a third dose have on global health?", In which they reflect on the suitability of starting to put third doses of the vaccine, once the majority of rich countries are finalizing the largest vaccination campaign in history, which began on Christmas 2020. | Efe
09 10 2021 16:17
The Canary Islands register 63 positives for covid and no deaths from the virus. Read more
08 10 2021 18:16
The Canarian Government expands capacity and begins to think about "safe carnivals". Read more
08 10 2021 15:12
They order a 79-year-old man to be vaccinated in Fuerteventura despite his son's refusal. Read more
08 10 2021 15:10
Gran canaria It has 36,445 accumulated cases, 17 more than the previous day and 224 active. Lanzarote adds four new cases with 6,943 accumulated and 89 epidemiologically active; Fuerteventura it has 4,492 accumulated cases, one new case, and 158 active cases.
08 10 2021 15:10
A 77-year-old man in Tenerife, the latest fatality with the disease.
08 10 2021 15:10
Friday with 62 new cases of covid in the Canary Islands and one death. Read more
08 10 2021 06:11
The third dose for those over 70 years old keeps the vaccination centers open. Read more
07 10 2021 15:27
After having dropped below 1,000 yesterday active cases, the figure now stands at 926, of which 26 are admitted to the ICU and 98 remain hospitalized.
07 10 2021 15:27
Two women in Tenerife, 78 and 29 years old, the last fatalities with the disease.
07 10 2021 15:27
The Canary Islands registered 58 new cases of covid and two deaths this Thursday. Read more
07 10 2021 15:26
The rest of the islands ( Gran Canaria, Lanzarote, La Palma, La Gomera and El Hierro) remain at level 1.
07 10 2021 15:25
Tenerife drops to alert level 1 due to covid and Fuerteventura remains the only island in 2. Read more
07 10 2021 06:07
The Archipelago falls below a thousand active cases for the first time this year. Read more
07 10 2021 06:06
Family outbreaks are reduced by half and social ones grow. Read more
06 10 2021 16:05
The Archipelago registers 36 outbreaks in the last week, eight less than the previous one.
06 10 2021 16:05
A socio-family outbreak leaves 16 infected with covid in Gran Canaria. Read more
06 10 2021 15:43
This Wednesday it has dropped from 1,000 active cases in the Canary Islands, reaching 996.