ACO closes its 55th season with 'The Tales of Hoffmann'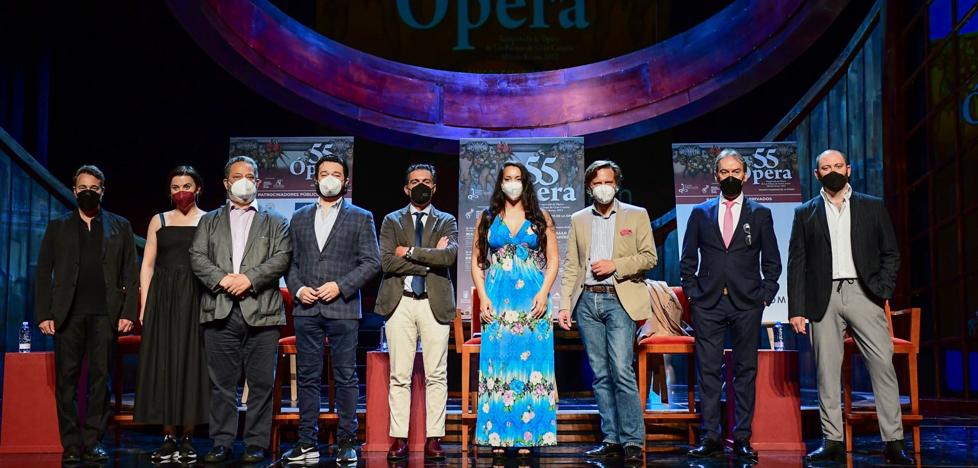 The tenor Arturo Chacón-Cruz highlights the commitment to a "beautiful production with real pieces" for performances at the Pérez Galdós Theater
Mexican tenor Arturo Chacón-Cruz returns enthusiastically to the Las Palmas de Gran Canaria-Alfredo Kraus opera season to put himself in the shoes of Hoffmann
June 21, 23 and 25always after 8:00 p.m. and in
the Pérez Galdós Theater.
His joy has two foci. On the one hand, the island and its capital, where she has run into
"people singing in the streets" and even a waitress who, while waiting tables in a restaurant, was "singing".
"It's like a perception of life 30 years ago, because the world has taught us to shut up.
Here love for life is perceived», highlights the artist who also claims to feel very good about what is going to happen on stage. «'The tales of Hoffmann' is a very difficult work, but here we have a beautiful production.
I feel privileged to have a set with real pieces and not projectionswhich allows this opera to be done as it has to be done", he enthusiastically pointed out.
Regarding his role, Chacón-Cruz underlined the fact that since he became a father he understands it better, because he knows from his own domestic experience
"what it is to tell a story" at home.
The cast

On stage, he is accompanied by Jessica Pratt (Olympia), Carolina López Moreno (Antonia), Olga Syniakova (Giulietta), Rubén Amoretti (Lindorf, Coppelius, Miracle, Dapertutto), Paola Gardina (Nicklausse/Musa) and Aitana Sanz (Stella) , among others.
"Is about
a very complicated title, without a doubt the most complicated of the whole season», he acknowledged
Ulises Jaenartistic director of ACO, about this Offenbach opera that is being performed for the fifth time in the Gran Canaria season.
He emphasized the scenery designed by Carlos Santos from Gran Canaria and built entirely in the ACO workshop, in the Las Majoreras industrial estate.
"It is very special and has a lot of charm"recognized about a design in which a large ascending staircase stands out.
Daniele Piscopostage director of this production, also praised the designs of
Carlos Santos, since they have allowed something that they consider key. "We have worked with this cast and on this set in a very simple way.
If the stage direction is natural, everything goes wellbecause when it is not seen, it works».
Mezzo-soprano Olga Syniakova premieres this season and in the role of Giulietta after winning the Alfredo Kraus international singing contest. «I dreamed of singing again with the Gran Canaria Philharmonic Orchestra (OFGC) after doing it in the competition, but I never imagined that I could do it so soon and in an opera.
It is an opportunity that will help me for life", he pointed.
in the pit

Yves Abel, who takes the reins of the OFGC from the pit, stressed that the public encounters an "opera with different parts". "One takes place in the bar or tavern, then there is the usual operetta of
Offenbach and finally the great opera, in the act of Antonia", he explained.
The musical training will continue, due to health protocols, with the wind section reduced but not the strings.
In this production, he aimed
Oscar Munoz, president of ACO, the usual order is reversed, so Antonia's act will take place before Giulietta's. The prologue and epilogue remain, of course, as does the first act of Olympia.
Next season

The subscribers of the Canarian Friends of the Opera (ACO) have already been informed that the titles of the next season, which will take place again between February and June at the Pérez Galdós Theater are:
'Fedora', by Umberto Giordano; 'Aida', by Verdi; 'La Gioconda', by Amilcare Ponchielli; 'Lucia di Lammermoor', by Gaetano Donizetti; and 'Rigoletto', by Verdi.
Next week's three screenings of 'Hoffmann's tales', by Offenbach, mark the end of a 55th season in which Ulises Jaén, artistic director of ACO, makes a
"very positive" balance.
"We have made the four titles without serious problems, although all of the world have had problems," said Jaén, referring to the complications generated by the covid-19 pandemic.
«
We have exceeded our box office sales forecast and we have achieved great public and critical success», he defended after the performances of 'Manon Lescaut', 'Don Pasquale', 'Un Ballo in Maschera' and 'Ernani'.
It remains to be seen how 'Hoffmann's tales' unfolds since Tuesday. This title was held for the first time within the season of the capital of Gran Canaria in
1975.
Óscar Muñoz, president of ACO, pointed out that the second occasion was
in 1987. «
It starred Alfredo Kraus and it was the last staged performance of his in our season. In 1999 he gave his last concert in life with us, in the Auditorium that bears his name », he recalled.