Accompaniment for the children of La Palma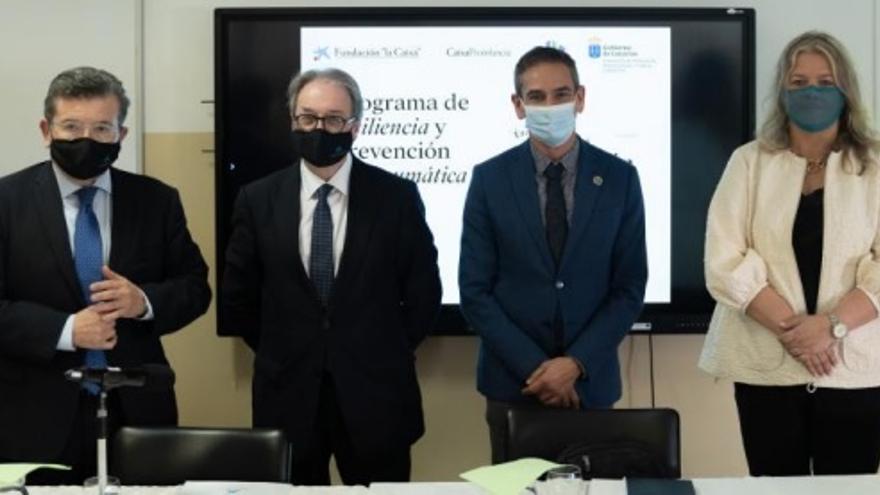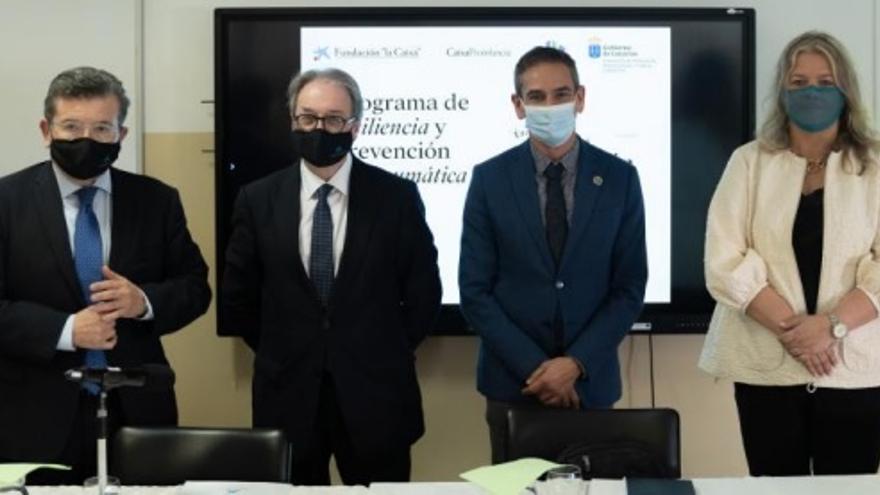 The deputy director general of the "la Caixa" Foundation, Marc Simón; the territorial director of CaixaBank in the Canary Islands, Juan Ramón Fuertes, and the general director of Planning, Innovation and Quality of the Ministry of Education, Universities, Culture and Sports of the Government of the Canary Islands, Gregorio José Cabrera and the dean of the College of Psychology of Tenerife , Carmen Linares, have presented this Friday in La Palma, a new program to promote resilience and prevention of post-traumatic stress for the children of La Palma, and their families, after the eruption of the Cumbre Vieja volcano.
Unexpectedly, the families of La Palma were faced with hundreds of earthquakes, torrents of lava advancing through their territory, confinements due to ash and air pollution or having to suddenly leave their homes, among many other alarming situations that led to states of shock, fear, stress, anguish and the uncertainty of not knowing if they could get their old life back. With all this, there are emotional consequences that are yet to manifest. Faced with this situation, the CaixaProinfancia program of the "la Caixa" Foundation, under the advice of experts in child resilience in situations of natural disaster, has created a program of different resources to support and strengthen resilience. This is the ability to face and overcome adversity, and neuroscience shows that it can be trained, although it requires a slow process which is more effective if it has the involvement of the family and the community. The main author of the contents of these materials is Dr. Jorge Barudy, neuropsychiatrist, child psychiatrist, family therapist and expert in the history of trauma.
Marc Simón, deputy director general of the "la Caixa" Foundation has stated: "For us it is a priority that the boys and girls of La Palma laugh, enjoy, play, learn and live together again. In short, that they mainly recover their emotional stability. And beyond that, with these resources that CaixaProinfancia offers them, fully adapted to their needs, we help them to learn from this hard experience and strengthen their own capacities, encouraging them to be builders of a more conscious, human, fair society. and cohesive."
The program, the content of which has been reviewed and endorsed by the Ministry of Education of the Government of the Canary Islands and the College of Psychologists of Tenerife, is displayed in different publications aimed at children, families and education professionals. All the material will arrive from the month of March to the 49 existing schools in La Palma, and it will be distributed to the 3,500 boys and girls so that they can work on it in class and at home with the family. The resources are also available online and can be downloaded free of charge from the CaixaProinfancia website.