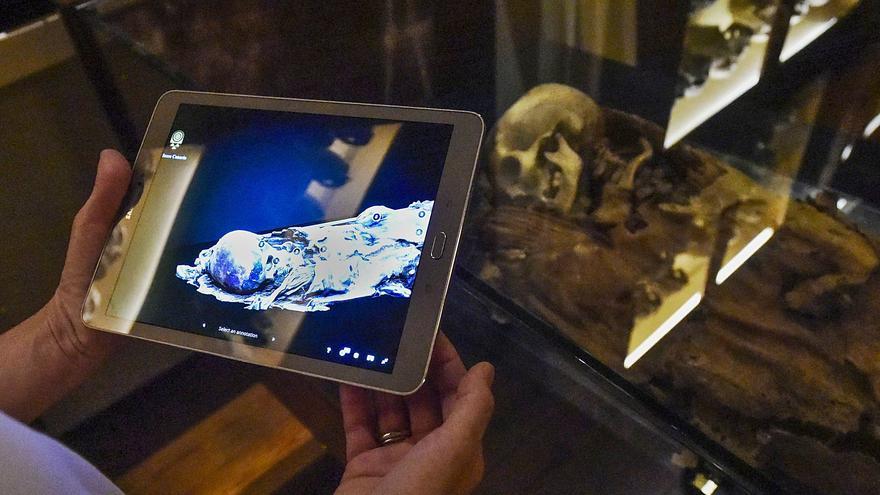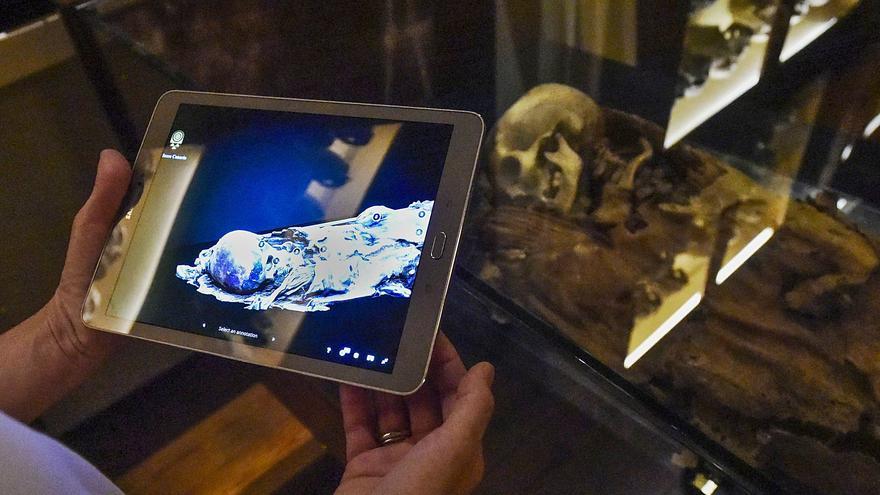 The heritage of the ancient inhabitants of Gran Canaria appears to new generations with digital and didactic tools that alter museum habits. The Canarian Museum, the scientific and cultural society founded in 1879, has had an application since yesterday that offers a three-dimensional representation of 23 of the most important pieces in its collection. The visitor has in front of the original with the option of its representation in 3D.
Through QR codes inserted in the pieces modeled in three dimensions, which can be accessed without complication from a mobile phone during a face-to-face visit, or through the web www.elmuseocanario.com, the user can interact with it, rotate it as whim and discover the vision from a different angle than usual.
This is the case of the Idol of Tara, "that we can turn around", or the three mummies included in the application, in which "one can enter, virtually speaking, inside and explore it", as he explained yesterday Diego López, director of El Museo Canario. Each piece incorporates information on the chronological and geographical contextualization, the ways of life, work and social relationships, and other issues that make it possible to delve into the past of the ancient Canaries.
Paints and ceramics
To the Idol of Tara are added about twenty pieces -to which others will be added-, among them three the best-preserved mummies, which had been worked in three dimensions using laser scanners years ago: a child mummy of a child under two years located in Acusa, Artenara, from the 7th century; number 5, which corresponds to a woman also from the 7th century; and number 8, which corresponds to a man from the 5th century, located in Arguineguín, deposited in the entity a century ago, "one of the most valuable pieces in the collection due to its configuration and characteristics", in the words of the director.
An idol of a woman other than that of Tara, two mills, a pintadera, a basalt peak, an obsidian, three ceramics, including the one representing the sun and the moon, are included in the application, as well as a femur, and a skull that presents a double fracture produced by a knife.
Two companies have been responsible for the content offered by the new application of El Museo Canario: Derrotero VPX; and Teika 361º. "Through photos and videos of the piece from all angles, and with a certain software, a three-dimensional volume is generated. From there it is transferred to a 3D modeling software, possible errors are corrected and it is textured ", Daniel Pinedo, from Derrotero VPX, pointed out yesterday. Each piece has taken a work of four or five days in the Museum, and the works began in March of this year. The entity, custodian of the archaeological heritage of the Island, yesterday presented this initiative that "allows us to appreciate in 3D both our facilities as certain pieces ", as Diego López explained. A "very novel" project, which in his opinion, "will greatly enrich visits to El Museo Canario, especially for children." And it is that this tool seems "so necessary and essential at this time", as highlighted by the Minister of Education, Manuela de Armas. "Heritage is approached in a way that even kids can almost touch it, feel it, discover it," Armas said. A narrative sequence with a didactic vocation for schoolchildren funded by the General Directorate of Heritage, which according to its manager, María Antonia Perera Betancor, contributes to "not losing memory". | DFH