Abel (Los Vinagres): "Here's to people shaking their asses, we're already tired"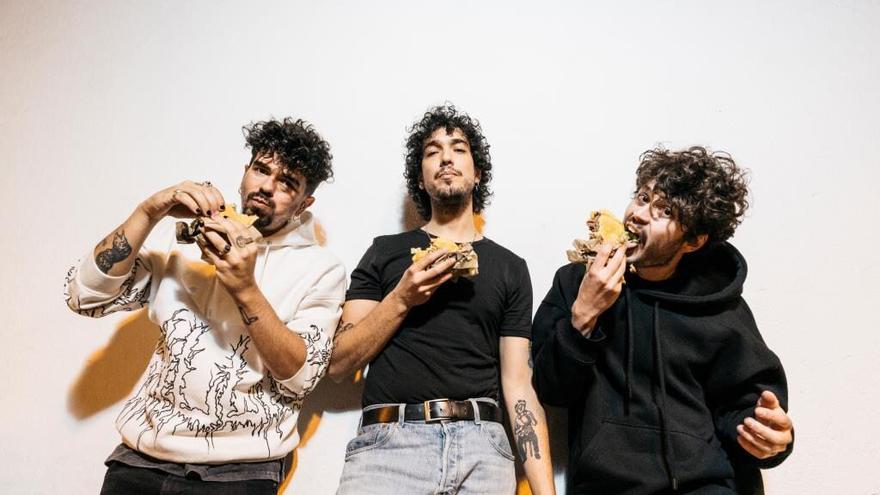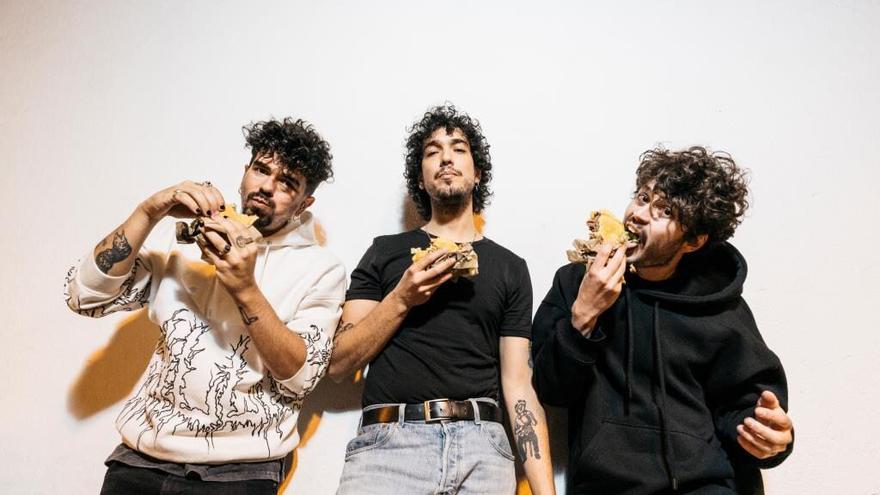 The Vinegars they are enjoying the moment because, finally, they publish their second album Good weather. Abel's cravings have calmed down, and he is pursuing, together with Rober and Sergio, going back to live with the impetus of volcanic rock that has characterized them in the verbenas that they mount wherever they go. The album comes out this Friday the 11th. with a more reflective musical touch, where they walk through the memories of childhood and youth that they lived in La Palma with the purple tints of the illustrations of Isa Muguruza.
The guitarist of the trio talks about the collaboration with Sinodie, the reconstruction of the beautiful island, mental health and, of course, the desire to start this tour that will take them through the peninsula and the Archipelago with an orchestra fired by their rhymes electrical. First date for the Islands, most likely, at El Festivalito La Palma. while listening if we go togetherthe favorite song from Abel's new repertoire.
First of all, congratulations, they finally release the album.
[Risas]. Yes finally.
How has it been to endure the craving these two years?
Well, it was rough because we had recorded it since the summer of 2020. It was composed during the pandemic while we were locked up and the release has been postponed, since we prioritized that it could be played live; and the situation has not been favorable at all. So, between whistles and flutes, we have made some progress to start making mouths. For us, it has been an agony to have it there in your pocket.
This is an album that, then, sounds like 2020, hasn't it been retouched?
We leave it with the purity of the moment it came out and that's it. sounded like that disk. It was the one we wanted to do and it still sounds current to us, otherwise we would have made some changes. It comes from the soul to take it out like this, just as it was conceived.
what does it sound like Good weather?
This time it sounds like all the influences we were listening to at the time. We have always looked for new horizons and new references. We've gone by sounds of R&B, soul classical, keyboards, a little more 80's, especially listening to the releases of Tyler, The Creator or to friends who played post punk, but always accompanied by the Latin Mandanguita that characterizes us and with the touch of vinegar in the lyrics and voices. Also, this time we all three sang.
Everyone has already risked taking the microphone.
Yes, yes, now the roosters are multiplied by three. We will fine tune
childhood on the island
The artist Isa Mogouraza also finds that psychedelic style in the design of the album. What was it like working with her?
We had the idea of ​​making the album with a closed concept. In the end, he talks about our childhood in the Canary Islands, about the things we have experienced, about our food, the tirmas, the jellies, when we were teenagers and lived there. This was accompanied by Isa in a very cool way with his very colorful and lively style and the album has that happy, dancing air. He was doing really well. First he was going to design only the singles and ended up being everything. She's a crack, she caught the concept on the fly.
In that trip to the past, then, the tone is a bit nostalgic?
One of the most characteristic airs of the album is that nostalgia, the touch with our friends on the Island.
Do they miss it?
Yes, since we've been in Madrid for more than a month we already want to be there even if it's a weekend. We are novelists to return to earth.
On this album they work with Sidonie. How was she?
We talked to them to see if Marc (Ros) wanted to do the song and we shaped it and it was super cool. It is a group that we have always admired and we are a bit twinned because both bands are trios. The name of the song covid and it is a longing story of the moments we lived in festivals. It is a song to our life on the road. They liked the theme and joined. In fact, there is a voice note at the beginning of the song in which Rober, the drummer, tells Marc that he couldn't answer him because he had covidand it was real!
The volcanic ritual on La Palma
Are you still wanting to dance or has the pandemic slowed you down?
No way. We respect the opinions of everyone and we always respect security, but we toast to people shaking their asses for the festivals that we are doing. We are already tired. We, too, added to the volcano, we need a time like the happy 20's. Have fun and be happy as much as possible.
Do Vinegars have any sad songs?
There is some song on this album emo. We always write that we have lived and, despite being very revelers, we have our hearts and we talk about heartbreak, about melancholy. So, on this record, we've done a bit of introspection.
It is still five years since the publication of the first album The volcanoes.
We had been playing non-stop the album of The volcanoes for three years and we couldn't wait to start composing. The pandemic arrived and the first week of confinement we thought it was time to do it. We started and it was a relief to have this physical and mental break, to have time for yourself. As for expectations, we have fulfilled them. We have taken out skype an album of 11 songs that we have already begun to defend live.
So much play the song volcanoes fall asleep and look what has happened in La Palma, where you are from. After organizing the Vinagréfico, how have you experienced it?
The truth is, he's been screwed. We were at shock. We were there when it erupted and we did not imagine the consequences of the disaster. he fucked Everything, La Laguna, a lot of places where friends lived. As for the subject, it seems like a joke, but we went to play on television in La Palma and come on, we said, let's play it with two eggs, and that same morning the eruption stopped. We did the volcano dance there.
Where does the memory of La Palma stay?
When the media focus leaves there, they continue to help rebuild the island a bit, everything is upside down, everything is full of ashes, the roads are closed. A disaster. This is the most important moment, everyone has to put the necessary pressure so that those who can do something, solve this problem.
Mental health and media focus
They announced dates on the peninsula, and the Islands when?
Very soon. We have some on La Palma, but in the summer we hope to be in all of them, Lanzarote, Tenerife, La Gomera. We will go see. The Archipelago does not escape us, you calm down. We will surely be at El Festivalito La Palma.
In 2019, they talked about the Canarian cultural industry and now it's coming a kind of way to consolidation. What do you think of the musical growth of the Canary Islands?
It's great. I have always vindicated the art of everything that is ours and it has always been standing out, both nationally and internationally. Super proud of my people.
How do Los Vinagres see themselves?
If we haven't pulled our hair out after everything we've been through, we've put up with it forever. We are lucky that we are not only friends, but we see each other as family and this goes for a long time. We are going to continue fighting to release records, make music and bring people to the verbena, which is what fills the three of us and, I speak on my behalf, until I can no longer move my body.
Since the album goes from that trip to the past, would you make any changes if you could?
Having the wisdom of now, what would I give to my me from the past it would be encouragement because music is something that frustrates a lot. Many insecurities come to mind about what you want to do and what people will think. I would tell myself to enjoy what I do, since you cannot control what happens and the result is that you have to be happy with what you do.
Little has been said about the suffering that comes with the stress of the industry.
Music is a bit of a compromising thing since you face a bombardment of external opinions all the time. You are there so that your work is enjoyed and also judged. You are exposed to the public and you do not always have to be empathizing with your circumstances. So it's hard to put up with not only criticism, but praise and the media spotlight coming down on you. It's hard to manage, so yeah, it would be nice if there was more talk.