AB InBev: Mahou will manufacture and sell Budweiser in Spain | Economy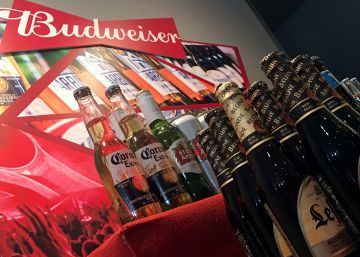 The largest Spanish brewer, Mahou-San Miguel, has signed an agreement with the world's largest brewer, AB InBev to distribute several brands of the Belgian giant in Spain. In addition, it will produce in its factories some of AB's most emblematic brands, such as Budweiser or Stella Artois, according to sources from the Spanish company.
Under the "collaboration agreement", starting next January 1, Mahou will "distribute the brands of the multinational group of Belgian origin" in Spain, which includes the Peninsula and the Balearic Islands, leaving out the Canary Islands. According to a note sent by both firms, the agreement, with a "long-term vocation", assumes that Mahou will go on to offer its hotel and food customers the brands of the Belgian brewery, which include Budweiser, Corona, Stella Artois, Franziskaner, Leffe, Cubanisto, Pacific Clear, Black Model, Special Model, Hoegaarden and Jupiler.
The business director of Mahou for Spain, Peio Arbeloa, congratulates himself on the note of being able to add to the Mahou-San Miguel portfolio "global, iconic brands of high quality and in high demand". For his part, Benoit Bronckart, president of AB InBev for southern Europe, points out that his group will accelerate in the hotel segment, which will add to the "double digit growth" they are registering in supermarkets.
According to Mahou, the agreement will allow him to "strengthen his leadership in Spain and respond even better to the increasingly growing demand for premium beers of high quality", while the Belgian multinational would take advantage of Mahou's distribution network to "expand its growth prospects "in Spain.
In addition, Mahou will produce in some of its nine production plants in Spain some of the brands of AB InBev. At the moment, it is confirmed that they will be Budweiser and Stella Artois, "among others", according to Spanish brewery sources, who specify that from today until January 1 in which the agreement enters into force there are still details to define. It will be the first time, both companies say, that Belgian group beers are produced in Spain.
Nor have they even wanted to make an approximate calculation of the amount of the operation or the impact it can have on the accounts of the Spanish brewer. "It would be a very premature calculation," they say.