A young man rescued from a boat: "I'd rather be eaten by fish than by worms in Algeria"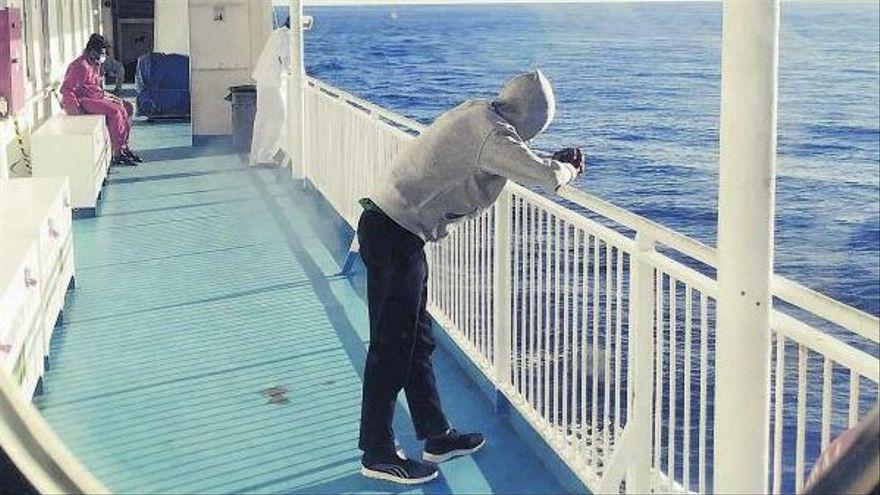 "Please, may God never return us to this hole that is Algeria". Abdu and Bassem (fictitious names) were willing to risk their lives to escape the future that awaits them in their native country. And although they knew it would not be easy, they would never have imagined the nightmare that their dream trip would turn into.
On September 27, the young people said goodbye to their families and embarked along with 15 other migrants in a small boat that he would leave in the direction of the promised land: Europe.
"They were very difficult days. I don't wish it on anyone. If they sent me back to my country, I wouldn't do it again."says one of the two young Algerians. His patera wrecked about 120 kilometers from Spain. Fourteen of them were rescued on October 4; the sea engulfed the other three, who could not be located.
The Zoom program, by IB3, managed to contact two of the fourteen castaways and collected his heartbreaking testimony in a chapter that aired this Saturday and which will soon be seen on 'IB3 A la Carte'. In words to the public body, the young people explain that they had to spend 11 days adrift on the raft without provisions: "Your life in the hands of God, without food or drink for eleven days. Imagine. We drank water from the sea, and caught fish as best we could"remembers Abdu.
As soon as they saw land, two of them jumped into the sea to seek help. They did not return. About nine hours later, two other migrants became desperate and jumped out of the boat to find a solution. A few meters away, they began to drown and call for help. "I went to help them, and one of them told me 'I can't'. I told him 'if you sink, I'll sink with you'. And the one who least expected to die, died", says Bassem, dejected: "I would have preferred to die. I swear.".
"We were in God's hands for eleven days, drinking sea water and catching fish as best we could"
Everything went wrong. What had to be an "easy and fast" trip, of about 20 hours, turned into a real struggle to stay alive: "Every time we went to sleep, we felt that we were about to die. We all became religious, we began to beg and pray", explain the Algerians.
"Thank God, shortly after we were rescued. But we still feel the salt of the water on our skin, we are in shock and dizzy.". The youths set out for Barcelona as soon as they were released.
On the ship to the Peninsula, Abdu gets a mobile to call his father and reassure him: "We're fine, Dad. But I've run out of phone, water has gotten into it. We have been at sea for eleven days. The one who took us has ripped us off. But most importantly, give Mom a kiss."says the young man. On the other end of the video call, his father insists on reminding him to take care of himself and to work hard.
Abdu, like Bassem, have the same dreams as any other young man: having a car, a house, getting married or starting a family. But that, in his country, is a utopia. "We took courage and came because there is no other alternative"Bassem says.
"Every time we went to sleep, we felt like we were about to die"
His colleague Abdu assures that "the whole of Algeria thinks about exile": "Talk to any young man, he will tell you that he is saving to leave. I prefer to be eaten by the fish rather than the worms in that place".
The future these two dream of migrants in Europe it is none other than finding a job and building a new life. "I swear to you that I really want to work. I am an honest and believing person"Bassem says.
When the boat they were traveling in ran out fuelThey understood that the price of the desired exile could cost them their lives. The nightmare is not only lived in the boat: "I came to think that he was dead. We have been eight days without hardly sleeping or eating, his mother has become ill"says Abdu's father, who lived for more than a week without knowing anything about his son, with his heart pounding and his hope set on his religious faith.
Still, it's all worth escaping from hell. Or at least give it a try: "We have no other choice. In Algeria, if you don't have money, you're worth nothing. We don't have any chance there.".